Infrastructure and real estate prominently feature as wealth destroyers, says Ashley Coutinho.
Illustration: Dominic Xavier/Rediff.com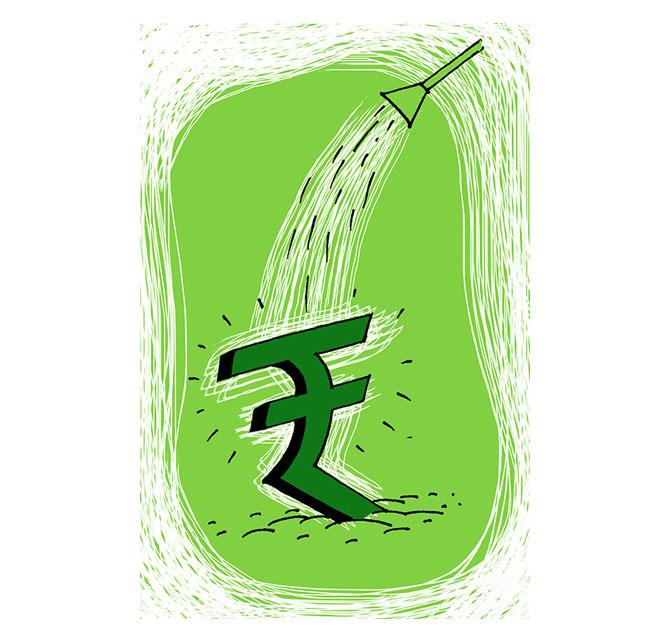 About a fourth of BSE 500 stocks are trading below the levels they hit in January 2008, when stocks had hit new highs before the global financial crisis.
For those with a penchant for investing during bull runs, this should be alarming.
As of January 6, stock prices of 120 of 401 BSE 500 companies (a little less than a third) in our sample were below their January 8, 2008, level, when the benchmark Sensex had peaked before the Lehman Crisis.
These 401 were also in the index of 500 scrips at the time, making a comparison possible for this purpose.
So, if you had purchased these stocks on this date, your portfolio would be down about 60%, a good nine years after the investment.
The market capitalisation of this group as a percentage of the overall sample is now down to 22.5%, from 65% in January 2008.
Infrastructure and real estate prominently feature as wealth destroyers.
The share prices of realty majors Unitech, Suzlon Energy, Jaiprakash Associates, Punj Lloyd, Indiabulls Real Estate and DLF have eroded by 85%.
Quite a few government-owned companies have also been wealth destroyers -- Steel Authority of India, Mahanagar Telephone Nigam, MMTC, Indian Overseas Bank, Bank of India and National Aluminium.
Commodities firms have also been under the weather, as volatile prices in these eight years have taken a toll.
2015 was tough for them, with commodity prices dipping 70% to 80% and oil prices touching a 11-year low.
The scrips of MMTC, Hindustan Copper, Tata Steel, and Jindal Steel & Power are down by 53% to 97%.
The list also features Sensex biggies.
For instance, Reliance Industries, which beat the Sensex in calendar years 2015 and 2016, still trades about 30% below its January 2008 price on even an adjusted basis.
ICICI Bank is quoting 3% below its 2008 price.
In these nine years, the Sensex has risen 28%, while the BSE 500 index is up 27%.
The MidCap index is up 25.5%. On the other hand, the BSE SmallCap index has lost 2.3%.