Barely a month after breaking covers, the models -- the Jawa, the Jawa 42 and the Perak -- were sold out, reports Shally Seth Mohile.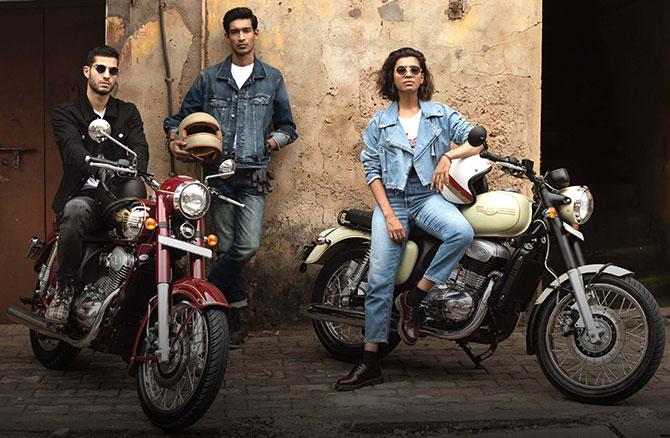 Hironmoy Chatterjee, 83, reminisces about his Jawa fondly.
"It was like riding a horse.
"It would go on and on," says the Kolkata-based octogenarian, who owned the iconic bike in the 1960s.
At Rs 3,600, the price tag was a princely sum back then, and he had to borrow from friends and family to buy it.
Chatterjee worked at the Bhilai Steel Plant in Madhya Pradesh, but he would often ride his bike to Nagpur -- 250 km each way -- just to meet friends.
There is a fair chance that anyone who ever owned a Jawa, regardless of their age, will have a similar story, even though the brand went into oblivion nearly 40 years ago in the country.
This is the lingering memory on which Classic Legends, majority owned by Mahindra and Mahindra, is riding as it seeks to revive the brand.
It believes stories of the past and those that will be shared by future owners of Jawa are what will resurrect the brand.
"We are storytellers," says Anupam Thareja, founder and managing partner of Phi Capital, who is an investor, along with Boman Irani, chairman and managing director of Rustomjee group, in Classic Legends.
"We are a high-involvement, emotive automotive brand.
"It has to be built on stories, therefore our focus will be user-created content," says he.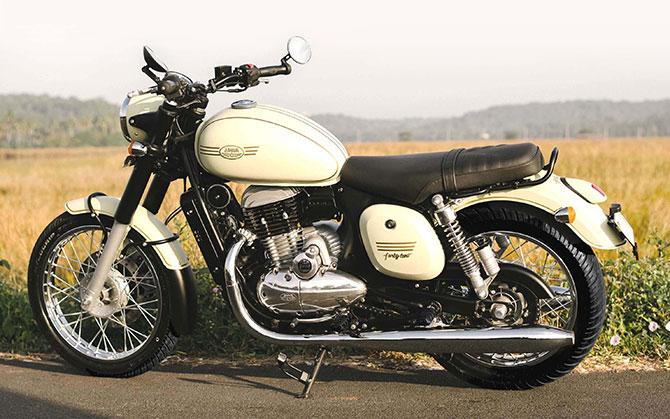 If the initial euphoria around Jawa's comeback is any indication, the company has hit bulls eye.
Barely a month after breaking covers, the models -- the Jawa, the Jawa 42 and the Perak -- were sold out.
In December last year, Classic Legends announced the models are booked till September 2019.
The initial estimates show the three-year-old firm has garnered bookings in excess of 100,000 units.
The deliveries will begin some time later this month.
But it is just the start of the journey.
Classic Legends now has to deliver the brand promise, and the criticality of living up to the commitment is not lost on Thareja, the founder of Classic Legends.
He and his team have been living out of their back-packs, opening five to six dealerships a day to ensure the tally crosses 100 by the time the delivery of the models starts.
The number currently stands at 86.
"When you buy a brand, it should be about a product that delivers its promise to the consumers," says the venture capitalist-turned-entrepreneur.
With prices starting from Rs 1.55 lakh onwards, Jawa Motorcycles are positioned in the so-called middle segment (250cc to 750cc), which accounts for 5 per cent of the motorcycle market in India but is expected to grow at a brisk pace.
So far, the segment has been the stronghold of Royal Enfield, which is credited for creating this category.
In calendar year 2018, close to 860,000 units were sold in the mid-segment, according to sales forecast and market research firm Emerging Markets Automotive Advisory or EMAA, and it is expected to touch 1.2 million units by 2023.
Encouraged by the success of Royal Enfield, several others including Harley Davidson, Triumph, and BMW Motorrad are gunning for a pie in the segment.
While BMW Motorrad and Triumph have agreements with homegrown brands TVS Motor and Bajaj Auto, respectively, Harley Davidson plans to develop an India-specific model to address the segment.
But even though the market appears to be growing crowded, there will be enough for all the brands given the minor differentiated positioning each will have, says Deepesh Rathor, managing director and co-founder at EMAA.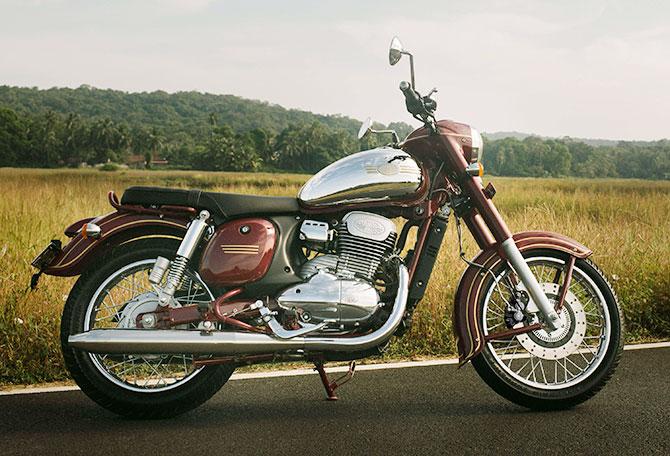 "For now, everything seems to be working for Jawa Motorcycle.
"They have the deep pockets and the backing of Mahindra.
"They have a brand which is fondly remembered in parts of India.
"The product reviews have been very positive," says Rathor.
The only challenge, he points out, is production which is related to the ability of the suppliers to ramp up quickly.
It's critical that it happens fast as people are waiting for the bikes to be delivered.
"They will have to overcome production quickly as buyers of premium products don't like to wait," he adds.
EMAA forecasts that Jawa will deliver close to 45,000 units by the end of the current calendar year.
Thareja wouldn't disclose the number of bookings, but says a lot of work went behind the scenes to make the brand a success.
"The overnight success," he says, "hasn't come easy and comes on the back of years of hard work and toil."
From buying the brand to making the team and defining the design language, all of it was based on extensive market research.
Given the importance of design in today's day and age, the design team comprised motley group of people--an architect, a media personality, a TV personality, a watch designer, he says.
"Everyone who had a nose for good things in life and was an expert in their field came in and lot of thought went into every aspect, from the fuel cap to chrome and choice of colour.
"It was a design-led project with humungous engineering and support from a group like Mahindra," says Thareja.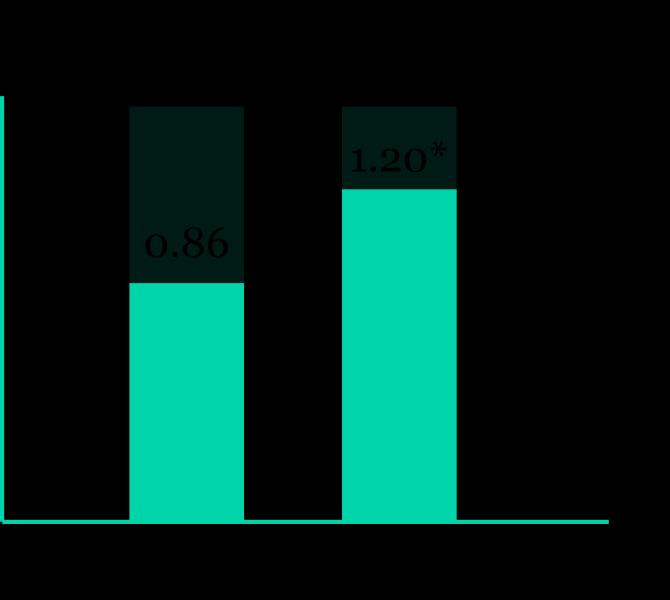 Serendipity and paranoia are the operative words for Classic Legends, which owes its genesis to a lunch meeting between Anand Mahindra, chairman Mahindra Group, Pawan Goenka, managing director, M & M and Thareja.
Mahindra was keen to re-enter the two-wheeler market after its initial bid failed.
When Mahindra sought Thareja's views on what the company should be doing, Thareja said given Mahindra's brand heritage it should have been in a retro classic category that comprises brands like Harley and Royal Enfield.
It should get Jawa.
The rest, as they say, was history.
Thareja bought Jawa and BSA and a new company called Classic Legends that would house the premium brands was floated.
As the Jawa story moves forward, Classic Legends hopes it will resonate not only with potential owners but also with erstwhile owners like Chatterjee.