For Jatia House to be sold, it took close to two months since going on the block. According to sources with knowledge of the sale, Birla beat four other bidders to land the bungalow.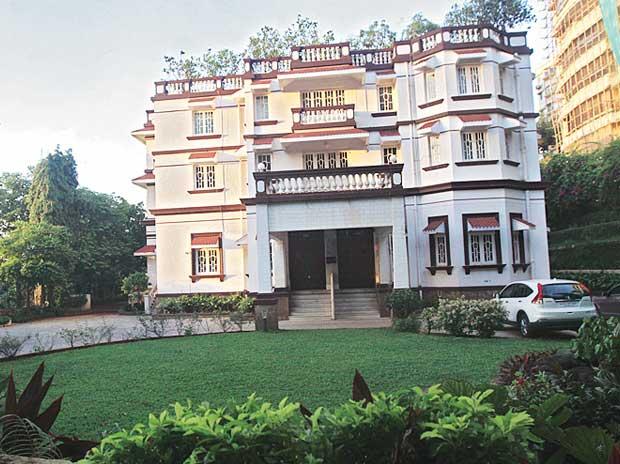 It took four years but Sajjan Jindal's lavish purchase of Maheshwari House for Rs 400 crore or Rs 4 billion has finally been outdone.
Kumar Mangalam Birla recently spent at least Rs 25 crore or Rs 250 million more on his new acquisition, the sprawling Jatia House in Malabar Hill, making it the costliest bungalow deal yet in Mumbai and perhaps the country.
Birla is believed to have bought the property - a 30,000 square feet plot with a built-up area of 25,000 square feet - for personal use.
The industrialist already owns a bungalow on half an acre of land in the tony neighbourhood of Carmichael Road.
This is in addition to a two-storey apartment he has retained in the Malabar Hill building Il Palazzo, where he grew up.
The latest addition to his repertoire belonged to the Jatias of Pudumjee Paper Mills- fame, who had bought it out from Meher Cawasji Vakeel in 1972.
The paper company's founder, MP Jatia, had reportedly moved to Mumbai from Burma in 1964, following political unrest in that nation.
Having lived in a bungalow in Burma, the senior Jatia seemingly wanted to replicate the experience here too, observes Shri Hari, founder of RealEstateDealStreet.com. His sons, Arun and Shyam Jatia, and their families lived there until recently.
It is said the space was entirely redone around 1987.
Even from the outside, one can tell Jatia House, painted simply in beige and brown, is a sprawling space. It has all the trappings of a trophy estate too.
There is, for instance, the unencumbered sea view.
The bungalow has 20-odd bedrooms as well as multiple ballrooms with wall cladding and ceilings made of Burma teakwood.
The Jatias would often entertain as many as 500 to 700 people at their parties.
Pictures of the interiors reveal spacious corridors, airy bedrooms and ample auditoriums - all bedecked in sparkling marble.
Further, it includes a fulsome garden with a pond, as well as a central courtyard.
The Rs 425-crore or Rs 4.25 billion deal was brokered by Jones Lang LaSalle India.
Before the sale, the real estate consultancy is even said to have created a coffee table book, as it does for certain unique and rare assets, outlining the history of the property and its ownership.
For Jatia House to be sold, it took close to two months since going on the block. According to sources with knowledge of the sale, Birla beat four other bidders to land the bungalow.
The Jatias and Birla could not be reached for comment.
In the last decade-and-a-half, there have been only about eight or nine such big bungalow sales, roughly one every two years.
These deals in no way reflect the broader market health, however, say experts.
That is because only a handful in the country can afford properties of uber-high value and bungalows, especially in this city, are a very rare commodity.
That is perhaps why, in Mumbai, the ultimate ego boosts are made of brick and mortar.
Previous major deals
Maheshwari House
Located on Nepean Sea Road, the bungalow was sold to Sajjan Jindal for Rs 400 crore in 2011. Flanked by gracefully swaying coconut trees, the three-storey structure is set in a space of one acre and enjoys sea view.
Mehrangir
A neighbour of Jatia House, the sea-facing, three-storeyed bungalow is said to have been home to nuclear scientist Homi Bhabha until his death in 1966. It was reportedly sold to the Godrej family for Rs 372 crore or Rs 3.72 billion in 2014.
Glamis Villa
The 11,000-square feet bungalow, which finds mention in Salman Rushdie's memoirs Joseph Anton, rests on 1,000 square metres of land once owned by Hari Singh, the ex-maharaja of Jammu & Kashmir. Businessman M P Aggarwal bought it for Rs 180 crore or Rs 1.8 billion in 2013.