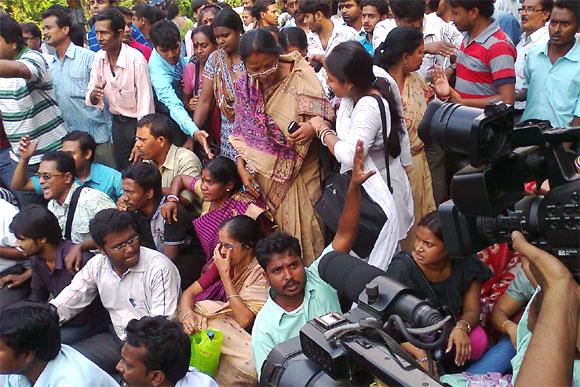 A complicated maze of 338 bank accounts and 224 companies was used by the perpetrators of the Saradha chitfund scam which is alleged to have duped numerous investors of their hard earned monies in various states including West Bengal, Odisha and Assam.
The Enforcement Directorate (ED), which has been probing the Saradha scam under money laundering laws, has put together the jigsaw puzzle through which the Saradha group and itssister companies conducted the alleged dubious business transactions which came to light early last year after investors raised their voice and said they were cheated.
In one of the most voluminous investigations being carried out by the agency involving lakhs of multi-layered transactions, it was allegedly found that "more than 90 per cent of such companies existed only on paper and only 17 companies out of the 224 companies actually had carried out some business."
The rest, investigators claimed, were floated as "dummies" to act as cover for unleashing the alleged ponzi scheme.
The latest ED probe report has ascertained that the laundering amount in this case amounts close to Rs 1983.02 crore (Rs 19.63 billion) and it has identified it as "proceeds of crime" as stipulated under the criminal provisions of the Prevention of Money Laundering Act (PMLA).
Investigations by the central enforcement agency found that a part of this huge amount was allegedly "channeled into various investments through a maze of 338 bank accounts in various branches of different banks and a total of 224 private limited companies were floated with definite equity basis so as to conceal the irregular collection defrauding the common mass.
"Except a handful of these companies, the probe report alleged that "all the others were registering loss in their annual profit and loss accounts."
Investigative agencies probing the case including ED, state police departments of West Bengal, Odisha and Assam, have brought under their scanner four companies of the Saradha group which are Saradha Realty Private India Limited, Saradha Tours and Travels Pvt Ltd, Saradha Garden Resort and Hotel Pvt Ltd and Saradha Housing Pvt Ltd as they have been alleged to have mobilised money from the public, the returns of which were later duped leading to the scam.