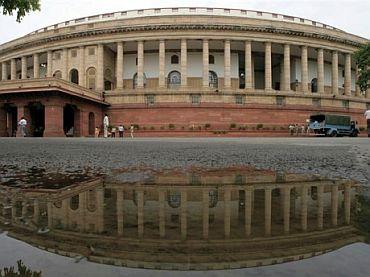 Bank, bankruptcy reforms, Nabard Bill amendment on agenda.
The Narendra Modi government is set to take up three finance ministry-related legislative matters in the coming monsoon session of Parliament scheduled to begin on July 12.
These are the Banking Regulation Act amendment specified in the ordinance to deal with non-performing assets, a bankruptcy Bill for financial firms, and passage of a new National Bank for Agriculture and Rural Development (Amendment) Bill.
Officials told Business Standard that while the ministry's load was relatively lighter compared to the Budget session, when the goods and services tax Bills were passed apart from the Finance Bill, the three legislation slated for the monsoon session were also crucial.
The government has to amend the Banking Regulation Act after an ordinance was promulgated in May to give the Reserve Bank of India (RBI) the power to direct banks to initiate bankruptcy proceedings of defaulting companies and to take decisions on behalf of lenders while dealing with stressed assets.
Two sections were added to the Act through the ordinance, which will now need parliamentary approval. The ordinance lapses in early November.
The Financial Resolution and Deposit Insurance Bill, 2017, is a proposed law to deal with insolvency of banks, insurance companies and other financial services firms and follows the Bankruptcy Code 2016, which deals with bankruptcies of all other companies.
The Cabinet, led by Prime Minister Narendra Modi, had approved the proposal last month to introduce the Bill in Parliament.
The Nabard (Amendment) Bill, 2017, was introduced by Finance Minister Arun Jaitley in the Lok Sabha during the Budget session. It seeks to amend the Nabard Act, 1981.
It proposes to increase the capital of Nabard from Rs 5,000 crore to Rs 30,000 crore by the government after consultations with the RBI. It also proposes to transfer the central bank's stake in Nabard to the government.