Goa Government's proposed underground gas pipeline project has met opposition from farmers hailing from three agriculture-dominated talukas of the state.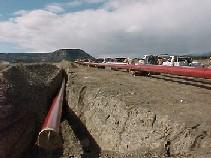 Farmers from Mormugao, Ponda and Bicholim talukas met revenue officer Anthony D'Souza on Wednesday, expressing their opposition to the Dabhol-Bangalore pipeline, which will be plugged at Gokak to provide supply gas to Goa.

They claimed that due to the pipeline, planned by Gas Authority of India (GAIL) in association with the governments of Maharashtra, Karnataka and Goa, they would have to part with the ownership rights of their land.

The project is expected to be completed by 2012. The state administration, which is clearing way for the pipeline had asked the farmers from Mormugao, Ponda and Bicholim talukas not to allow any structure on their farms.

Officials claimed that farming will be untouched, but no structures would be allowed in the area, through which the pipeline will pass. However, farmers said they are apprehensive about the plans of the state government.

"They will take away our land some day," a farmer, who was part of delegation said. The farmers had gathered at the district collector's office after receiving notices.

Meanwhile, Deputy Collector Anthony D'Souza said the government had no plans of acquiring any land for the project. "After laying of the pipeline by GAIL, the land would be reverted back to the farmers," he said.

The district administration, which has failed to pacify the farmers, has now decided to write to the Union Petroleum Ministry giving details of the opposition, officials said.

After the commissioning of the pipeline, two gas stations will be set up in the state from where gas would be supplied, they said.