R K Krishna Kumar, one of the stalwarts of the Tata group, passed away on Sunday, January 1, 2023, evening.
A close lieutenant of then Tata Sons chairman Ratan Tata, he spoke to Rediff.com's Vaihayasi P Daniel in a rare interview.
This interview was published on Rediff.com on December 28, 2012.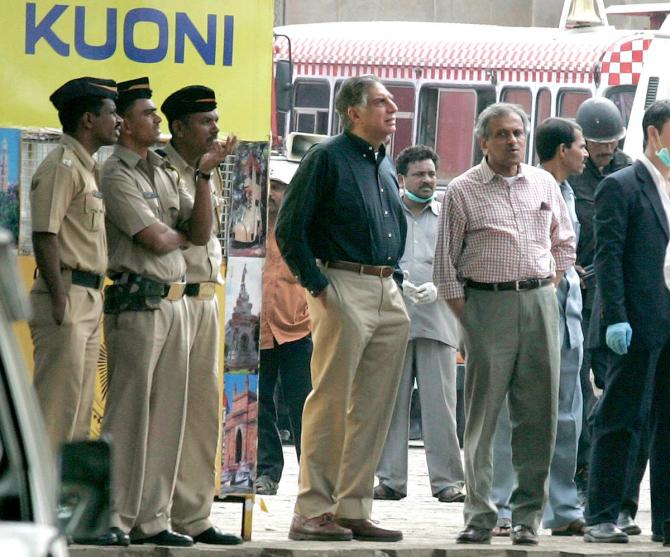 R K Krishna Kumar, 74, then a director on the board of Tata Sons, a trustee on several Tata trusts and the chairman of a host of group companies, worked with the Tatas for 50 years.
A member of the Tata Administrative Service since 1963, Krishna Kumar, left, started work in the group at Tata Industries. In 1982, he joined the senior management of Tata Tea where began his direct interactions with Ratan Tata, then chairman, Tata Sons.
In an exclusive interview to Vaihayasi Pande Daniel/Rediff.com, Krishna Kumar identified the finest points of the man he has worked closely with, for over two decades.
What are your earliest personal memories of working with Mr Tata? What has been his contribution to the group?
In a corporate world it is not very often that you come near to a titan.
I say that because Mr Ratan Tata truly represented some unique features.
He was ahead of his time. I think he was very singularly gifted with visionary abilities to see what the future looks like and what should be the response to the challenges of the future. And to shape the developments for the group.
He successfully did it and in doing so he transformed the group.
While these are achievements in the corporate organisation style, one mustn't forget the unique characteristics that he had -- that is to maintain and upheld values.
In business and industry it is an extremely difficult challenge to uphold values. Throughout this period of 20 years I have had the privilege of working with him on some crises, including the Assam crisis in 1997 (when Tata Tea was held to ransom by the outlawed United Liberation Front of Asom terror group)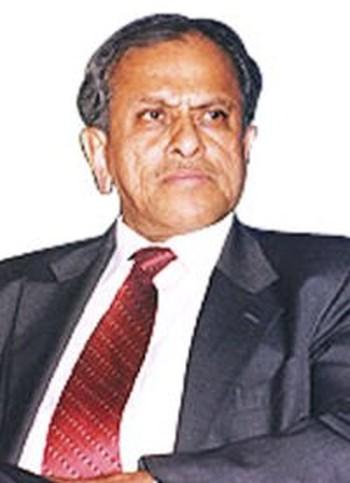 IMAGE: R K Krishna Kumar.
We worked very closely together -- it was a life and death (situation) for our management and staff. We stood together at that time. His leadership was extremely important for the company and for all of us.
To put it very briefly, the problem would not have existed if we had just paid Rs 8 lakhs (Rs 800,000 in ransom for a kidnapped Tata Tea employee). Peanuts at that time. I guess, most companies would have done that and that was what they were asking first.
Many companies would have yielded to that pressure. We certainly didn't yield to that pressure and he supported me through out on that fundamental issue.
We did talk to them (ULFA). We did engage them, but that was with the clearance and support of the Intelligence Bureau of India.
It is such a paradox that on one hand we had been charged with sedition by the authorities in power at that time, and on the other had we had been directed and guided by the highest national security agency of the Government of India.
We didn't disclose this publicly because we had 175 members of the Tata family across the Assam valley. And to disclose that would have been putting their lives at risk.
So we decided not to do that and went through those eight, nine months of grueling challenges.
He (Mr Tata) stood firm and so did I. And that's when I got an extremely close look at how he reacted in a crisis -- moral crisis, a crisis of lives in danger -- absolutely firm on first principles.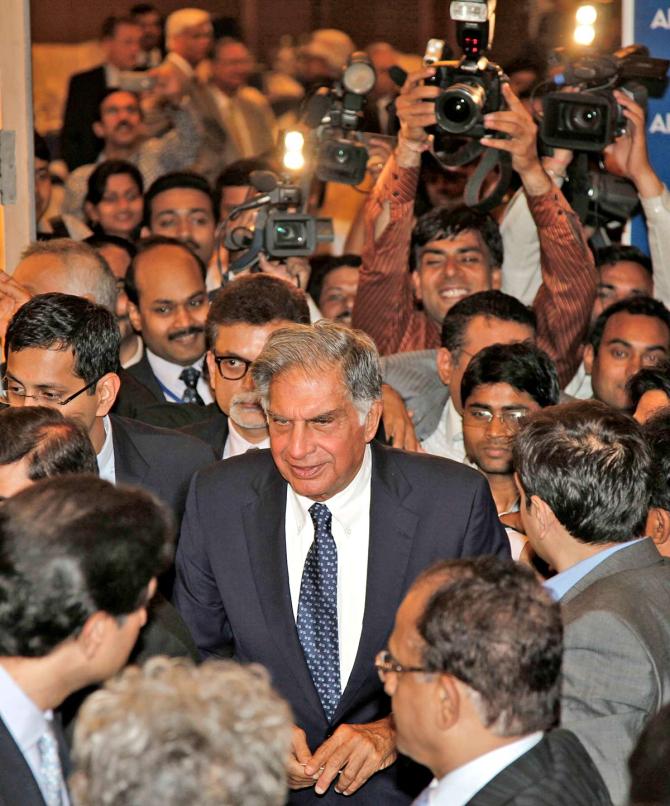 Then, of course, on the business front we had many interactions, when I came to the Taj (R K Krishna Kumar became the managing director of Indian Hotels Co Ltd in 1997 that runs the Taj group of hotels).
I was not a hotelier and therefore to get into the Taj at that time was quite a challenge. The Taj had a lot of things which needed to be done, which I recognised almost in the beginning, and undertaking those changes was quite a difficult (challenge).
But I did it and I would not have been able to do it if Mr Ratan Tata was not extremely supportive. He was so supportive, that in the midst of all his appointments and schedules, he would come to the Taj, spend some time in the evenings, talk about all the various changes that needed to be done, back one up on some of those changes.
Some of the issues of restructuring the company, like for example creating special business units -- like the luxury divisions, the business division, the leisure division, which is the beginning of the brand architecture of the Taj. They were all of issues that had to be cut through, with a lot of opposition from established players in the company. But he stood by me.
It was possible to make those changes that transformed the Taj. So that is another example I had.
I think if you were to continue (along that side of him) 26/11 was again a chapter of the same A. (supportive) relationship and B. the make up of the man in terms of character.
It has been a very interesting two decades. (Through) the last five, ten years I was with him, through some of the great decisions and crises he faced -- his decision to withdraw from the Nano project in West Bengal. Even in formulating strategy for acquiring companies, for giving new companies space to grow in a new global environment.
He was fully supportive and he participated in this processes -- (whether it was) the Tetley tea acquisition or... any of these changes, that we were able to bring about, would not have been possible if it weren't for his support.
On the personal front it has been a great relationship. We shared many things together.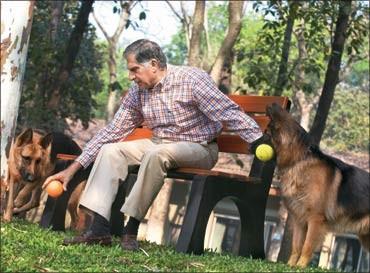 What were the experiences you shared?
I greatly delighted in his sense of humour and his ability to mimic various other people.
I shared with him intellectual, exhilarated, moments when I went with him to Cambridge or to MIT (the Massachusetts Institute of Technology) or to Cornell (Ratan Tata's alma mater), Harvard or any of those universities or scientific establishments that were on the cutting edge of many (fields).
Stimulating experiences -- in the sense that I could recognise that in these interactions, we were beginning to see what the future is going to look like.
We were beginning to see the need for legacies to be left behind, for a new mindset to come into industries to develop a global vision what we in India, in Tata, could do and need to do. How we stand firm on some fundamental principles.
He has an extremely universal mind in the sense that he is a great patriot. His heart has always been with India, but his mind has been globally ranging in many ways and manifested in his many passions -- flying, cars, design, technical details, things about nutrition, enhancement of water, wide-ranging issues.
They were more than just running business enterprises. They were about nation building. They were about removing the great misfortunes that many people in our country suffer from, the poor, the children of the poor and so on.
Our joint activities in the trusts gave me an inside view of the man.
When it came to humanitarian causes, the Tatas, particularly under Mr Tata's leadership, would always be there to quickly and quietly arrive with aid?
The tsunami hit India in 2004. He was on a holiday -- his birthday, December 28. He was not in town. He came back the same day.
He convened an urgent meeting of all the top CEOs. Quietly decided to play a role in bringing relief to those affected.
That was the beginning of a project that was started and which manifested itself in a major reconstruction programme in Nagapattinam, Tamil Nadu, an area devastated by the tsunami.
It is a standing monument to what the Tatas can do in such situations. And there is no fanfare about it, no publicity, no pictures of him or anyone of us opening the colony, none of that. And they spent a lot of money collected from the companies and the trusts and it was implemented in a very efficient quiet manner.
Yes, it is true that when there is a crisis in India, as a whole, not just in business, he (Mr Tata) will be one of the first to react, positively, in a very constructive manner.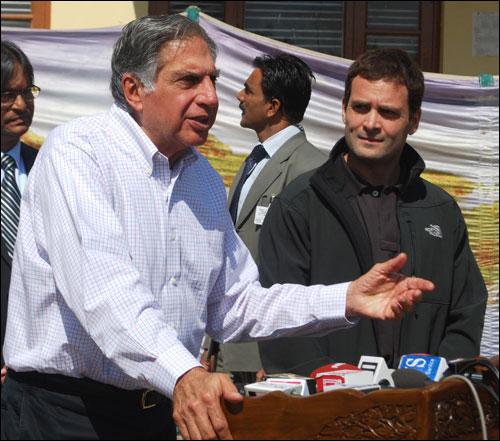 Crisis need be does not have to be sudden. Crisis can be slow in coming.
The Tata group started the Tata Memorial Hospital for cancer (in Mumbai). It is a well-known fact that the facilities in that hospital are cramped because of the number of patients flowing in from different parts of India.
We have always been very closely associated with eastern India and they were aghast to find that a large number of patients at Tata Memorial come from Orissa, Bengal, the Northeast, from Bangladesh, Sikkim. So a quiet decision that was taken was to build a cancer hospital in Calcutta (Kolkata).
It cost the group and the trusts Rs 350 crores (Rs 3.5 billion). It is probably one of the best hospitals of its kind in this part of the world and this is entirely a gift to the eastern part of India, to bring some relief and cure and rehabilitation for people suffering from cancer, especially children.
That is a standing monument, again, to the quiet commitment to larger purposes in life, than just running a business enterprise.
The Tatas have always traditionally engaged in social work. But would you say that Mr Ratan Tata brought it to an even higher level?
Oh, he certainly did.
The Tata trusts -- there are a number of them, the big ones are the Sir Dorabji Trust, the Sir Ratan Trust, there are other trusts like the Jamsetji Trust and so on -- all of which quietly for the past many decades have been engaged in the task of bringing relief to the suffering, to participate in nation building.
And what he (Mr Tata) did was he restructured the flow of funds from the companies into the trusts. So for the last, maybe more than decade, or two decades, that enabled the trusts to play a much larger role in projects across India, so be it a project in a remote area in Ladakh or somewhere in South India, a women's empowerment group, a water conservation group, all of those groups.
And he decided in which areas the Tatas would move?
No, there is a study planned by an outside consultant firm, that gets updated from time to time, which (tells us) which are the areas where we should focus our attention on.
The range and the order of flow of funds and relief materials and so on is decided at trustees meetings. He (Mr Tata) is the chairman and has been the chairman of most of the companies. I have also had the privilege of being on some of those trusts and have been witness to what it has been doing.
Not many people realise that two-thirds of the ownership of Tata Sons is headed by the trusts. Therefore, two-thirds of the profits of Tata Sons goes back to the trusts. And from the trusts back to people, to society. That is what gives Tata a unique position.
I think determines the ethical side of the (business) house.
It is not just about making money and personal enrichment. None of us in the group, including Mr Tata, are anywhere near billionaires.
So I think that is a unique character -- we stand by our principles, speak our minds honestly, and we do our business quietly.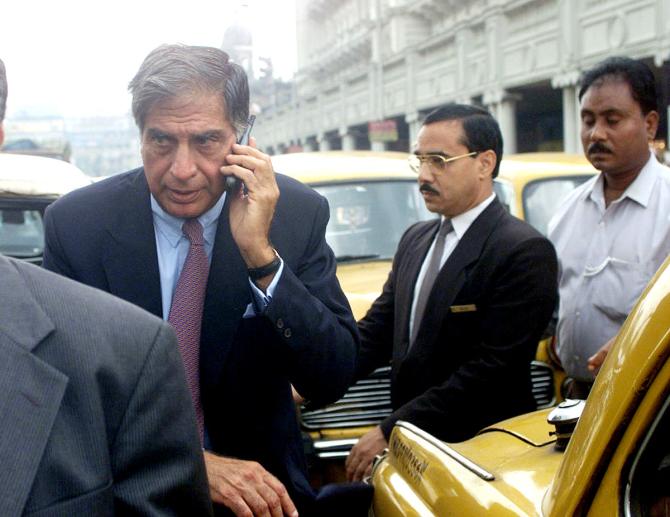 Describe Mr Tata as a boss. And then as a person outside Bombay House, the Tata headquarters.
As a person it has always been a delight to be with him and share his company, his observations of people/circumstances, his love for dogs.
They have all been very inspiring.
What about his love for dogs?
If you go down to Bombay House, you can see them there. If you go to some of our hotels, Wellington Mews (off Cuffe Parade, south Mumbai) for instance, you will find a Great Dane there, which he (Mr Tata) rescued from the road. I think someone had abandoned the Great Dane -- that's at Wellington Mews.
There is another one that I picked up from the street -- she is the queen of Wellington Mews now, of course, well looked after.
He can, of course, imitate anybody. And he can draw pictures. He has been trained as an architect, as also as an engineer. He changed to architecture from engineering. But he is very good at drawing and he has a comment to make on various people.
He is an absolute delight.
He is very good in one to one interactions with people he is comfortable with. Reserved and a little shy and reclusive when it comes to publicity where someone (else might like) to hog the headlines or the bright lights of any meeting. He is not one given to any of those blandishments of power.
He is probably the iconic figure in the business environment in India, but he carries it very lightly and essentially remains unchanged in that respect.
He can take a ferry from the Gateway of India across the harbor to Alibag with a bag like anybody else.
When he is checking into a flight he will stand in a queue, quietly, and there is no fanfare. He does not like people coming and taking his bags. He carries it himself in spite of his back problem.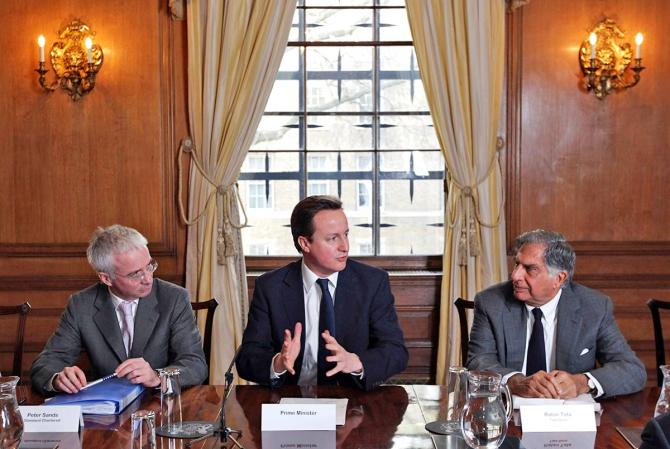 The other curious thing I see in him is his ability to work. It is not only the tremendously busy schedule, that is there in the office or his travel schedule, but papers went with him wherever he was travelling.
There is a retinue of papers, that keep going in white Tata paper bags, all stuffed with various files/papers. It is very interesting to see. He gets into a car and in the boot of a car there will be these bags.
When he takes them at home at night he works on them. He comes the next day for a board meeting.
Let us say the executives of that company are dealing with problems, understanding the problems, are fully immersed in the problems, and they have been doing that for a long time. He has many such responsibilities in other companies and yet when he comes for the board meeting the next morning he is thoroughly prepared for it.
That means he has spent a lot of midnight oil to catch up with all the issues.
So these papers have always been like a procession, which I thought was not the right thing to do from a health point of view.
When he is travelling on an international flight -- let us say his own aircraft, which he pilots for some time -- his files follow on board the aircraft.
This permanent engagement with (his work) is a very, very, challenging thing for anybody to do.
I think that is possible because his family is only two pet dogs. If he had a large family, a number of children or so on, there would have been war at home with his wife, because (his work) is all consuming.
He might have landed at 2 o'clock in the morning and he comes back for a meeting at 10.30 in the morning. He is all prepared. He has a razor-sharp mind and his ability to go straight to the fundamental issue is amazing.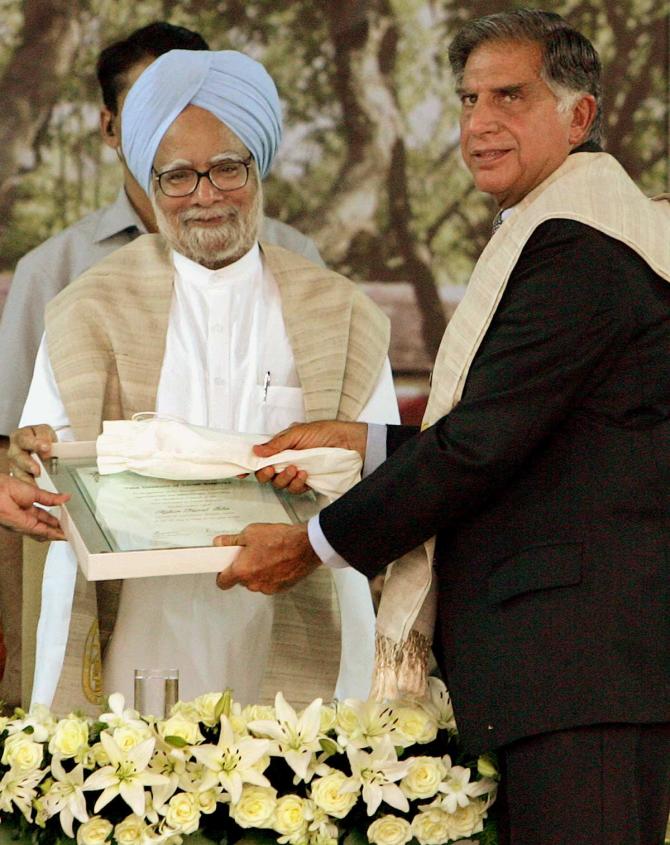 What sets him apart from other business leaders?
I don't have much of an interaction with other business bosses outside Tatas, but the qualities I described are quite unique -- his humility, the quality of his intellect, the nobility of his vision are unique to him.
While he is extremely patriotic, he loves India, his mind, as I said earlier, is global.
That combination -- I don't think how many people can say 'He is a citizen of the world.' (Many business heads) are very committed to India too. Many of them are. But they are very India centric.
He is, of course, connected directly to India's affairs and problems, but he is also able to balance a global mindset with it.
He is as comfortable here, as he is at Cambridge University or in the United States. He is absolutely at ease, he is exactly the same, if he is attending a board meeting of Tata Steel here or he is part of the Ford Foundation (where Mr Tata serves on the board of trustees).
It is an absolutely seamless changeover in different contexts, remaining essentially the same person.
He has very often been concerned, perturbed, by things that are happening in India, controversies, scandals, the lack of speed on the developmental front.
But he remains firmly optimistic about India. I think that optimism comes out of a very strong belief in India's future, based primarily on his understanding of the young people in the country and the talents and strengths he discovers.
The young people he interacts with in his companies and other contexts and he is always interacting. He picks up important trends of basic issues in those interactions.
He (might) be the chairman of Tata Sons and an extremely highly visible symbol of India, yet because he has always been very human in his interactions, he is able to pick up trends that all (put) together make up his optimism about India.
I think he has been very convinced that India has the resources. All that it needs is strong directive leadership for the good of our country and he remains a very sound patriot.
Is he religious?
He is religious, but it depends upon how you define religion. If you define religion as ritualistic visiting of temples, mosques, fire temples and so on, then he is not very religious. He may go once in a way, but that is not his ritual.
But if you say his religion is caring for the poor, their suffering, reaching out to people who need help, and being altruistic in your motivation and you want to reconstruct something for the good of society, then he is a religious person.
What has his contribution been to the business world beyond the Tatas?
The strongest part is his ability has been to bring about fundamental transformations of organisations, which meant a very accurate reading (by him) of what the future is going to be like. And reorganising the company to meet the challenges of the future.
I think that, and the scale of that transformation, and where he has taken the group, from what it was before, to where it is today certainly (in practice, a very positive example).
Many corporate leaders admire his honesty of purpose and his humility. The fact that he has one of the best known names in India -- the Tata name as part of his name -- yet he remains a very reclusive, quiet personality also carries a great deal (of weight).
If you look at other young businesses -- keeping aside other traditional businesses that have been there for decades -- the young entrepreneurs in software engineering, technology, the start ups, component manufacturers and so on, they all admire his combination of business skills with entrepreneurial drive and knowledge and mastery of technical issues.
That is not something that comes (together as a package) usually in business leaders. He has that unique combination that has impacted many people outside the group, and I think across India, even in the political environment he stands alone.
The prime minister of India would happily meet with him or any of one of these very senior people in government look forward to meeting him for his impartial, unbiased, view of things, which he will not stand on a platform and speak about, but on a one to one basis certainly (will speak his mind)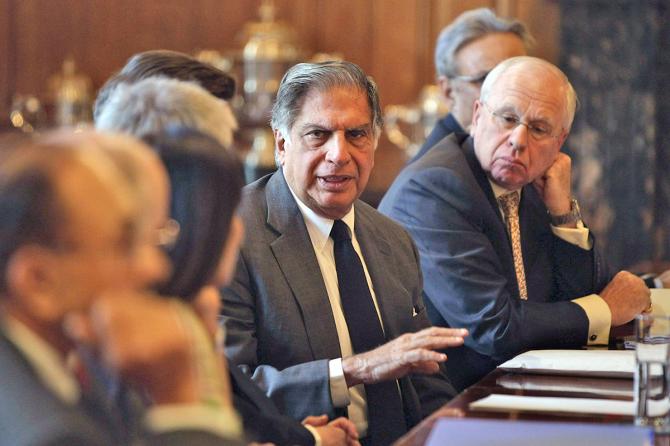 Post-retirement, do you feel Mr Tata will take on a stronger advisory role to the Government of India?
I think he will remain an active participant in the dialogue for India.
I don't expect him to be making speeches at various public functions. I expect him to withdraw from that completely. But on the other hand interactions with people, meetings with people, be it students or the prime minister, whatever, that I expect will become even more prominent once he steps (away from chairmanship).
He never imposes himself. Somebody has to seek that. Even in the group I think if you want his advice, you have to seek it out. He will never imposes that on anybody.
Even when he was the chairman he never imposed himself in any capacity. That I expect to continue.
I think the fact that he is able to reflect a little bit more, at peace, that quality of his mind on basic issues may have some very interesting spin offs for a whole range of issues -- the fundamental economic challenges of our country, social and political challenges.
I think he will crystallise some of his views and articulate them in private meetings.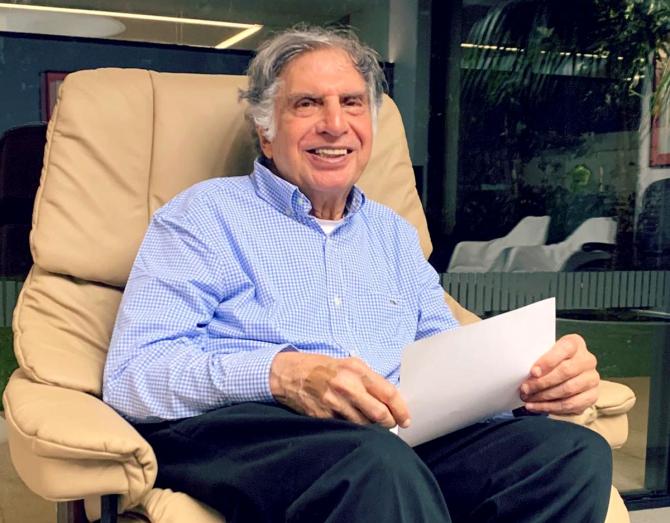 Was the 26/11 attack on the Taj hotel the saddest moment of his career?
It was a very sad moment for him.
There are different companies, different enterprises -- Tata Steel, Tata Motors and so on, but for all of us in the group at the senior leadership level, we had a passion for the Taj.
There is something mystical about the relationship with the Taj for all of us. In terms of the size of that company (the Taj group) it is nowhere near some of the bigger enterprises (in the group). But in terms of importance, the people interactions, the contributions that it makes, its symbolic place in India's cultural unfolding, all of this placed the Taj -- part of the oldest company in the group today (in a special position).
So when that was attacked viciously on 26/11, I think like mind his heart broke too.
To stand outside there and to watch this beautiful edifice burning, hearing shots and grenade fire, was a very -- it is not enough to say saddening, part of it is rage.
Rage that someone should go and do this and kill our guests and employees.
He and I visited every single employee's family that was affected by the tragedy. Set up the Taj Welfare Trust to reach out to people who were affected.
Those are the smaller things, but the agony that he felt standing there three days -- I was there too -- to see this virtually a temple go up in flames, in senseless violence, was a revolting sight.
Externally it only strengthened our resolve to rebuild every inch of it. We may have felt terrible when we walked in there, after people had been killed and saw the devastation that had been inflicted, our hearts were broken, we had tears in our eyes. Because this was something more than just a business.
Our resolve was to build every inch of it back. Which is what we have done. It cost us a lot of money. But if you walk into the Taj today you will not see a single sign of that devastation, other than the memorial that is there.
It was one of the saddest moments of his life, as it was in mine, to see this happen to something you loved. So it is a chapter we may want to forget, but we can't forget, won't go away, because that edifice, that dome (was) under attack.
In the context of his passion for dogs, I understand he has a special group of strays that he looks after at Mumbai airport too, in addition to the ones who wander to corridors of power in Bombay House?
Those are regular friends of his at the airport. As soon as his flight lands, they come running. It is such a lovely sight.
They are stray dogs. As soon as the plane taxis into the hangar, and we are getting off and the bags have been taken out, you can see them charging with great passion. They will come running and he will have some food for them, sandwiches and they would have a feast from the plane.
They recognise and play around with him. They all have names. They (Mr Tata and the dogs) fool around a little bit. They are permanently there. They are well taken care of. They also get vaccinated and they get a license so they are not picked up.
He took his dog which had a problem in his leg all the way to Minnesota for treatment. The entire initiative to set up a hospital for small animals came out of that. He took him all the way to Minnesota, operated on him and brought him back.
And all these friends of his in the lobby of Bombay House are all fat.
Yes they look like a bunch of executives...
They are...!
They sleep there most of the time and they are happy when he comes down.
If you see his hands -- very often there are little, little cuts, little blood coming, not from his pet dogs only, but he plays (around with any dogs). Who would do that, (most people) would be mortally afraid.
He is very much at home with dogs. He loves all animal, but dogs in particular. He is a great animal lover. He cannot see stones being thrown at cows. Donkeys being beaten. He just cannot digest it.
Something happens. Something snaps inside. But dogs are his special friends.
But even the people who work in his home. They all have designer clothes. Walk around wearing Nikes. One of their children -- a little girl -- is his favourite. She comes and sits in his lap, even during meetings.