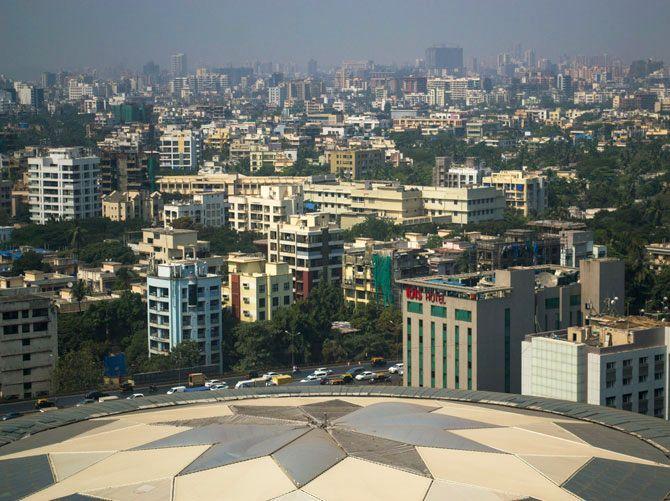 The smart cities initiative announced by the Narendra Modi government has officially gained momentum after the recent declaration that Visakhapatnam in Andhra Pradesh will be the first city to be developed.
Brotin Banerjee, managing director and CEO, Tata Housing Development Company, shares his views on the infrastructure that an ideal smart city should have in an email interview with Manavi Kapu.
What does one understand by the term 'smart city'? What are the expectations from such a city?
A smart city isn't only about a set of buildings, but also about how it interacts with nature, about availability of social amenities like healthcare, education and sanitation.
Also, it must be frugal in the way it consumes natural resources, given their scarcity.
Keeping India's context in mind, if we only talk about information and communication technology as a major component of a smart city, it will be a little misleading.
We have to think in terms of what smartness means to us and our people rather than focus on what smartness means in the Western world.
This is particularly important keeping in mind the government's vision to develop 100 smart cities that would touch a significant portion of the urban Indian landscape.
Quality of life, sustainability and employment opportunities should be the three main pillars of smart cities in India. We believe multiple smart townships would be required to make a smart city.
With initiatives like our value housing projects, where we offer houses priced at Rs 15-30 lakh in Mumbai, Ahmedabad and Bengaluru, we can create an ecosystem where people live close to the industrial hubs and have access to a public transportation system.
These projects should also incorporate amenities other than housing - like social amenities, retail centres,cultural centres - for a healthy social life.
What are the challenges of developing a smart city? How can the government help evolve people's perspectives about sanitation, cleanliness and an infrastructure that ensures safety for women?
Today, India is urbanising at an unprecedented rate. Estimates suggest that by 2030, nearly 600 million Indians will be living in cities. Keeping in mind the population explosion, the scarcity of resources will be the biggest concern.
Everything will have to be developed with sustainability at its core. Additional impetus needs to be given on planning for mobility, transportation requirements and future proof infrastructure.
The most challenging task would be to enlighten citizens. The physical infrastructure can be created but we would need work with the people and make them aware about the importance of sanitation and cleanliness.
Only a city that can also address the issue of women's safety successfully can truly be called smart. How will partnerships with countries like Germany and the United States help? Are there any global precedents for a smart city?
While a strong IT infrastructure is important, Indian smart cities need to go beyond that. We have quite a few cities abroad that are known for their impeccable planning. As far as India is concerned, we should look at cities like Jamshedpur, a city with a large migrant population.
It is a classic example of a perfect blend of large industries with social clubs, playgrounds and religious centres.
This makes it sustainable in the sense that it has a strong livelihood component too. Like Jamshedpur, many Indian cities that have been and will be properly planned can be smart cities of the future.
How can this vision ensure that these cities are inclusive and are able to create an infrastructure for future expansion as well?
Since smart cities are going to be cities of the future, these need to be inclusive in all aspects of sustenance.
The intrinsic design of smart cities should ensure that these cities not be treated as a one-time investment to be developed.
The central and the state governments should be made responsible for the standards followed while building smart cities are consistently applied and adhered to in order to measure the smart city's effectiveness.
Adoption of these new standards will facilitate cutting-edge investments and will help to grow the size of the marketplace.
Technology is important but infrastructure lies at the core of the city and needs to be particularly focused on to make the cities will be last long.
The development of these cities must be an ongoing process, much like its maintenance.