"In India, the sector will grow to $10 billion by 2018," predicts Vishal Bali, co-founder, Medwell Ventures, in an interview with Apurva Venkat.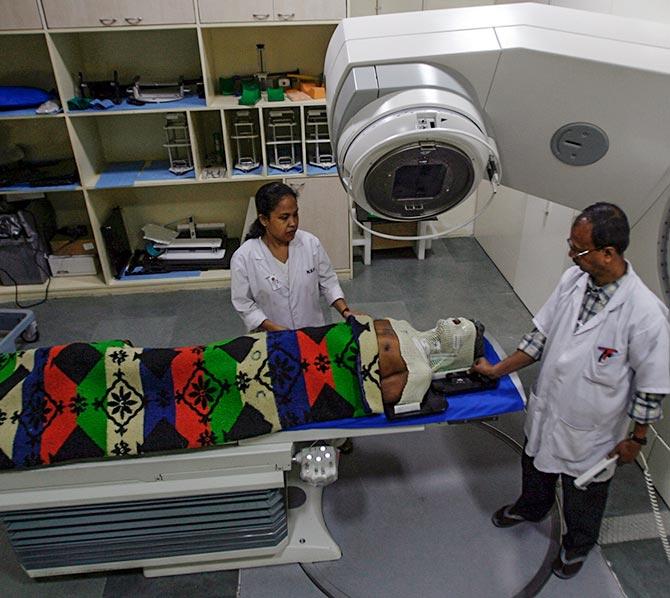 IMAGE: Radiologists examine a cancer patient before operating a computerised linear accelerator machine for radiation treatment at the North Bengal Oncology Centre, a cancer hospital, on the outskirts Siliguri; Photograph: Rupak De Chaudhuri/Reuters
Nightingale Home Healthcare, a home care service provider based in Bengaluru, grew from a few 100 patients to 25,000 subscribers and 600 services each in 18 months.
Medwell Ventures, founded by former Fortis Healthcare limited CEO Vishal Bali, acquired Nightingale in April 2014, and is trying to organise the unorganised sector of home health care with a focus on chronic diseases.
In an interview with Apurva Venkat, Bali talks about taking the services to 10 cities by 2020.
How has the journey of growth in the last 18 months been?
We started Medwell Ventures two years ago. We had two choices, either to start something new or take something existing and start building the whole system. Nightingale's had existed in Bengaluru for years, but it was only in the area of bedside care for elderly patients. They had just about 15-20 employees who were bedside caregivers.
But our idea was to focus on chronic disease management because it is the big opportunity from an Indian perspective. There is a bunch of chronic diseases where you need not necessarily go through hospitalisation if you are managing the diseases well.
The model in Medwell Ventures was home healthcare around chronic diseases along with multi-disciplinary clinical team. We felt the need to have a strong orientation of medical and paramedical care.
The key areas where we provide services are patients with neurological stroke, cardiac stroke, respiratory issues, diabetic patients especially those who have gone through surgery. We now have patient between ages 30 and 95.
How much has Nightingale grown in terms of patients and staff in the last 18 month?
We have grown from 15 to 20 staff members to 900 people which include bedside caregivers, medical staff, paramedical staff and physiotherapists. They are all full-time employees with Nightingale and go through a training of at least two months before they attend to patients.
We have 25,000 regular subscribers. We have 600 services each day. We also have 11 branches in Bengaluru, Hyderabad and Mumbai. In the clinics or branches, 60 per cent of the services are at home and 40 per cent are in clinic physiotherapy.
We went for a branch-like model so that we have a greater control over logistics and control of the periphery of the city.
What is the next level you aim to achieve?
We want our caregivers to be specialised with various chronic diseases. So we want to have separate segments for cardiac stroke and for neurological stroke. We want the nurses and the caregivers to be segmented by specialty. We plan to be in 10 cities by 2020.
We want to be in metros first and then tier-II cities. This is the way the industry works, new technology is first adopted in metros and then moves to tier-II cities.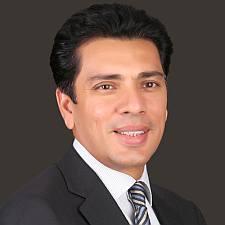 What is your path to profitability?
We have raised $10 million from Fidelity Group and $8 million as seed round. We will raising some more money for expansion very soon. However, our branches and business are run keeping in mind the unit economics. We look at profitability at a branch-wise basis.
How much is the home healthcare industry worth in India?
In India, the current market is $ 5-6 billion and more than $100 billion in the US. In India, it will grow to $10 billion by 2018. The sector has become an organised sector in Japan and US.
In the US, it was because of the insurance companies, in Japan is was due to the huge aged population and in the UK it was the NHSS (National Health Service Scheme) is what acted as a driver for the home healthcare.
In India, the way I saw the opportunity was, our whole system today is very hospital-driven. Hospital beds are for acute care patients, if you start filling up hospital beds with chronic care conditions, there is no bed for acute care conditions.
That is why when an epidemic happens there are no ICUs available, no hospital beds available. There is an opportunity in India, and the rise of the home healthcare sector can free up hospital beds and that can be used more effectively for home care.