'The RBI is not releasing Rs 2,000 notes for the last 10 days; probably they have stopped printing it.'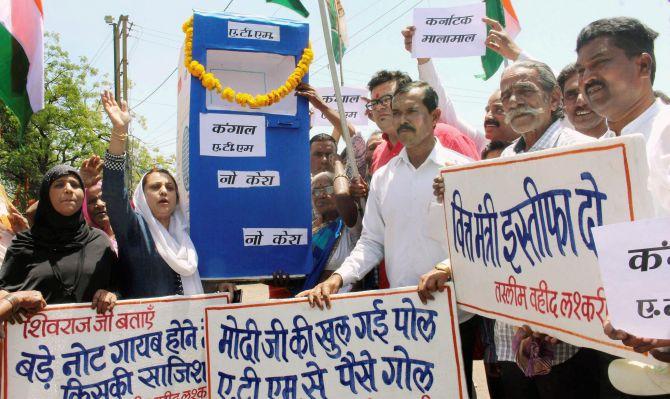 17 months after Prime Minister Narendra D Modi outlawed Rs 500 and Rs 1,000 currency notes -- causing considerable hardship to Indians across the land for several weeks -- the cash crisis returned to haunt Indians this week.
Across the nation, ATMs greeted citizens with 'No Cash' messages and memories of long queues outside banks revived, prompting the Opposition to remark that the 'financial emergency' had returned.
Finance Minister Arun Jaitley tried to pacify the public, terming it a 'temporary shortage' in certain states, which is being 'tackled quickly' and that there is 'more than adequate' currency in circulation.
"'The RBI wants to reduce cash in circulation and wants people to switch to the digital economy... The push towards the digital economy has increased after a private mobile operator started its payment bank from April 3," D Thomas Franco, general secretary, All India Bank Officers Confederation, tells Rediff.com's Syed Firdaus Ashraf.
What has led to this sudden shortage of cash across India?
The RBI (Reserve Bank of India) is consciously releasing a lesser number of currency notes to the banks. They feel there is more currency in the market now than in the pre-demonetisation period.
They want to reduce cash in circulation and want people to switch to the digital economy.
So the RBI is supplying lesser amount of currency note to banks, especially Rs 2,000 notes. They are practically giving out no Rs 2,000 notes.
Secondly, the push towards the digital economy has increased after a private mobile operator started its payment bank from April 3. They are offering the service for free.
However, the Modi government's push towards the digital economy has not been successful because of service charges and the inability of a large number of people to understand even basic English.
Thirdly, the people's fear of the Financial Resolution and Deposit Insurance Bill (has resulted in increased demand).
People fear this bill enables the liquidation of their accounts if banks go bust.
What about the ATMs? Why are they not working?
A cash shortage arises because when two ATMs don't work people go to the third and take out the maximum amount of cash allowed.
I myself went to 10 ATMs and didn't get cash, so at the 11th ATM, I withdrew the maximum cash because I was not sure when I will get cash at an ATM again.
Generally, the trend in the salary class is to withdraw Rs 5,000 in the first week of the month and then in a phase-wise manner, they withdraw money in subsequent weeks.
But now the fear psychosis has gripped them so the salaried class is withdrawing all they need for their monthly expenditure in one go at the start of the month.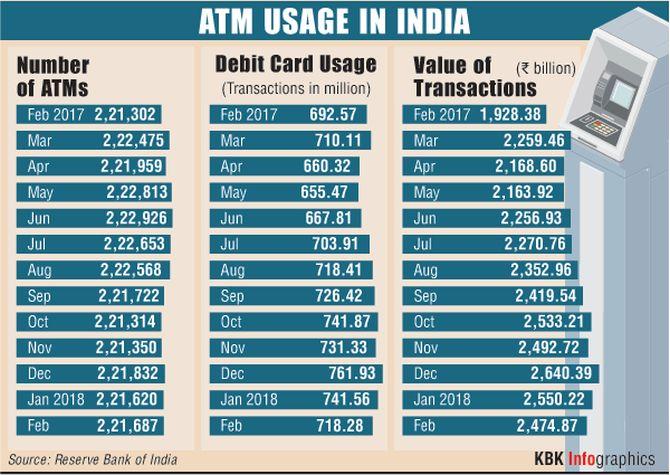 The RBI says recalibration of ATMs is happening...
The RBI monitors online which ATMs are working. The job of loading cash to a lot of ATMs has been outsourced to several companies.
If these companies show fewer ATMs functioning, they lose their commission.
So what they do is that before an ATM is about to run out of cash, they just pull down the shutters and put a 'No Cash' board.
But it will be shown online as functioning because there is still some cash left in it.
Why do banks outsource loading cash in ATMs?
Everything in this country is being outsourced.
About 90 per cent of ATMs are being filled by more than 20 such private companies.
Do cases like the Punjab National Bank fraud affect the public psyche and push them to withdraw all their money?
This is just an aberration. Punjab National Bank customers have still put faith in it. They have confidence in their bank.
Do you think the government should now admit that demonetisation failed?
There is no doubt about this. Demonetisation was a grand failure.
A large number of people in India find it easy to do cash transactions rather than digital ones. No black money has come back.
Statistics show that many people have moved to online banking.
If you see RBI data, people moved to digital banking during the demonetisation process. But now they are coming back to cash.
Was the RBI not prepared for this cash crisis?
The RBI's staff strength has practically gone down.
In the past 18 years, the RBI staff has been reduced by 50 per cent.
Their monitoring system has become weak.
Their supervision has become weak and so has the decision making.
Only the RBI knows why they are not hiring more people.
Some people say politicians are hoarding cash for elections and therefore the crisis.
States not going to the polls are hit more by the cash crisis.
There was not much shortage in (poll-bound) Karnataka; whereas Tamil Nadu, Andhra Pradesh and Telangana, which are not going to polls, are strongly hit by the crisis.
Now it has spread throughout the country.
I believe at least 30 per cent of Rs 2,000 notes have disappeared and did not come back to the banking system (after being released), and now that money has been converted to black money.
The RBI is not releasing Rs 2,000 notes for the last 10 days; probably they have stopped printing it.
The RBI is wrong in comparing the cash in circulation today with that of the pre-demonetisation period.
Though cash in circulation has come to the same level, but (the RBI is forgetting) that every year there is a growth in the currency situation.
People will always keep a certain amount of cash for their safety.
We have seen people withdrawing huge amounts money because it gives them a sense of safety.
Isn't it weird? India is not Venezuela.
Fear creeps in.
Today employment is not growing, the industrial output is not much and black money has not come back as promised.
Corruption has not stopped.
In 2008, it was rumoured that ICICI Bank was going to collapse, so there was a run on ICICI Bank.
The RBI had to provide as much cash to ICICI Bank as it sought. This went on for 4-5 days and only then things settled down.
Only when ICICI Bank hired Shah Rukh Khan to advertise for them were people assured that their money is safe with the bank.
The government says there is a conspiracy because suddenly there are huge cash withdrawals.
For every crisis the government blames others.
The present crisis is not because of Pakistan or the Opposition parties. This is ridiculous.
It is a fact that the government has not been able to reduce NPAs (non-performing assets) or create new employment.
The Modi government could blame Opposition for its troubles in the first year in office, but not blame after four years.
I don't think the people will buy that argument.
What about GST (the goods and services tax)? People are doing business in cash and so therefore there a cash crunch.
The industry is not getting in time the input credit that it must get. People are feeling why should they pay more tax when they are not getting any service from the government.
We pay tax to get services from the government, but people are not getting free education, free healthcare, free housing or even employment. They are only adding on taxes.
For a middle-class family, almost 52 per cent of its income goes into taxes which includes excise duty and service tax and all that.
People cannot go on paying taxes indefinitely.
I feel this (evading GST) could also lead to a cash shortage as, in some cases, it is going into the 'parallel economy'.
You cannot eradicate the parallel economy in the country.
For how long will this shortage continue?
Now they say four days.
I would demand that the government must publicly announce they are withdrawing the FDRI bill, so that people feel that their money is safe.
Also, service charges levied by banks must be withdrawn as people are very unhappy about it. (Charges levied on) mobile banking, Internet banking, and minimum balance (requirement) in banks are affecting the public.
The RBI must tell the banks that they cannot levy charges for these services. They have the power to do that, but they are not doing it.
Do you think a situation could arise when nationalised banks say they will not return the people's money or go bust?
It is not the case today. But if this FRDI bill is passed, it will definitely happen.
I only hope the government comes out and puts all these rumours to rest.
In 2003, there was a similar situation in Cyprus. Two banks went bust. One bank returned only 60 per cent of deposits and another only 40 per cent.
I have seen people transferring money from one bank to another without any reason.
There has to be awareness among people as the FRDI bill has not yet been passed (in Parliament).