'I will not bog down with the setbacks. I am going to republish the book. All the copyrights rest with me,' former executive director of Air India Jitendra Bhargava tells Tinesh Bhasin about Praful Patel's pressure to withdraw his book The Descent of Air India.
Jitendra Bhargava, former executive director of Air India and author of The Descent of Air India, a critical appraisal of what went wrong with the national carrier, was surprised when he and the book's publisher, Bloomsbury India, received a legal notice from former aviation minister Praful Patel.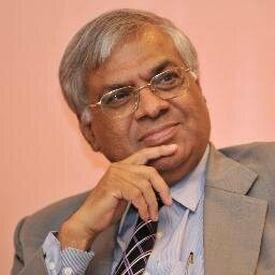 Every claim Bhargava made in the book is backed by evidence, and prior to printing, it had undergone the scrutiny of publisher's legal team, he says.

Despite this, Bloomsbury opted for an out of court settlement with Patel. It withdraw all copies of the book and issued a public notice that says, 'If the contents of the book have caused any embarrassment to Mr Patel we sincerely regret the same'. However, the legal fight between Patel and Bhargava continues.

In an interview with Rediff.com's Tinesh Bhasin, Bhargava says he was planning to republish the book and talks about the support he is receiving from social activists and lawyers.

Can you tell us what exactly happened?

After the book was published, Bloomsbury India and I received legal notices from the former aviation minister Praful Patel. The publisher, initially, ruled out the withdrawal of the book.

The first court hearing was scheduled on December 19. A day before the hearing, at 7.30 in the evening, Bloomsbury India informed me about the out-of-court settlement.

I was shocked at the publisher's decision, as everything in my book is backed by evidence; not even a word of it is speculative.

Bloomsbury's decision was sudden and I was not kept in the loop of how things were shaping up.

While the publisher has withdrawn the book and apologised to Praful Patel, I am still fighting the court case.

What do you plan to do now?

I will not bog down with the setbacks. I am going to republish the book. All the copyrights rest with me.

There are many digital publishers who have approached me to publish The Descent of Air India as an e-book.

What were the terms of settlement between Patel and Bloomsbury?

My lawyer has asked for a certified copy of the settlement. As of now, I am only aware of the statement Bloomsbury has issued on withdrawing the book and apologising to Praful Patel.

Did Praful Patel try to reach out to you directly or through someone?

Patel and I have never talked to each other about the book. The minister knows the person I am and that I won't change my mind.

However, there have been instances of TV channels cancelling shows or discussions based on the book. One channel even dropped a show after recording it. It appears that Patel can influence media.

Bharatiya Janata Party leader Subramanian Swamy launched your book in Mumbai. What was his reaction to the entire issue?

Swamy is aware of the development but we have not talked about it yet. There are other lawyers and activists who have extended their support.

Prashant Bhushan, for example, has said that he is ready to help me whenever I need him. He has filed a supplementary affidavit in the Supreme Court to his earlier case. Mahesh Jethmalani is helping me with the case in Mumbai.

There has been lot of support on social media. My posts are shared and Twitter followers are growing. Some told me to join the Aam Aadmi Party and fight elections against Praful Patel. However, I don't have any political ambitions.

What I have realised is that those supporting me are not against any particular minister. People in the country are fed up with corruption. Many of these are people in their 40s and have an emotional connect with Air India. They can't bear to see someone destroy the airline.

By when do you expect to republish the book?

I hope to finalise this decision in next few days. I am updating The Descent of Air India and this will be the third edition.

The updates are about developments in the aviation field and how they are affecting the national carrier. For example, Ajit Singh spoke of privatising the airlines, which could be good for Air India. The problem is the execution and implementation.

Another update will be about Tata-Singapore Airlines joint venture getting permission from government to make new Delhi as its hub. The city is already a hub for Air India and nowhere in the world governments share hubs of their national carrier with private companies.

I may even write on why Bloomsbury walked out.