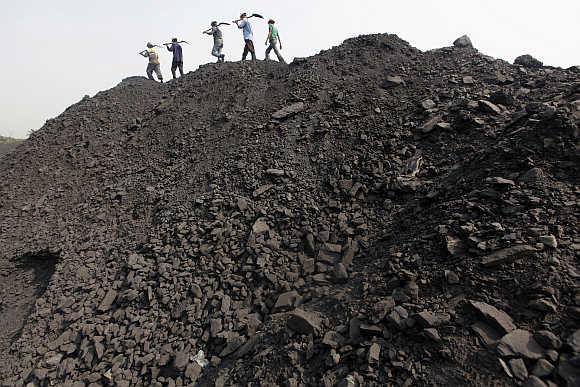 'I have fundamental problems with mines being allocated to end-users. Mining is a commercial operation. It needs expertise and technology.'
'If someone has a power plant, how does he become an expert in mining coal? Someone has a steel plant, his expertise is in making steel and not making coal or the mining of coal.'
'There are 3 million people without electricity and it is not that power capacities are not there. Power capacities exist but they do not have the coal to produce electricity.'
Coal industry expert Sunjoy Joshi tells Sheela Bhatt/Rediff.com that the NDA's e-auction of coal blocks will not solve the fundamental problems that dog the industry.
Sunjoy Joshi, (below, left) a former bureaucrat, is director of the Observer Research Foundation, and is known for his expertise on issues related to energy, climate change and development studies. Joshi, who has also worked abroad, took premature retirement in 2009 and has since contributed to making the ORF think-tank hyperactive. His experience in government service puts him in a unique situation to understand the working of policies. At ORF, Joshi is presently working on a programme on 'India and China: Energy imperatives for a changing world'.
The auction of 33 coal mines by the coal ministry has given mine-owning states a potential revenue of around Rs 2 lakh crore.
With the new National Democratic Alliance government trying to put the coal sector in order, Joshi discusses the status of the coal sector in India with Sheela Bhatt/Rediff.com. (The interview was conducted before the coal mines online auction took place).
Find out why Joshi thinks the online auction of India's coal mines is wrong. The first of a two-part interview.
Recently industrialist Gautam Adani was in the news for buying a coal mine in Australia. Why is the import of coal so important? Can you explain the current scene in the industry? Why does India have to import coal when it has so much of reserves?
In the present situation India should not be importing coal as we have the fourth largest coal reserves in the world. But there are two fundamental problems. One, that our coal is of a very poor quality, its ash content is very high. In fact, the ash content is so high that when we talk to power plant operators, they say that Coal India Ltd (the government-owned coal company) sends us stones rather than coal. Also, we are transporting stones over great distances, across the length and breadth of the country, and wasting fuel and energy.
Australian coal has a much higher calorific content. That is one problem but the bigger problem is that the coal production in our country just doesn't scale up and coal-based power companies have not been able to take off in India because of the inability of coal producers to get coal across to them.
It has a lot to do with the domestic policy environment in coal production that is forcing companies to go out and search for coal assets abroad. There was a time when coal abroad was very expensive. While national prices have become high today, international prices are low.
So if you are looking for new acquisitions, ie, green field acquisitions, this is the time to go and buy assets abroad because the prices in the international market have fallen. But unfortunately, most of the acquisitions that Indian companies have made, we have the tendency of often entering the market at the wrong time.
We entered the market and acquired coal access in a period of high prices and then we faced certain regulatory dilemmas with countries like Indonesia and even Australia where the government stepped in with interventions as to what price the coal could be exported to India, which then affected the viability of power plants set up on the basis of that coal. It's a complex industry and the sector is actually complicated by the kind of regulatory interventions which keep coming in from time to time.
But from the producer's point of view -- like from Adani's point of view -- who are in the coal import-export business, when the market is low his margin will be low.
But the point is if you're acquiring an asset, this is not a new asset, it makes sense always to acquire a resource when prices are low because valuations are low. So you're going to get it cheap. And these being energy assets and with energy prices being very volatile, you will always make money on the upside, when the prices again rise up. So it is a matter of fluctuating supply and demand.
Is it advantage to the consumer if the coal is imported?
It is absurd to think that the importer will not transfer the cost of the primary commodity to the consumer. If coal availability improves, then it is an advantage to the Indian consumer. Because at the moment India is actually struggling to fuel its power plants. You have the power capacity setup but they do not have fuel linkages. There are three million people without electricity and it is not that power capacities are not there. Power capacities exist but they do not have coal to produce electricity.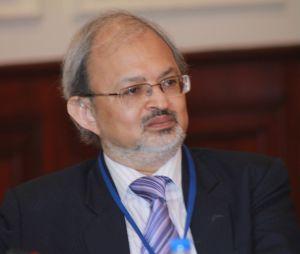 A country's credibility is judged by many criteria and one of them is how it uses natural resources. So what do you think of the broader aspect of the coal issue today after the Supreme Court's cancellation of the coal mine allotments done by the United Progressive Alliance?
I think we have got a very wrong judicial perception of the meaning of natural resources and how natural resources should be used, how natural resources are extracted, produced and utilised. I do not blame the judiciary for this, it is a perception that has percolated down right since independence within the psyche of the whole administrative system which we have in place.
For example, the whole dispute was over the coal nationalisation act and whether the coal nationalisation act permitted, actually permitted, the government to give out licences in the way that it did. The problem is that many of the coal blocks that were allocated are as old as 20 years ago. It is not that the judiciary has not been active. The judiciary has been open to PILs all the time. The whole thing was for 20-25 years, the whole processes remained silent.
And then you discover flaws and try to cancel the licences. If the process was legal, action should have been taken against the system that took those decisions. That is one part of the action, the second is if someone obtained the licence by fraud, had lied, submitted false affidavits, obtained the licence by cheating, then action against them is justified.
But the primary action should be to compensate the people who believed in a policy floated by the government and bid for licences. The SC should have been fixing responsibility where it lay.
From the larger perspective, you were taking about natural resources and how they should be distributed. The point is first of all, natural resources have no value on their own unless they are extracted. If you have coal buried underground, in some cases India's coal reserves are buried thousands of kilometres down and we do not even have the technology to reach them, why are we even calling it a natural resource? Does it have any value?
Unless that natural resource is taken out it has no value. And in order to take it out, you are going to need investments, people will have to put in money. You will need technology, again it's a factor of building a large enough service industry in the country which can service companies who get into the coal mining operations.
It's not a one-day thing that one day they bid for blocks and two years later the operation starts. It is a long process, first of all investments come in, then the expertise comes in, then the technology providers come in, a whole lot of industries and services have to develop in that sector. None of that is going to happen overnight. So we have been following very misguided policies in our entire approach to natural resources.
After the judgment do you think this government is doing the right thing? Like the e-auction of coal blocks.
For the e-auction, or whatever it is, it is still not openly starting a system of commercial mining. There is still too much regulatory control, it is still working on a system of allocations and quotas. They are still tying up coal blocks for allocation to end-users. That is a fundamental flaw.
Do you think e-auctions will solve the problem and will lead to the allocation of mines judicially and to the users who need it?
I have fundamental problems with mines being allocated to end-users. Mining is a commercial operation. It needs expertise and technology. You have to develop companies in India which have mining capabilities.
What do you do when you make a coat, do you look for the button first and then the coat or the coat first and then the button? If someone has a power plant, how does he become an expert in mining coal? Someone has a steel plant, his expertise is in making steel and not making coal or mining of coal.
So this entire business of allocating coal mining to the end-users started when the initial round of privatisation started. This whole concept of captive coal blocks was wrong. Unfortunately, the notification still seeks to move on with that policy.
Watch out for Part 2 next week!