'Jin Jiang had invested in Louvre Hotels.'
'Louvre, a couple of months ago, took a majority in Sarovar hotels.'
'So they are coming in now.'
'Look at the Chinese -- two quarters ago they took 25 percent in Hilton.'
And then HNA also took majority in Carlson (Radisson).'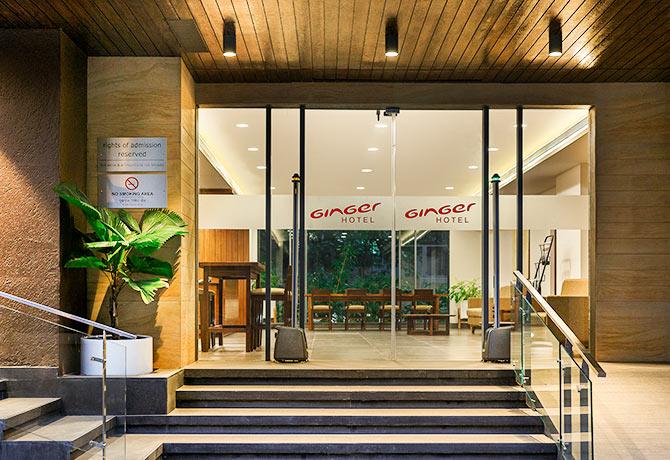 By the end of June the Ginger chain of hotels, run by Roots Corporation Limited, a subsidiary of Indian Hotels Company Limited, had opened two more hotels. One in Gurgaon. The second in Andheri, north west Mumbai.
Ginger started out as a non-luxury offering from India's largest hotel company, known for its sumptuous Taj hotels.
Since 2004 its footprint has extended all over India, but in a under-supplied market with great potential -- just one hotel bed per 10,000 -- you wonder why it still has so few hotels, only 41.
In the second part of a conversation with Rediff.com's Vaihayasi Pande Daniel, Rahul Pandit, the MD and CEO, and Nikhil Sharma, chief operating officer at Ginger, reveal the challenges involved in being a hotelier in India.
Why just 39 Gingers! Given India's shortage of rooms and your price point, Ginger should have hundreds of hotels.
What is the biggest challenge in opening new hotels?
One is land.
(The second) across India is a statutory and regulatory framework.
Typically in India -- Bombay is an exception, Bombay it is even higher -- you need 74 different licenses and NOCs and approvalsto open a hotel.
One-third, typically, come from the central government.
The next one-third from the state government.
The last one-third comes from local municipal bodies, fire, police, hygiene and all of that.
Understanding that and navigating that... You can actually get a hotel built up fast and then still keep on waiting for all the clearances...
Is the situation getting better, with all the talk of ease of doing business etc?
There are some states where it has definitely gotten better.
If you look at Gujarat, it is well oiled now.
If you see Andhra (Pradesh) it is better.
Even Karnataka has improved.
Maharashtra is slow. Little obdurate. That's the nature of the beast.
So even though India has a national building code, each state has its own interpretation, number one.
Number 2, the local municipal licences can vary state to state. The approving bodies can vary. Their formats can vary.
So how long does it take to get these permissions?
This project (Ginger's Mumbai hotel) has been on for now three plus years. The hotel is ready.
And actually for Maharashtra the speed of permissions has been relatively fast compared to many projects.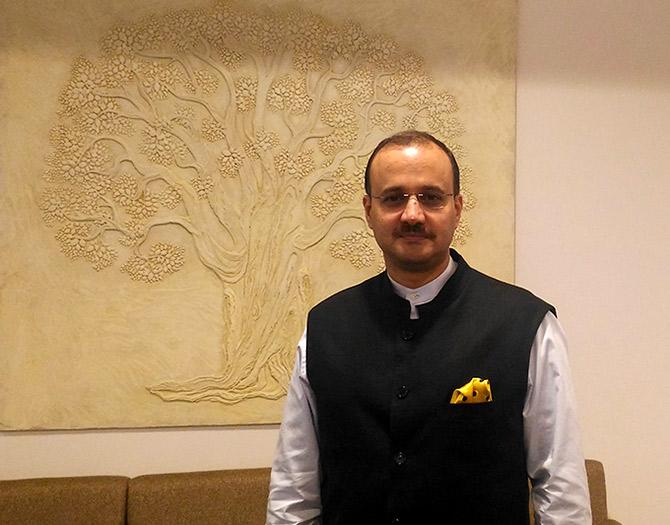 IMAGE: Rahul Pandit, CEO, Ginger. All photographs: Kind Courtesy Ginger
How big an issue is land?
Getting a clear title to land is in itself an issue.
Some of this may be historical. Or in families.
Especially where there is a conversion in land use. Then that is also an issue.
First, start with the land. You need a clear title.
Then you have land use. On the average if you are doing land, and verifying all of that, it could take anywhere from three to six months across the country.
Has Ginger's model always been to build? To start from scratch?
Now actually we are changing the model.
Two things are happening. Our earlier model was more asset heavy.
In the beginning, when you are introducing a new product, you have to have your own capital backing it up, to be able to demonstrate what has happened...
Now we are becoming asset lite.
So instead of doing more greenfields and more of our own constructions, now we are doing more brownfields.
We are doing more leases. We are also doing management contracts.
That must be a little sticky and hard to pull off.
Management contracts are typically 10 to 15 years. Leases are 25 to 30 years.
Are they more difficult to execute than a completely new project?
It is easier to do.
Say it is your asset, for example... You decide, you want us to run the asset. Effectively we become managers of your asset...
You may be doing a new hotel, where we would give you the drawings and technical support.
Or you may already have a running hotel, where there may be an opportunity for us to re-flag your hotel in our brand standards and all.
Tell me about how the Indian consumer differs from other consumers.
What have you learned about the Indian consumer over the years?
The Indian consumer is very finicky about service or the expectations of service. That's one very big thing.
The other thing I see now changing very rapidly... Earlier if you had a product which was low cost, it was easy to sell.
Now the consumers have become more value conscious. Low cost in itself is not good enough.
It has to be great value. That's the stated ask of the Indian consumer. The stated ask earlier was low cost...
That in many ways represents a shift in the mindset...
Anything which was low cost would sell. Now the first ask is low cost.
But what the consumer is not saying, and fleshing out, is give me low cost, but give me high value.
And if you start putting in high value, then it is a valuable proposition today in the consumer's mind.
Also, there is so much youth. And consumers are also travelling.
In our case they are travelling across the country. To other countries too.
There is a big penetration of the Internet. Plus Indian lifestyles -- all brands are educating them.
Whether it be retail, clothes they buy or the airlines they fly. Or even the food that they order.
Today, for example, in our sector, (with regard to) hygiene and safety, you would say: Sure, I am going to get it at a luxury (hotel).
But if it was a low cost or budget hotel you would not be really sure of what would happen if you had khaana in a budget hotel or in the unstructured market.
Or about safety and hygiene. But these today are very big differentiators.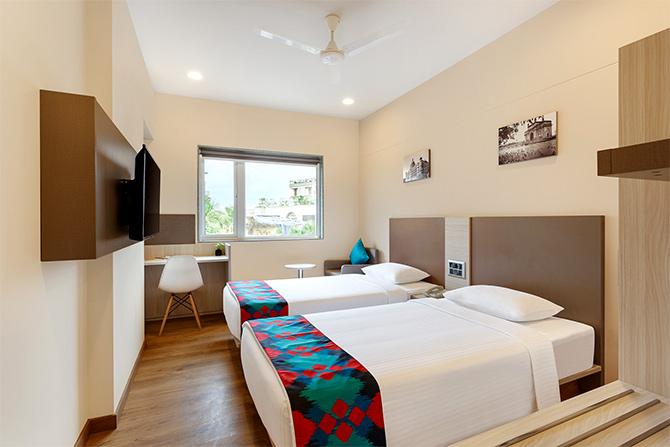 So the youth has come to appreciate hygiene and safety...
...Big differentiators.
In the budget to mid-scale market it is easy for us to have consumers buy Ginger.
They see great reliability. A, it is the Tata name. B, is hygiene and safety.
So consumers are willing to pay the price because when you walk into Ginger whether it is access control or the khaana that you are going to eat or whatever (is of a trusted standard).
Perhaps the Indian market has a tendency to permanently remain an inverted pyramid unlike the rest of the world.
And extra capacity is not needed.
Maybe cultural differences also account for this.
Maybe they will always be staying with their relatives...
It is not that all of that capacity (that India is falling short on) has to be created. A large part has to be.
Also, a large part already exists. It needs to get re-flagged to better standards.
There are independent mom and pop stores already operating. They may need retrofitting for safety and security or fire safety.
They would already have people who are there running the hotel. They may not be trained people or qualified people.
A large part of that is to shift existing supply to more quality supply.
The second part is actually ensuring that supply gets created favourably.
Whether that is the right location.
Whether the right assistance with raising debt or the entire statutory regulatory framework.
Coming to consumers: With Indian consumers two things are happening. It is like in many ways what happened to the airlines sector a decade ago.
There were only three guys and they were operating at 60 percent load.
Today there are effectively 12 guys and they are operating at 75 percent load, because earlier people were saying that if we are already at 60 percent load what (more) is going to happen.
I think that if the right supply is available, at the right price point, and with the right infrastructure connectivity, demand will increase.
Like the Aerocity you spoke of, is itself an example... It is doing equally to Delhi now and without impacting Delhi demand...
About staying with relatives: From the Indian consumers' psyche point of view what's happening is that earlier they were (living in) joint families and people had time.
Now it's all nuclear families... The inclination towards having guests over and all of that's changing.
Youth are not so comfortable.
A Ginger is not exactly comparable to say the average American motel.
That's why a lot of people who might stay in a roadside American may not stay in a Ginger.
Maybe that's because there is a prestige factor.
Maybe it is about who I am staying with.
Ginger has not replicated that very democratic American motel experience branding.
Hotel choices in India is reflective of social standing...
We are doing two things. There is a new positioning for the brand. But we will start speaking about it a few quarters down the line.
Second, there is a new design change happening at Ginger.
So from being seen as very functional, we are going to say this is the design and the experience that caters to all your essential requirements.
You are trying to change the image and the product to combat this?
In Ginger version 2, over the next three years, most of our portfolio will become like this.
And because the consumer is not looking only at low cost, he's looking at value...
If you keep on drumming low cost too much, then the unintended consequence is it is perceived to be (merely) functional.
That essential shift in our communication has to happen. It is already happening.
It will get more amplified once this hotel is ready and another three or four are ready.
So competition is not an issue for you. It is just about how fast you can expand?
India is so big.
Look at a small country like the UK. It is smaller in population and size than Uttar Pradesh.
One brand there, called Premier Inn, has close to 700 hotels. And it is just one of the budget brands.
Ginger can easily have 500.
So a couple of years down the line, if you were to look at the map of India, it will be very good, if wherever you put your finger, you should have a Ginger there.
And many other international brands are seeking the same opportunities.
Look at the Chinese.
Jin Jiang had invested in Louvre Hotels.
Louvre, a couple of months ago, took a majority in Sarovar hotels. So they are coming in now.
And especially for the Chinese there is another advantage because their effective cost of capital is single digit.
If it is government backed, it is close to five percent.
In India cost of capital is in double digits.
So only if you are institution, let's say it is seven percent.
Here we would look at an effective return of at least about 10, 12, 15 or 18.
There (in China), when you come from a single digit environment, the moment you come in here, you are still better (off).
So not only are the established guys looking at (the market), there will be lots of Chinese capital which will come on in here.
Look at the Chinese -- two quarters ago they took 25 percent in Hilton. And then HNA also took majority in Carlson (Radisson), the entire portfolio.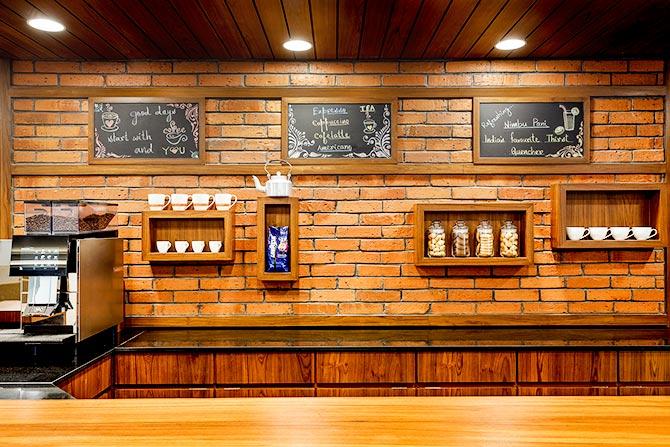 Do your Ginger hotels run mostly full? Or is demand seasonal?
Typically we do about 20 per cent premium to the market.
So if the market is doing 60 per cent, we would do 72 percent.
Our price point gives us that advantage. So we get more heads on beds.
What about tourists, how many do you get?
Is India not really marketing itself very well?
As a member of the hotel industry, what do you think India needs to do?
One is the messaging about the country.
We have a brilliant Incredible India campaign. But after that the campaign is not being followed through.
And then we now need a more 360 degree messaging. Whether it is on online channels, whether it is a campaign.
India should not be a country you do after you do the rest of the world.
It is a country you do to experience the world as it is today.
Because even from the tourist perspective you are coming to the largest democracy in the world.
You are coming to the powerhouse of the workforce in the world.
You are coming to the strongest growing major world economy.
So how are we projecting ourselves?
The other thing is, the (world's) perception of safety (in India).
If you look at other countries -- if you look at safety-related incidents -- you know the numbers stack up more in India's favour (less crime in India that impacts personal safety).
We need to do a much better job there (conveying that).
Though what's happening with e-visas is quite laudable, we need to have more air connectivity.
At the peak of winter our flights are running full -- inbound and outbound. But we just don't have many more routes.
The issue is with the airports. Delhi and Bombay have so much congestion.
Sometimes I wonder about all the new fleet which is coming in -- where are they going to be parking the planes?!
One more thing: We need to look at rationalising our tax structure.
If you look at our neighbouring economies -- whether you see Singapore, Malaysia or Hong Kong -- their tax structure and even their GST supports tourism and hotels by an effective lower tax.
The lower tax philosophy is that it should have a multiplier effect.
People need to recognise that hotels are not a luxury.
In what ways have Indians who check into hotels not come of age?
One is appreciating the price value arbitrage...
Nikhil Sharma: Sensitivity to other guests. They are generally loud. That's how we are.
Pandit: The other thing, which is true of India generically, is that when we say we are in the hospitality sector, the assumed characteristic is one of servility.
You expect that the other person will be servile and then this behaviour is mirrored.
At Ginger we are trying to break out of that servility mould and have an attitude of delivering service as equals.
We are ladies and gentleman delivering service to ladies and gentlemen.
It is changing because the younger generation doesn't want to be fussed about too much.
Most of our customers are between 25 and 45 years. So they would bond easy with our associates also.
Is the younger generation better about keeping the noise levels down?
Sharma: I think we will get there. But we have a distance to go.
Even on flights you have people switching on their iPads and mobile. It is how we are!
You must have spent a considerable amount of time on the road looking at hotels all over the place.
What are the important differences you notice between the Indian industry and elsewhere?
There was one time when I did an extended time in the US. I was just checking in and checking out of hotels, just to do different brands.
I think I did close to two dozen brands. I was going into hotels looking at things and taking photographs.
This entire service arbitrage. Their arbitrage is service...
So the range of services drops dramatically and customers are prepared for it.
And the second is the overall ambit of services in India is muuuuuuccch better, other than if you are doing Southeast Asia.
If you do Thailand, it is brilliant.
Even Singapore is getting into that mould.
Hong Kong already feels like it is there.
So from a consumer point of view we have an expectation mismatch.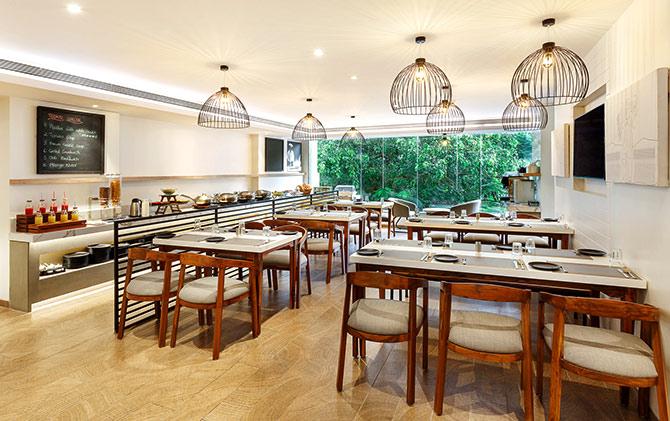 Is there something missing in the way the Indian hotel market runs?
So many hotels are allowed to get away with duping the customer price wise.
There are so many overpriced, abysmal hotels in Mumbai, Delhi and Goa selling fleabag, dirty, tiny rooms for $125 plus.
Tourists are fooled by the price and book into them and have a bad India experience.
Just the fact that you are allowing unstructured hotels to play in a branded market. They are also unregulated.
If the basics of the business are hygiene and security, fire safety, security, they are unregulated.
Unregulated because they get away by bribing?
It is not corruption. It is just that no one is focused on the sector enough.
Which countries give you the most interesting lessons on how to take Ginger forward?
From space utilisation perspective, both Singapore and Hong Kong.
From energy perspective it is Germany, which is brilliant with solar energy.
If you are looking at pure hospitality, the other place that can rival India is Thailand. Lessons to be exchanged.
From Bhutan, pride. Instead of servitude, to have pride.
One is to feel like equals and the second, is to have pride in the entire national ethos.
Whether in Bhutan you are at a hotel or wherever, they take pride.
Bhutan we may say it is a small neighbour but it is actually quite exemplary.