'If the Indian economy formalises, industrialises, urbanises and develops human capital, 10 lakh youngsters will join the labour force every month in the next 10 years.'
'It's not a bulb that will go off; it is a sunrise.'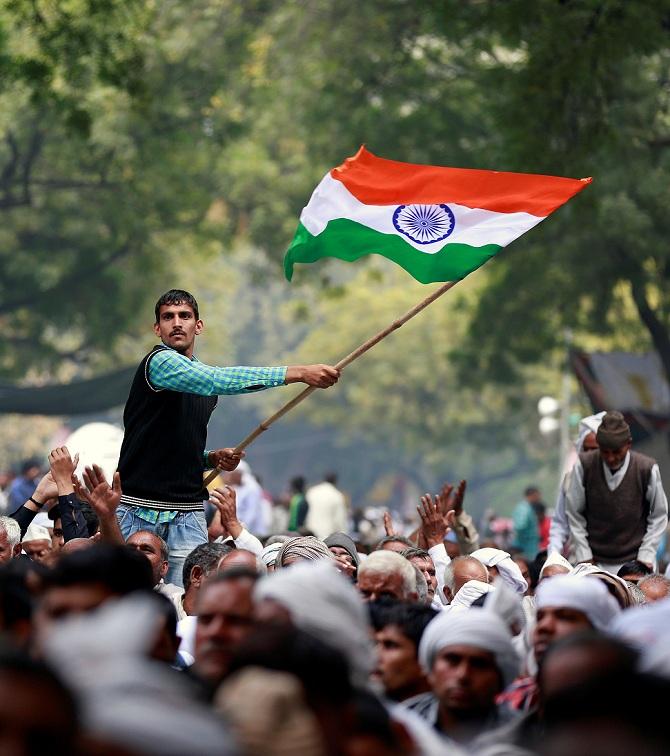 IMAGE: Rather than view it as lopsided development, Manish Sabharwal views internal migration for jobs as strengthening Mahatma Gandhi's idea of the hyphenated Indian identity.
Photograph: Cathal McNaughton/Reuters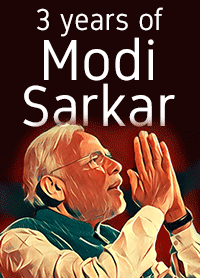 Every month around 90,000 people come to Teamlease Service Ltd for a job and the company hires 5,000 of them.
Teamlease, described as India's leading staffing company, provided temporary and permanent manpower solutions to over 1,000 clients.
It has hired 1.6 million people in the last 10 years.
It is among the largest payers of provident fund and ESI in the country.
And it raked in Rs 3,000 crores (Rs 30 billion) in revenue last year.
Manish Sabharwal, chairman and co-founder, Teamlease Service Ltd, speaks to Rediff.com's Shobha Warrier about the employment scene in India.
When we spoke more than 5 years ago, you predicted that the south would soon be the employment providers and the north, employment seekers. It has become a reality now...
Every country struggles with the idea of 'You take jobs to people or people to jobs.'
In most situations, you want to take jobs to people, but today you end up taking people to jobs.
For example, on Chinese new year's day, around 300 million people bought tickets to go home for the four-day weekend. That's because they had migrated to places away from their homes.
Though that hasn't yet happened in India, Kerala has 9.5 per cent Biharis living there while less than 10 per cent of Keralites live in the Middle East.
The migration has only just begun in India and it will probably escalate in the next 5 to 10 years.
The northern and eastern parts of India will have really tough times attracting investments and creating jobs.
The south has been attracting more investment and thus creating more jobs.
While people are trying to do things in Uttar Pradesh, Bihar, Jharkhand and Odisha, I think the embedded advantages of the south and the west will get amplified in the next 5 to 10 years.
What kind of impact will this lopsided development have socially?
If you look at India as a whole, it is good as India has always been a melting pot.
When you look at the initial migration of the educated middle class, the spread of English allowed the migration to happen in a much more orderly way.
India has a lot of other social and cultural infrastructure, which made internal migration much less disruptive than it would have otherwise been.
It is strengthening Mahatma Gandhi's idea of the hyphenated Indian identity.
What about the unskilled labourers who migrate to Kerala, Tamil Nadu, Andhra, etc?
The first phase or the first wave was the skilled engineers migrating to Bangalore, Hyderabad, Chennai, etc.
The pioneers were the English speaking educated middle class.
Now, it has reached the lower strata of society too with the enabling infrastructure and social acceptance.
Also, acceptance is driven by necessity.
How long can a country sustain this kind of migration and one-sided development?
Till you run out of farm labour.
Sir William Arthur Lewis, who won the Nobel Prize in economics, talks about this: it is called the Lewisian Turning Point, that is, people will continue to migrate from farm to non-farm till you run out of farm labour willing to migrate.
25 crore (250 million) Indians produce less food than 25 lakh (2.5 million) Americans. And they produce only 10 per cent of our GDP.
They have very low productivity. We have too many people in the farms in the north and east of India.
So, the migration will continue till we run out of farm labour.
Out of the 300 million Chinese who went to their villages on the Chinese new year's weekend, only 180 million came back.
That is because they have jobs in their home town. It means China has crossed the Lewisian Turning Point, but can continue for another 150 million people.
Narendra Modi came to power promising 250 million jobs, but he has not been able to create jobs in a big way. It is said the problem India has is jobless growth. Do you feel that way?
Not at all. In fact, I would say India does not have a job problem; it has a wages problem.
India's official unemployment rate is 4.9 per cent.
In my view, everybody who wants to have a job has a job, but they don't have the wages they want or they need.
When we started Teamlease 15 years ago, people used to come and ask us, give us any job, any salary.
Today, most of the people who come to us already have a job, but they want a better paid job.
According to me, wages and jobs are two completely different problems.
If you think the problem is getting jobs, you will do MNERGA and if you think the problem India faces is wages, you will do formalisation, industrialisation, urbanisation of the economy and better human capital.
These are the four levers of higher wages.
I think the prime minister has understood this and has put together a plan of formalisation, which includes GST, demonetisation and ease of doing business, urbanisation by creating smart cities, infrastructure and the Make in India programme.
The fundamental agenda of formalisation, urbanisation, industrialisation and human capital will take some time to achieve.
How long do you think it will take for the government to create more jobs?
Modi may need a second term to achieve this. Yes, he has to figure out how to get re-elected.
All the surveys say the biggest problem India faces is creating jobs for the hundreds of thousands of youngsters who pass out of colleges...
That's what I am trying to say. Our official unemployment rate is only 4.9 per cent.
We may say our engineers are unemployable, but they are not unemployed.
Out of the 15 lah to 20 lakh (1.5 million to 2.5 million) engineers who graduate every year, only 2 lakh (200,000) go to IT-related jobs.
But the fact is not every engineer is meant to do IT-related jobs.
Instead of working as a software coder, he is working as a Samsung phone sales person. So, he is not unemployed; he is getting wages lower than he should have.
There are lots of jobs in India right now and India's economy is more like the United States' and not like China's.
55 per cent of China's economy is trade; import and export, but in America, only 25 per cent of the GDP is trade.
India will be a domestic consumption driven economy.
So, you feel the unemployment situation is not alarming?
I don't think there is any need for panic.
If we stay the course, if the Indian economy formalises, industrialises, urbanises and develops human capital, 10 lakh youngsters will join the labour force every month in the next 10 years.
I think we are on track.
We are trying to transform an agrarian Indian economy to a modern economy.
It's not a bulb that will go off; it is a sunrise.
Yes, there is a lot of regulatory cholesterol in India, there is lack of infrastructure in India, there is low human capital in India, but we are in the process of transformation.
I am more optimistic about jobs in the next 10 years than I was in the last 10 years.
I reiterate that you have to look at wages rather than jobs.
India has shifted its dream from reducing poverty for 100 million people to creating 800 million middle class.
Politically, economically and socially, India has shifted her dreams.
The current situation indicates that there is not wild social unrest in the south and the west of India and a lot of north and east of India feel they can migrate for better opportunity.
It will take some time for us to fix UP, Bihar and Jharkhand, and they are going to contribute 40 per cent of the country's population.
If they could not migrate, it could be a problem.
The Make in India programme was started to create jobs. Do you think it has been successful?
There has been a 60 per cent increase in FDI (Foreign Direct Investment) during the last year.
It is not for Make in India as in manufacturing for overseas countries; it was mainly Make for India.
It is clustered in areas where domestic consumption is raising critical mass.
I would say Make in India is turning out to be Make for India.
It's okay at this stage as the world economy is also not doing very well.
Domestic consumption and domestic consumption service jobs will be our saviours.
China's farm to non-farm transition happened in the factories while India's farm to non-farm transition will happen in sales.
There are five fundamental transitions happening: Farm to non-farm, rural to urban, self-employment to decent wage employment, informal enterprises to formal enterprises, and school to work.
One of the most important transformations that is happening is from informal enterprises to formal enterprises.
India has 63 million enterprises; 12 million of those enterprises don't have an office.
12 million work from home.
Only 8.5 million have any form of registration.
Only 1.3 million pay the mandatory provident fund.
1 million are actually companies.
And only 18,000 companies have a paid-up capital of more than Rs 10 crore (Rs 100 million).
So, 63 million enterprises doesn't mean anything. What we need is 40 million productive enterprises.
Look at the US economy: that is 8 times our size and it has only 25 million enterprises.
The last time when we spoke, you spoke about the irrelevance of trade unions. Do you think with the changes in the labour laws, the atmosphere in India is more conducive to growth?
The trade unions are clearly declining.
It was not murder; it was suicide.
Job preservation became more important for them than job creation. That was why they made themselves irrelevant.
Of course, we can do a lot more in labour reforms. We have not yet done labour reforms to the level or degree that we need.
Rajasthan, Maharashtra did some labour reforms and it shows 29 chief ministers matter more than one prime minister for job creation.
That is because land and labour markets are local. Co-operative federalism is an important component in India for job creation.
In which area do you see more jobs being created in the next 5 to 10 years?
It will be in all kinds of sales, customer service and logistics.
These three areas will be the fastest growing segments for a long, long time.
India will be a market rather than a production nation.
The world economy is not doing well and India will become more and more a consumption driven economy.
India is very economically complex as we make and do everything, but we don't always do it well and on scale.
With America talking about 'Buy American, Hire American,' is protectionism coming back? Is it the end of globalisation?
I think that train (globalisation) has already left the station.
Take IT. India has 3.5 million people working in IT and 350,000 in the US on H-1B.
If they put restrictions on H-1B, domestic employment will increase.
Work will be done in India rather than in the US through H-1B.
I am ready to bet that India's IT employment will go up to 6 million over the next 5 years.
How much will automation affect job creation in India?
India has such low level of productivity that it is not a worry at all; 50 per cent of our labour force produces only 12 per cent of the GDP.
What western countries worry about automation is already there in India.
India's trajectory for job creation is quite stable, certain and on track to transform.
If we concentrate on formalisation, industrialisation, urbanisation and human capital, nothing can stop India's economy moving from $1,500 to $8,000 per capita.
At least 100 million to 200 million non-farm jobs will be created in the next 5 years.
It is just an internal constraint, but if we screw this up, we have nobody else to blame, but us.
Where do you see India in the next 5 to 10 years? Do you see India growing at 7+ per cent?
Absolutely.
As a child, I had memorised Pandit Nehru's Tryst with Destiny speech. I think we have made another appointment now and by the 75th year of Independence, that is by 2022, we will be in a much stronger position economically and in terms of economic transformation.
I think our unemployment rate will stay where it is, but wages will keep going up.
Reforms are about wages going up fundamentally.
What we are doing is we are redefining what poverty means.
---
ALSO READ: India's big layoff dilemma
DON'T MISS reading the features in the RELATED LINKS ALONGSIDE...