Nearly three years since the prototype of the quadricycle was ready, Bajaj Auto's move to launch it has been stymied by opposition from competitors and legal battles in court, despite the government clearing a policy to allow the new category of vehicles. With the matter now in the Supreme Court, managing director, Rajiv Bajaj, talks about the tribulations in following the government's 'Make in India' call, in an interview with Surajeet Das Gupta. Excerpts.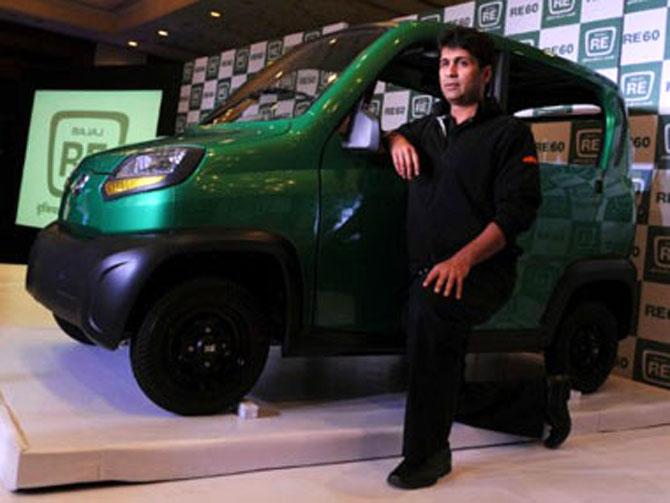 You have made substantial investments in the quadricycle project but they have all got stuck for the past three years. The Supreme Court has now decided to transfer all the cases filed in various high courts against the quadricycle to itself. How has this delay impacted Bajaj Auto?
A smokescreen is being created on the real issue. It is being projected that quadricyles are bad and not safe, and the legal specifications and processes for introducing a new category are being flouted to favour Bajaj. That is all based on the ridiculous notion that a vehicle should be defined by the number of wheels it has – if it is four, it is a car.
Could you elaborate?
Look at the irony. The specification of the quadri is fixed for every aspect. A two-wheeler and three-wheeler can be six and a half metres in length but that of a quadri is clearly restricted to only three metres. A multiseater three-wheeler has a weight of 500-530 kg and by adding reinforcements can carry 10 people and weigh 550 kg and there is no limit to its weight. But, a quadri is restricted to 450 kg. For the Pulsar mobike, I can have an engine of 200 HP but in a quadri, we have a restriction of 20 HP.
So, how can a product which has limitation of speed, power and weight be attacked because it has four wheels which give it more stability and safety? Does it mean anything with four wheels becomes a car? Does a two-wheeler with a sidecar become a three-wheeler? Tomorrow, if instead of four wheels, Bajaj wants to put 10 wheels in the quadri, why should anyone have an objection as long as it meets the specifications of the category?
It is obnoxious that three-wheelers which are carrying 10 people and look like beasts moving on roads with speeds of 40 km an hour are considered safe, when the puppy offered by Bajaj, with lower weight, speed and HP, plus with an additional wheel, is termed not safe.
Three- wheelers running on the street have engines with a capacity of 450cc but what Bajaj is offering is half the size of the engine. But our company is being questioned.
Bajaj seems to have had a similar problem recently in Sri Lanka, where the government said the quadricycle is not safe. What is the reality?
The allegations are baseless. Their transport commissioner has clarified that they have no issue on allowing the vehicle. Confusion is again being created by the same competitors which have opposed the entry of the quadri in India. They are merely delaying it till their own products are ready.
Many would argue that as you are the largest three- wheeler entity, pushing the quadri would eat into your current business. Isn't pushing the quadri a wrong strategy?
Many would say that we are trying to kill the golden goose. After all, we are the largest three-wheeler company in the country and I am also a big player in two-wheelers. It is possible that the market could shift from three-wheelers to four-wheelers. So, Bajaj is offering a product which has a technologically advanced engine, with fuel injection and water cooling.
It is paradoxical that the largest maker of three-wheelers is offering something better, with an extra wheel, and is not afraid of the change in the market if it happens. Others seem to have a problem.
Prime Minister Narendra Modi has been pushing for 'Make in India'. Yet, despite a product like the quadri ready and with potential for export, you are still waiting to launch it in your country.
Mr Modi is talking about 'Make in India'. What Bajaj is realising is that it is easy to make in India but very hard to market or sell it in India, as you don't get the permissions for years. The Reserve Bank governor said it should not be only 'Make in India' but 'Make for India'. Despite making heavy investments and years of research & development, it seems Bajaj cannot Make for India.