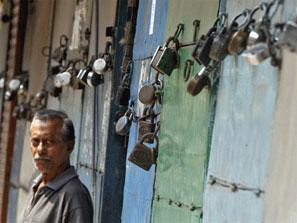 'The Centre cannot absolve itself by simply saying you should borrow only as much as you can repay.'
'The Centre had written off Rs 5,500 crore (Rs 55 billion) for Punjab decades ago, which they had lent to address their (state's) political crisis.'
'If states are fiscally weak, the country is fiscally weak.'
After lending support to the Centre's Bill for a national goods and services tax, the West Bengal government was told by the Union finance minister in the Lok Sabha that one should only borrow in line with repayment capacity.
Amit Mitra, below, left, the finance minister of West Bengal, speaks with Ishita Ayan Dutt on this.
Excerpts:
You have said a fiscal crisis is brewing for West Bengal.
The FRBM (Fiscal Responsibility and Budget Management) Act was introduced in 2010 and till then there was no constraint on borrowing by the (then) Left Front government.
Between 2011-12 and 2015-16, market borrowings and borrowings from small savings have been maturing every year.
Our government had to make repayment of past borrowings to the tune of Rs 42,312 crore (Rs 423.12 billion).
Over the next five years, that is 2016-17 to 2020-21, repayments of the principal amounts that would mature are to the staggering tune of Rs 99,524 crore (Rs 995.24 billion).
These borrowings were done during the Left Front government; our government is having to pay for the sins of the past.
Can these debts be staggered or rolled over?
There is a sovereign guarantee behind all these loans; therefore, the repayments are simply cut from our treasury and we have no option.
It also pertinent that every time the state government borrowed, the central government gave permission.
Therefore, they too are engaged in the process of debt creation in all states.
The Centre cannot absolve itself by simply saying you should borrow only as much as you can repay.
Bengal is not the only debt-stressed state. Is it possible for the Centre to restructure debts for so many states?
The 13th Finance Commission had identified Kerala, Punjab and West Bengal as debt-stressed and that was many years earlier.
If you look at the figures now, many more states would be added to the list.
Maharashtra, for example, has debt of Rs 3.79 lakh crore (Rs 3.79 trillion) and without having an additional debt hangover of Rs 2 lakh crore from the past as Bengal had.
If you add the Rs 2 lakh crore (Rs 2 trillion) to Maharashtra's debt, it would be one of the most debt-stressed.
Uttar Pradesh has debt of Rs 3.27 lakh crore (Rs 3.27 trillion).
Andhra Pradesh and Tamil Nadu are seeing mounting debt.
This is a time bomb ticking towards a fiscal crisis in states.
Is there any precedent of debt restructuring by the Centre?
The Centre had written off Rs 5,500 crore (Rs 55 billion) for Punjab decades ago, which they had lent to address their (state's) political crisis.
Today, that Rs 5,000 crore (Rs 50 billion) would probably translate into at least Rs 25,000-30,000 crore (Rs 250-300 billion).
This is a clear case of writing off a debt, not just debt restructuring.
And, yet, Punjab has again been classified as a debt-stressed state, like West Bengal and Kerala.
Note that the Government of India pledged $10 billion to the International Monetary Fund in 2012, primarily to be used for debt restructuring of countries like Greece.
Sadly, when India can provide Rs 66,000 crore (Rs 660 billion) for debt restructuring of other countries, it is not seriously looking at debt restructuring and moratorium to its own states.
One must remember that financial inclusion of those at the bottom of the pyramid requires resources, just as resources are required for creating social infrastructure like schools colleges, universities and ITIs (industrial training institutes).
Similarly, physical infrastructure for both people and industry require resources.
With such a debt trap hanging on the necks of states, how will they address these fundamental people-centric issues?
After all, we are a federal polity and economic action is at the level of states.
If states are fiscally weak, the country is fiscally weak.
Therefore, the Centre and states must work together towards a debt structuring programme, to strengthen the country's fiscal and financial health.
For this reason, I am a little disappointed with the comment of the Union finance minister in Parliament, in response to (state MP) Abhishek Banerjee's question on this subject.
I am hoping the Union finance minister will think over this subject cogently in the future.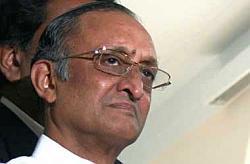 After extending unequivocal support to GST, do you feel let down by his response on this question of debt waiver and restructuring?
The debt restructuring issue for West Bengal and all the other states which are debt-stressed today is a standalone matter for a federal democracy.
The Centre speaks about cooperative federalism. GST is again a standalone issue for the country as a whole, which (Chief Minister) Mamata Banerjee has supported in principle since 2009.
It would not be appropriate to leverage one for the other, when both are standalone subjects of vital importance to the nation. Our party stands for principles and we are consistent.
What is the way out?
It is interesting that the European Union, consisting of many nations, has been implementing debt restructuring programmes for countries like Greece and others, and are deeply worried about the debt situation in other southern European countries.
Yet, we as a nation-state are not thinking about the restructuring of debt in our own states.
I hope the Government of India will put in motion urgently a debt restructuring plan, with a timeframe to avert a crisis that is looming large for not only West Bengal, Kerala and Punjab but many others, which could jeopardise the nation's growth trajectory.
The top image is used for representational purpose only