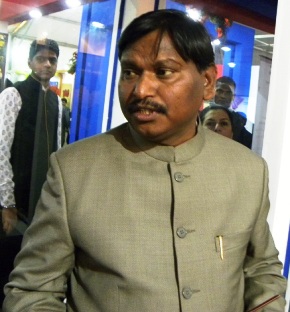 Pravasi Bharatiya Divas 2012 is being held at the Birla Auditorium, Jaipur.

While non-resident Indians are thronging the event, political personalities from across India are attending it in huge numbers.

Rediff.com's A Ganesh Nadar caught up with Arjun Munda, Chief Minister of Jharkhand.

Munda is also the national general secretary of Bharatiya Janata Party.

Edited excerpts:

Which areas will be your priority for the next five years?

Power will be my first priority.

It is needed for industrial growth in the state.

Then infrastructure is very important as it will fetch investments.

Third, education particularly, for girl child is of great significance.

I am also concentrating on higher education so that students can pursue higher studies while residing within the state.

I have assured every girl child of education the day she is born.

An amount will be put in the bank in her name and she can collect it when she passes the 12th standard.

Your state is the largest reservoir of minerals in the country. Instead of improving the state's industry to use these minerals, you are selling them. Isn't this detrimental?

Sales and export of minerals are decided by the central government.

We cannot do anything about that.

I am trying my best to encourage industrialists to add value to the state's natural wealth. It will take time.

Have you appointed a Lok Ayukta?

We were among the first states to appoint a Lok Ayukta.

But now there is a great hue and cry about Lok Pal.

Hence, we will strengthen the hands of the Lok Ayukta to fight corruption.

What are you doing to encourage NRI investment?

We have a new industrial policy.

There are tax holidays and subsidies for small, medium and large industries.

We will allot them land -- we have plenty of it.

Will your participation in the Pravasi Bharatiya D have any impact?

Yes, of course. The impact will be huge.

You saw the crowd at the Jharkand session.

We have a lot of non-resident Indians from our state who are interested in investing here.

Jharkhand is a young state. It is severely under-developed.

It needs lot of investment and there are loads of avenues.

I am sure the number of promises made today will lead to fund flowing into our state.

I am quite optimistic.
Image: Arjun Munda