'Domestic will remain very much the core of what IndiGo is.'
'But the emphasis in our next growth phase is going to be on the international side.'
IndiGo is mapping out plans for expansion and investment in digital areas.
The airline's chief executive officer, Pieter Elbers, shared his vision in a conversation with Business Standard's Aneesh Phadnis and Deepak Patel.
IndiGo has over 300 planes in fleet and another 500 planes on order. Are you in discussions with plane makers to order more aircraft?
IndiGo has a track record of taking (aircraft order) decisions based on our own merit and our own timing.
The very first aircraft order that was prior to the start of IndiGo in 2006 as well the latest one in 2019 all have been driven by that.
The benefit of that is we have a 500 aircraft backlog and we have a steady flow of aircraft coming in.
We had 40 plus aircraft coming in last year. We will have a similar number coming in this year.
We will have Airbus A321XLRs coming in 2024-2025. Our aircraft order runs till pretty much the end of this decade and gives us a long runway.
That speaks of IndiGo's vision and the foresight as the Indian market will continue to grow.
The last orders were placed three or four ago.
There is always a lead before planes are delivered after order. So we are in good spot that we have steady flow of deliveries coming in years ahead.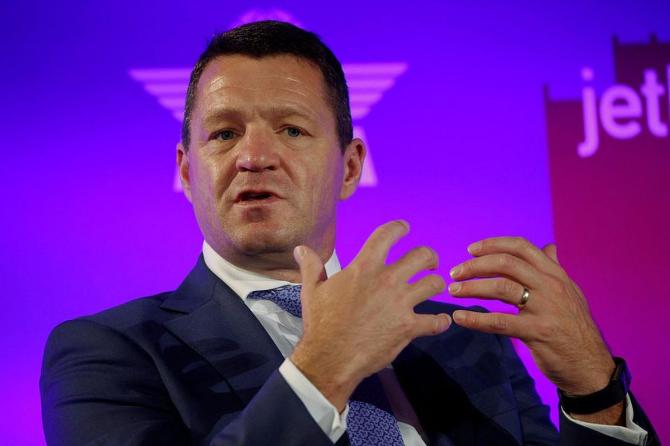 IndiGo began wide body operations to Turkey which suffered an earthquake. Has there been an impact on forward bookings to Istanbul? How has been the experience of the operations so far?
There was a problem of supply chain and we took host of measures to address them.
The decision to wet lease a Turkish Airlines aircraft was one of them.
We already had a code share partnership with Turkish Airlines from earlier.
The flights to Turkey are operating well, service patterns, experience and connectivity all that is going good.
I don't think I should get into business impact on this operation in the backdrop of the humanitarian disaster.
We do operate 1,700 flights daily. This is just one of them.
How many aircraft will IndiGo add in the coming year?
There is some uncertainty on the supply chain side, but it will be fair to say that we will have a gross addition of around 50 planes in the coming fiscal year.
We have the flexibility on aircraft return and also the ability to keep planes for longer period in the backdrop of supply chain challenges.
Some planes will be returned this year, but we can't specify how many.
After the recent third quarter result we have indicated capacity growth guidance in high mid-teens in FY24.
For FY23, we had guided for 13-17 per cent capacity guidance and I think may be slightly higher than 17 per cent.
IndiGo's former CEO Ronojoy Dutta last year said that the airline aspires to achieve a disproportionate share of revenue and market share by offering superior service. Will you be able to achieve that given transformation of Air India?
I will find it difficult to react to what Ronojoy said or didn't say. But let me give my vision.
What IndiGo has done since its start is consistent execution of customer promise.
When it was created back in 2006 -- the promise was affordable fares, on-time performance and a hassle free and courteous service.
These three pillars have been the foundation of IndiGo.
Over time a fourth element has been added to that which is unparalleled network coverage.
Today we operate to 76 destinations within India and have announced Nashik and Dharamshala as our 77th and 78th destinations.
Every airport in India is on our radar or we are flying there already.
All the air connectivity is helping in economic growth, social cohesion and unity in the country.
Recently we have re-emphasised our efforts on on-time performance.
The fact that we will have lowest customer complaints shows that we stay true to our customer promise.
There is competition and it is a good thing. We will compete and and we will continue to do what we are good at -- to have a low cost base, offer affordable fares and have on-time flights.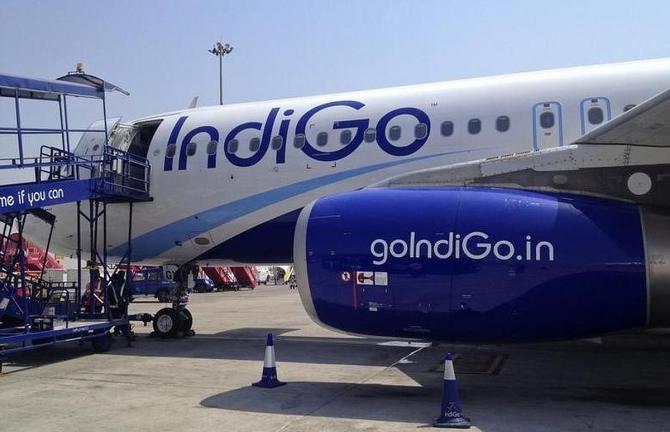 Out of total traffic, how much of it is international traffic? Any kind of target you have set for its growth?
IndiGo was born as a domestic carrier within India and we have started building our international position in the last couple of years.
Today, we operate to 76 domestic and 26 international destinations.
In terms of seat-kilometres (flying capacity), 20-22 per cent has been deployed on international routes.
About 15 per cent of our total passengers travel on international flights.
We aspire to grow this percentage share. Now, more and more, we are seeing India taking a more global position.
The fact that the G20 meeting is being hosted here is another proof of that.
With that, the next step of growth would be -- while we nurture the base (domestic) -- will of course be on the international side.
We have already indicated that we are likely to open up, during this calendar year, flights to Nairobi and Jakarta.
We are also viewing China, when it opens again for travel, and central Asia. And we are adding more routes (from other domestic cities) to the existing international destinations where we currently fly.
Our international expansion will be a combination of adding new international destinations, and flying more to existing international destinations from other Indian cities.
We do operate with seven international carriers having their codeshare on IndiGo flights in the Indian market.
We do have an interesting mix of international traffic with our domestic network but our focus would be to build our own international presence.
Considering the fact that IndiGo has 50-55 per cent share in domestic traffic, can we say your next phase of growth will come from the international side only?
I will not call it the next phase of growth, I would call it the emphasis in our next phase of growth.
We continue to develop our domestic network. And again, looking at what is going on in India, from south to north and from east to west, there are a lot of places (to fly to).
We have recently started flights to Nashik and Dharamshala. That (domestic) will remain very much the core of what IndiGo is.
But the emphasis in our next growth phase is going to be on the international side.
You see, foreign investments are growing in India.
I saw an announcement from Apple that it is going to build some more facilities in India. So, all that will lead to more international travel.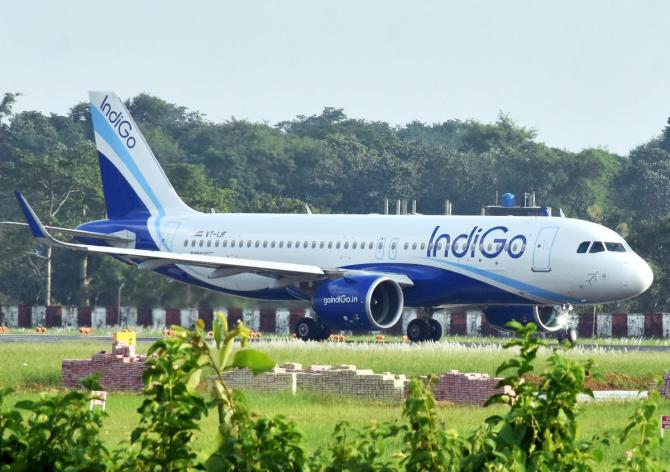 Earlier, IndiGo had indicated that it is looking to have business class seats on A321XLRs that you will receive next year in 2025. Recently, an IndiGo executive said that these A31XLRs will be all-economy aircraft. Has there been a rethink on the cabin?
We have not finalised any decision on that yet.
We have kept all the options open. Every cloud has a silver lining.
It is public info that Airbus will put the XLR into service slightly later than initially foreseen.
We await for the Airbus to come and then we take the decision.
So, no decision has been taken on whether XLR will have business class or not?
Yeah, we had an initial plan where that (business class) was foreseen.
This was during COVID-19 and all these decisions have been pushed forward. So, we have the flexibility to do it either way.
There are a certain number of international passengers of other airlines who are feeding your domestic network. Can you tell what percentage of traffic on your domestic flights is coming from international codeshare flights?
We are carrying an average 250,000 customers per day on IndiGo flights.
The actual foreign carrier's passengers, from codeshare flights, on our flights is a relatively limited number but it is important it provides more connectivity and brand awareness.
It is a relevant part of our business.
IndiGo's yields (revenue earned per passenger per km) has gone significantly high in the last couple of months. Will IndiGo's focus on yields continue?
The third quarter yields were good. You have seen that in the results.
Yields always fluctuate along the lines of the seasonality in the third quarter, with Diwali in October and Christmas in December. It is a strong quarter.
Therefore, yields are seasonality-driven. And we stay true to our focus on affordable fares. So, you will see yields fluctuating all the time.
In the last investor concall, you and the CFO mentioned that the free cash reserve stands at about Rs 10,000 crore (Rs 100 billion) and the focus now would be on investments in digitisation. Can you explain this?
The airline industry has gone through its deepest crisis globally.
I have experienced that in my previous company as well and it was the same at IndiGo.
I must say that IndiGo has less bad or relatively good due to its agility.
During this difficult period, all carriers -- and IndiGo is no exception -- around the world have scaled down their investments in digitisation, whether in app or the Web site.
All these things were postponed. These initiatives will now be revitalised, making sure that they grow hand in hand with our growth in customer numbers.
In FY23, we expect to carry 80 million plus customers.
In FY24, this could be 100 million plus customers. In this background, it is important to focus on digitisation.
Will it be correct to say the focus would remain on being a low-cost carrier only for at least the next 3-4 years?
The focus is to stay true to our customer promise. I am not ruling out anything.
I think the strict definition between what is low-cost and what is not low-cost, if you look at the global scale, that line is blurring a little bit.
How would you define JetBlue or EasyJet? Are they low-cost or are they not low-cost? So, given our size, we are more and more developing our own model, specifically for our network and the Indian market.
This market is big enough, and will become big enough, to justify its own specific model.
How will that model look like? We are constantly evolving that over time.
Today, we have catering on board. We have our Kaching credit card, which is a sort of loyalty programme.
We operate from primary airports like Delhi and Mumbai and Hyderabad.
We do have certain elements in place. We should not be put in a specific box.
Feature Presentation: Rajesh Alva/Rediff.com