'It is because we treat them as our own people, and there is no difference between owners and workers here.'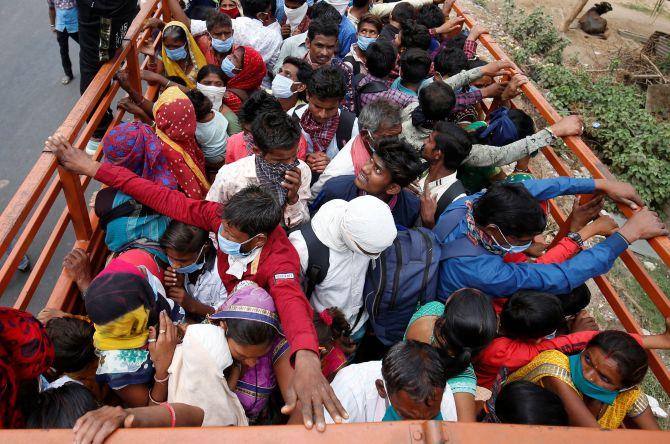 The plywood industry in Perumbavoor in Kerala is relatively new, but in a short period of time it has become the largest cluster in India.
This small town is said to do business worth Rs 30 crore to Rs 40 crore (Rs 300 million to Rs 400 million) every day!
Like in the case of other clusters in southern India, this industry is run by migrant workers from mainly Bengal, Odisha and Assam.
So much so, in fact, that there are theatres in Perumbavoor that screen Bengali films on weekends.
"When the trains were getting ready to take them back, we spoke to all the workers about the situation and told them that once they went back, they would not be able to come back easily. We also told them that if they stayed back for six months, the situation would be normal and then they would be able to visit their homes like they had done before," Mujeeb P A, managing director, Indus Plywood, Perumbavoor, below, explains to Shobha Warrier/Rediff.com.
One of the problems Kerala faces is shortage of labour. It is well known that Perumbavoor has such a huge migrant population that you have theatres showing Bengali films on weekends.
It is true. These people have been here for a long time, and they feel quite at home now.
I think it is mainly because we treat them as our own people, and there is no difference between owners and workers here.
The first group of migrant workers were not from Bengal, but from Assam. We also had people from Mangalore in the beginning as there were plywood factories there.
There are plywood factories in Kolkata and that was how Bengalis reached here.
People from Odisha came to do other work, but slowly they moved to this industry.
So, today a majority of our workers are from Bengal, followed by Assam and Odisha.
Today, Perumbavoor may have around one lakh migrant workers.
There is a huge migration of workers happening all over India from their place of work back to their homes. How is the situation in Perumbavoor?
We feared that all our workers would go back, but it did not happen.
From Kerala itself, only two trains with migrant workers left.
We decided to take care of the situation in an intelligent way.
When the trains were getting ready to take them back, we spoke to all the workers about the situation and told them that once they went back, they would not be able to come back easily.
We also told them that if they stayed back for six months, the situation would be normal and then they would be able to visit their homes like they had done before.
We also told them to send a few of their colleagues first and see how the situation was in the villages.
The pictures of them under quarantine back home and the news of no work there made these people decide not to go back.
Of course, we were taking care of them during the lockdown.
I would say we have not been affected by the reverse migration.
How did Perumbavoor become a major player in the plywood business?
Perumbavoor has been a centre dealing with all businesses connected to timber for a very, very long time.
In the 1970s, the then government had allotted special areas to cut down trees. Because the teak from this area was quite famous, a lot of saw mills came up during that time.
When new laws were introduced restricting cutting down of trees, the timber industry was forced to move to new areas for survival.
It was during this period that Kerala became well known for its rubber plantation.
In the case of these trees, there is a time limit for tapping. You can tap milk from the trees only for 20 years or so; after that, you have to cut down the trees.
So, this wood can be termed as agricultural waste. It is from these trees that we make rubber wood which is used for making packing cases. This packing industry dominated the area for some time.
The change to plywood happened when the technologically savvy next generation saw a new opportunity here, that is to make plywood from the agricultural waste.
When did this transition take place?
In the early 1990s, when Perumbavoor started making the basic raw material needed for plywood, veneer.
Interestingly, the consumers were plywood manufacturers in Raipur. That made the entrepreneurs here wonder if veneer is bought by them in large quantities, the market value of the product must be quite high.
But it was not affordable for many to start the plywood industry in Perumbavoor at that time because we had to start from A-Z.
What tilted things in our favour was a unit that made the glue for plywood manufacturing in Thripunithara. This was a blessing for us as you cannot paste layers of wood without glue.
How come they were making glue when there was no plywood industry here?
That is an interesting story. There was a formaldehyde plant, and it is quite easy to make glue from formaldehyde; you only need a small reactor. In fact, they started making glue when they got enquiries from many parts of India.
Other than the glue, you need face veneer to make plywood, which also needs huge investment.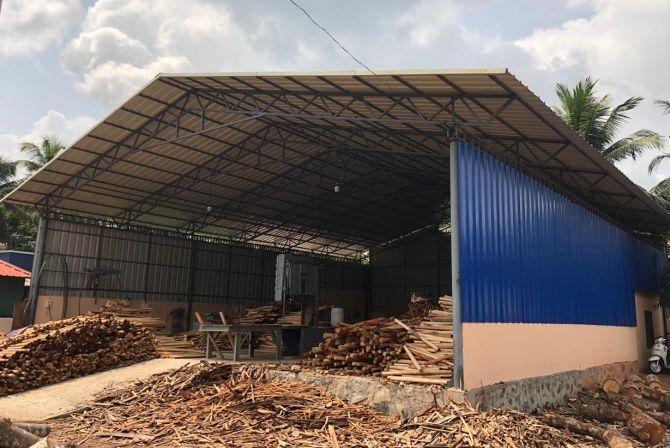 One of the first plywood manufacturers here was Periyar Plywood, and the time was the late 1980s. What they did was, they bought an old machine from somewhere and started making face-veneer. So, they could make plywood here itself.
At that time, nobody else here knew how to make plywood. It is another matter that Periyar Plywood no longer exists.
It was only in the early 1990s when people from the rest of India queued up here for core veneer that entrepreneurs in Perumbavoor saw a huge opportunity in plywood manufacturing.
Soon, a few people opened factories -- which are called pressing units.
When the others saw the way their fortunes were rising, they also started opening their own units.
How big is the industry today?
There are around 400 factories or pressing units in Perumbavoor today.
Perumbavoor can be called a cluster now. If I am not mistaken, every day this small town does business of Rs 30 crore to Rs 40 crore.
If a unit is managed well, you can expect a revenue of Rs 10 lakh per day and a turnover of even up to Rs 25 crores a year.
You have to understand the industry from the perspective of Kerala society which is mainly a consumer state.
Plywood is one commodity that is sold from the state to the rest of India and also outside.
The advantage here is, we are not destroying jungle wood. On the other hand, we are processing agricultural waste, and exporting it from the state as plywood.
This is one industry that has been bringing in revenue to an otherwise consumer state.
Other than plywood, only spices and rubber go from this state to the outside.
Can you call this an innovative industry as Perumbavoor had saw mills for jungle wood for many years?
Yes, this is an innovative industry which came into existence when changes happened in the traditional timber industry.
Today, people are coming out with many artificial boards to replace plywood. But you should understand that there is nothing that can beat natural wood.
While natural wood is a creation of God which can withstand any weather, artificial boards wilt under extreme heat and cold.
Why plywood succeed is because hard wood is not available today. It is very expensive too.
What we do is, we make the waste into soft wood, and into layers. We glue them together so that it is as strong as hard wood.
Is that the reason why Perumbavoor became the market leader in India?
Unlike many parts of Kerala, people of this region are very hard working. Even the factory owners are ready to come out and work in the factory when the need arises.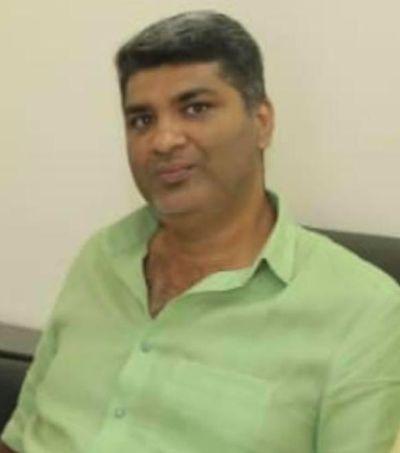 Another reason why Perumbavoor has become the market leader in India is because the first generation entrepreneurs sent their children abroad to study.
They came back with new ideas, one of which was branding. It is this branding that helped the industry in a big way today.
That's how we are able to export to the Middle East, Turkey, Iraq and Sri Lanka.
Those in the MSME sector complain that all their problems started with demonetisation followed by GST and now the lockdown. How has it been for the plywood industry?
It may be true for the rest of the MSME sector. In the case of plywood, the demand for timber products is increasing day by day all over the world.
I will give you an example. Three years ago, when people tried to export hardwood from Myanmar, the UN intervened and said it could not allow deforestation.
The UN is not allowing export of timber from most of the African countries too. Only processed items are allowed.
China is the country that purchases the maximum amount of timber and their plywood industry is very huge. They bring timber from Brazil in huge vessels, and it is processed in China to make plywood.
The advantage we have in Kerala is, rubber wood is one of our major crops. So, we get wood as agricultural waste, and we do not have to depend on jungle wood at all.
That's why the plywood industry is thriving here. We are the number one in India.
Next to Perumbavoor is Yamuna Nagar in Haryana. Then, there are small clusters in Kannur, Mangalore, UP, etc, with 30 to 40 factories. In Yamuna Nagar, they plant trees for the plywood industry.
You mean, this industry was not affected by any of the shocks which shook the rest of the MSME sector, including the lockdown?
From my experience, that's what I feel. I will not say that we are not affected at all by the lockdown. All of us are definitely affected.
But I am optimistic and I believe our industry has a good future. If I didn't believe, I would not be investing even now.
One thing I am sure of, our industry will be the first one to overcome the shock created by the pandemic.