'With Make in India coming into play in defence, we want to get ahead of the curve.'
'The Tatas will start manufacturing parts for our LEAP engines.'
Illustration: Dominic Xavier/Rediff.com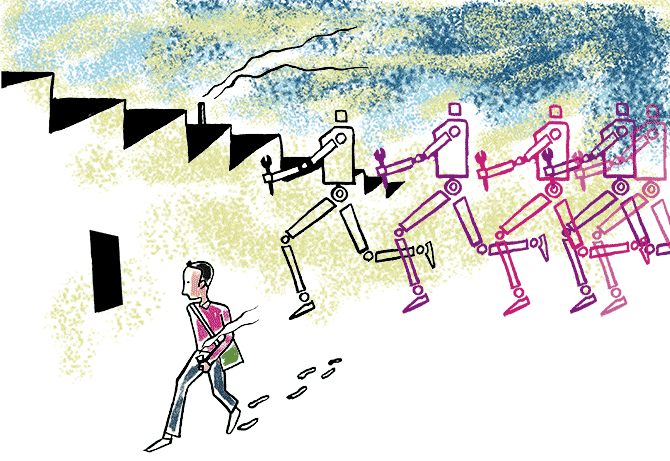 From healthcare to transportation and technology, GE India's presence across all its verticals has been consistently growing.
Six months into his new role, Vishal Wanchoo, below, president and chief executive officer, South Asia, speaks to Jyoti Mukul about how its horizontal business lines of additives and digital are playing across GE's verticals in South Asia, giving a push to advance manufacturing.
From the time you took over, what are the growth areas for GE in South Asia?
The year 2017 has been the best for the South Asian region. We were strong not on the back of any single order -- like the big railway order we got in 2015 -- but every business contributed to growth.
We got orders worth $4 billon from $2.8 billion in 2016. Revenue grew 20 per cent. The fastest-growing business was gas power systems, owing to orders from Bangladesh.
We are now looking at revenue growth in the range of 15-20 per cent in 2018.
In energy, we expect a lot of investment in equipment and services in the upstream sector in India.
We will exercise our capabilities with a combination of GE and Baker Hughes (which GE took over last year).
The thermal sector has been soft in growing but the focus has to be on retrofitting, which will increase efficiency and the life of plants.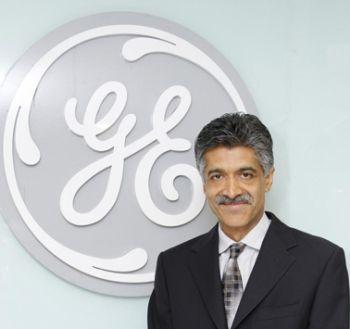 On the gas-based power side, there are booming opportunities in Bangladesh. We see green shoots in India in gas-based generation.
We are aggressive on renewable energy and have fully localised our solar manufacturing.
Storage will play an important role. Having a macro long-term plan for the grid so that renewables can be incorporated is something we are advocating.
The only sector in which growth has been slow is wind energy, where there was migration from feed-in tariff to a tariff-based regime. But that too has picked up.
What is the status of your aviation partnership with the Tatas?
We are bullish about aviation since India is the fastest-growing market.
We are working with the Tatas to localise LEAP engines. We are looking at using their platform for aviation and then use it as a feeder for the defence business.
With Make in India coming into play in defence, we want to get ahead of the curve especially for single-engine fighters.
The Tatas will start manufacturing parts for our LEAP engines at their Hyderabad facility next year.
Both for air-framers and engines, Make in India in defence will require 50 per cent localisation, for which we will be ready.
GE globally is transforming into a digital-manufacturing company. How are you doing it here?
A big part of our business is technology push. There are emerging trends like advance manufacturing and use of 3D printing or additives.
We see this as something that will make sense to sectors such as aviation, automotive and health.
We are offering industrial scale 3D printing of metals. The benefit of it is redesigning. It reduces complexity and cost, and increases reliability.
The other aspect is digital, where we monitor assets we supply for the purpose of reliability and then redesign based on data.
This is part of transforming all our businesses towards digital.
Do you think there is enough government investment and push in the sectors in which your company is present?
The long-term trajectory is extremely positive from a macro perspective. We are in all growth sectors except thermal.
But I think investment in emissions will unlock growth there if we get renovation and modernisation off the ground.
The new insurance scheme will help in putting investment in the health sector.
We expect some movement later this year. This market grows every year. We are providing affordable products in the market.
They were slow to start but now we are implementing 150 projects under public-private partnership in 12 states in India, such as Assam, West Bengal, Gujarat, Himachal Pradesh and Andhra Pradesh.
We would like the defence business to move faster. No doubt there's progress but should we not do it quicker? There is no doubt about it.
On commercial aviation, there are bottlenecks and so more needs to be done. Regional airports and health need more injection (of funds).
Rural electrification is another right step.
Do you think the government has addressed regulatory and policy issues?
Broad reforms like the GST are huge positives. There is some complexity in implementation. For instance, there is no GST in power but all equipment suppliers like us pay the GST.
Things like these need to be simplified. With the Insolvency and Bankruptcy Code, we are making progress on stressed assets.
Progress has been made in ease of doing business but most of the focus has been on setting up businesses.
We need to take a more holistic approach on ease of doing business while industry is operating or moving goods and factories, which is where labour reforms come in because if companies invest in Make in India, they would like more flexibility.
Foreign companies, and GE itself last year, have faced concerns on reversal of policies and contracts. Is that worrying?
We are mindful of all these things. Sanctity of contracts and stability of law and reforms are incredibly important.
When you deal with things that are retroactive in nature, it shakes your trust.
It is not that the government is not aware of this. It is trying to improve things.