'GST will have a positive effect on gross domestic product and the economy in near future.'
'At the moment, customers have a clear and very sound preference for diesel.'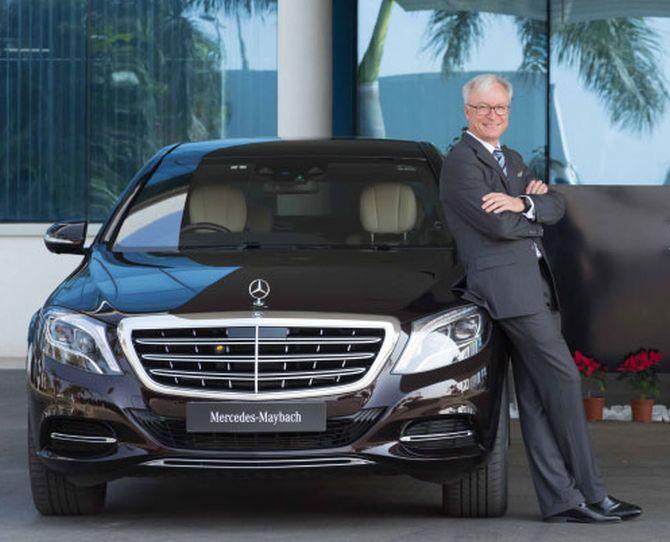 Roland Folger, managing director and chief executive officer at Mercedes Benz India calls the calendar year (CY) 2016 a year of 'lost opportunities' as NCR diesel ban and demonetisation led to a flat performance.
However, things have reversed this year. Having posted a nine per cent growth in first half of CY2017, Folger is confident of closing the year with a double-digit growth on positive triggers from Goods and Services Tax (GST).
At the same time, he is also prepared for more surprises and disruptions. Excerpts of an interaction with Ajay Modi:
The first quarter of CY2017 was flat for Mercedes. But you clocked 18 per cent growth in Q2. Do you expect the second half to be better than the first?
With the help of Q2 performance, our first half growth is now nine per cent. Q2 gave us a strong momentum.
We have to achieve our growth rate, somewhere in lower two-digit number for the calendar year 2017.
We hope that we can continue with the momentum. We see a stronger second half.
If there are no big influences and changes it is going to be a smooth sailing for us.
Is there a slowdown in demand post GST? Will the price cuts post GST help?
We have to see how GST introduction will affect sentiments, while it has a direct effect on our prices, events like these are disruptive to a certain degree and affect overall sentiments and emotions.
We see some challenges, and July will not give us the 40 per cent growth we saw in June.
It takes four-eight weeks for the dust to settle down.
Anybody who makes a decision to invest in a vehicle thinks about how his or her business is doing and that affects purchase decisions as well.
However, GST is positive as it will open up new markets for our cars.
It will have a positive effect on gross domestic product (GDP) and the economy in near future.
You saw the Supreme Court's action and demonetisation after taking charge in October 2015. Are you prepared for more disruptions?
After the diesel ban in NCR, we created a group within the company that we have given a lot of freedom to act and decide faster when anything happens.
Demonetisation told us we were on the right track.
We believe there will be more changes as the present government has dedicated itself to do the right things to encourage development.
It may have short term negatives but mid-to long-term, we see positives.
At our end, we need to be ready to react faster to changes.
When the diesel ban happened, many buyers opted for petrol and companies also brought petrol vehicles. Has that shift stopped?
At the moment, customers have a clear and very sound preference for diesel. We are the over seventy per cent diesel.
Does India provide any input on vehicle design?
The E class long wheelbase is a car that is made in India for the Indian market.
It does not exist anywhere else.
This car looks substantially different from the models anywhere else in the world.
This is the first and strongest dedicated move that we have been able to do.
We have to look at this in a sustainable manner. It is a good direction for us.
Mercedes sits on a 40 per cent share of the luxury market here. You think you can retain this?
We see a positive development within our company with new products.
Of course, the competitors are also coming up with products.
There will always be a shift back and forth but in the meantime, if you compare the industry with 2014 we all have a much more competitive range of products available.
There was a time when Mercedes was not that competitive. But we now have the largest SUV range and I am confident that we will hold our share.