'Since the NDA took office in 2014, and aggressively since 2019, the Union government seems hell bent on centralising all power and resources, only to fail spectacularly,' Tamil Nadu Finance Minister Palanivel Thiagarajan tells Aditi Phadnis.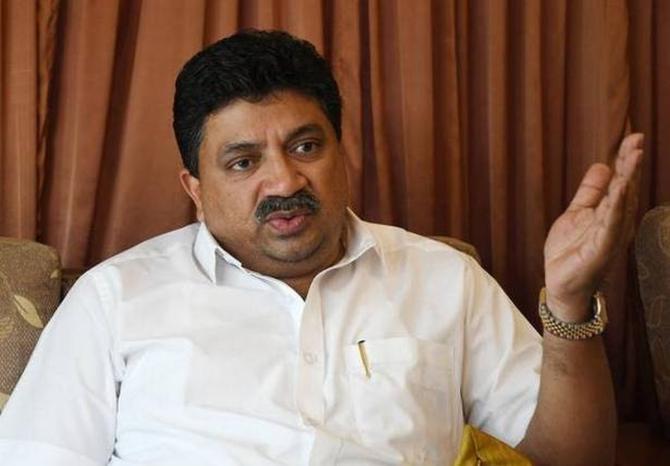 It starts out as a 30-odd-minute chat, but goes on for over an hour.
My tea has turned into thick tannin. His coffee must have gone cold too.
I see his grimace as he sips it from a porcelain cup printed lavishly with what look like large purple iris motifs (no brass dawra tumbler here).
Candid and frank, Tamil Nadu Finance Minister Palanivel Thiagarajan, or PTR as he's called, is an easy guy to talk to.
That his coffee's gone cold or whether it's with or without milk or sugar doesn't particularly bother him.
"What I'm particular about is getting things done," he says.
"That's what my time at Wall Street taught me."
He is talking about the two decades or so he spent in the US, studying (at the State University of New York and MIT Sloan School of Management) and then working as a finance and banking professional, including at Lehman Brothers (Too Big to Fail. Remember?).
"When I'm working, I'm very particular about not wasting time."
As if on cue, my mobile phone goes off, its Blues ringtone loud and strident.
He looks startled. I bite back an expletive and scramble to disconnect it, melting with embarrassment.
The phone is buried under a pile of freshly washed linen that's waiting to be folded and stowed away.
Oh, the joys of working from home, I tell myself savagely.
Thankfully, he can't see the mound because we're talking to each other from the limited lens of Zoom.
Conversation goes momentarily off track, then resumes.
He clarifies he has nothing against having fun.
He and his wife have five dogs, and he loves spending time with them.
And while he cares little for clothes, cars, houses, coffee, food, "being a worthy son of my forefathers matters to me a lot," he says.
"More than money and status, they left me a huge amount of goodwill in society."
I nod understandingly. PTR's family represents old money. Beginning with his great grandfather, the family has been in public life for more than 100 years.
His great-grand uncle was invited to London to attend the coronation of King George V as a representative of the Madras Presidency.
His grandfather was educated at Cambridge and Jesus College, Oxford, and became a barrister in London. That's not just wealth.
"You didn't get access to those things in the early 1900s," he says.
I ask him chattily how much land he thinks his family might have owned. He shifts uncomfortably.
"I don't know, hundreds of acres. Maybe thousands, before socialism," he says.
I inform him that Rangarajan Kumaramangalam had once told me his family had owned 38,000 acres of land before it was all taken away.
"Oh, not that much," he says, in loud disclaimer and ill-disguised relief.
What made him come back from the US? "I never wanted to go abroad in the first place," he says.
"Nobody had bothered to look after the family's assets. Between malfeasance and neglect, it was all in ruins."
He wanted to take care of the family legacy, but his father insisted he get an education.
So in 1987, he left for the US. And once he did, he didn't want to come back.
"The joy of being a nobody far exceeded the cost of being a nobody."
"I remember the first girlfriend I had," he says, adding parenthetically that his family was conservative so he didn't really have any relationship until he went to the US.
"We were talking about life's ambitions and I asked her what she wanted from life.
Her answer was: 'I want to be happy.' I was taken aback.
I was brought up to believe one's life's ambition had to be to change the world, to serve people... but being happy?
Is that an acceptable life ambition?" he says, laughing at the memory of his incredulous reaction.
He didn't want to return to a world of expectations and demands.
He was asked to contest the 1996 election, and then the 2000, and again the 2009... But he stalled until 2014 -- by when, he says, he was already wealthy and successful.
His first political task was not to fight an election but to build the IT wing of the Dravida Munnetra Kazhagam.
When he did contest, he says, it was because the people wanted him.
He didn't need the job. So, in a state where elections are routinely countermanded because candidates are found buying votes, PTR says he distributed no money at all.
Even so, in 2016, he won by around 5,000 votes and this time, by 34,000.
On both occasions, it was the poorest, the Dalits and the most underprivileged, who voted for him in large numbers (he knows because he redigitised the data).
Now that he is the finance minister of a progressive and a once sought-after investment destination, what are his priorities?
"India is the world's most centralised, least federal country, at least for its size," he says.
"So yes, you're right, even as finance minister, it is very difficult to do as much as one should. Since the NDA took office in 2014, and aggressively since 2019, the Union government seems hell bent on centralising all power and resources, only to fail spectacularly, I may add, but that's a different story."
I ask him about the meeting of the Goods and Services Tax Council, after which PTR accused the Goa finance minister of bad manners, a shallow understanding of economics and worse.
The West Bengal finance minister also charged Union Finance Minister Nirmala Sitharaman of having muted his mic.
PTR, rather surprisingly, mounts a vigorous defence of Sitharaman.
"She is gracious to a fault. She allows everyone to speak and never interrupts. She makes sure everyone's comments are recorded," he says.
He does not accept that Tamil Nadu has seen a flight of capital or that companies have put their expansion plans on hold, but there are problems.
"Tamil Nadu used to have a revenue surplus, a well-balanced Budget. It used to invest 2.5 per cent or thereabouts of the GSDP (gross state domestic product) in capital investment every year. That's dropped dramatically," he says.
"It used to run 1.5 per cent of GSDP as revenue surplus. It now has 1.5 per cent of GSDP as revenue deficit."
He adds, "I had warned in 2016 and 2017 about the worries the Reserve Bank of India had flagged: That if states keep posting revenue deficits, they will see growth decline. This is textbook economics."
The rise of Sri City as an alternative to Sriperumbudur and the decision of big auto major to take expansion plans to more hospitable climes doesn't worry him.
"We have liquidatable assets, shares in publicly traded companies worth tens of thousands of crores that we can sell if we need to. We have shares in public sector enterprises as well. So if the Union government can do restructuring and one-time sales to balance its books, surely we can too."
"And let's put it in perspective," he adds "After all of this, the Union government's debt-to-GDP ratio is close to 90 per cent after the pandemic. Tamil Nadu's is 27 to 28 per cent."
But, and there's a big but, everything depends on leadership.
Again, surprisingly, PTR says there may have been political differences between "Kalaignar (M Karunanidhi) and the honourable Jayalalithaa, but the state ran properly. It's only when 'these geniuses' came to power (the AIADMK which was in power from 2016-2021) that the situation deteriorated."
About the state's finances, he says he has many ideas in the pipeline.
The appointment of an economic advisory council with Raghuram Rajan, Jean Dreze, Esther Duflo, Arvind Subramanian and S Narayan is announced two days later.
It is getting late and he has to go. We part virtually, and I log out of Zoom to attend to the linen.