'Only if the Budget springs some surprises we may see a halt in the selling.'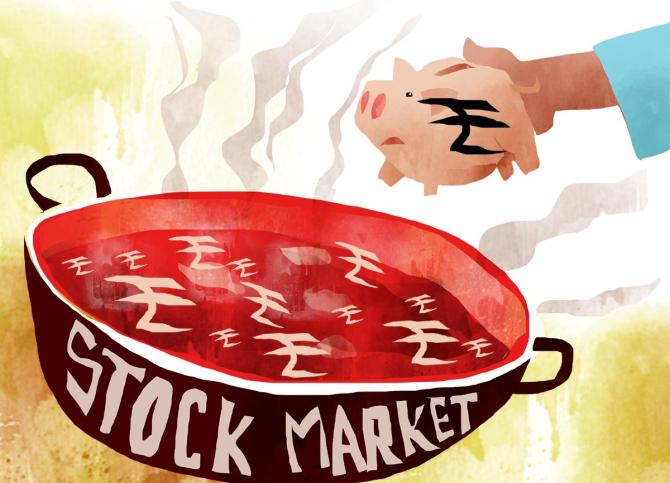 Independent research analyst and advisor Ambareesh Baliga with about three decades of experience in the stock markets discussed the fall in Adani Group shares, the fall in the broader indices on Friday, January 27, 2023, and a brief recovery on Monday.
Baliga, who has been advising that investors hold on to cash for the last three months, tells Prasanna D Zore/Rediff.com that that the Nifty 50 index could fall more and consolidate in the broad range of 17,000 to 16,000. The Nifty 50 closed Friday at 17,604.
"I don't know if Adani Group shares will fall more from here or not as they have already fallen a lot, but the rest of the market can fall more," says Baliga after the market action on January 30.
Did the broader indices fell on Friday because the Adani Group stocks were being hammered or did the Adani Group shares fall because the broader indices witnessed a selloff?
The Adani (Group) stocks fell due to the (Hindenburg Research) report -- and because the Adani stocks fell the markets also fell.
Is there a clear cut effect of the Hindenburg report on the Adani stocks and the Indian markets?
It has a trickle-down effect (the fall in Adani shares leading to a fall in Indian markets).
How long will Adani Group shares continue to correct?
They have already fallen a lot. So, one can expect a small technical bounce back (in these shares in the days ahead). But the pace with which these shares have moved in the last three-four years, I think that trajectory has been halted for now.
I suppose people will surely look for answers for this (sharp fall following the release of the Hindenburg report).
Where do you see the selloff in the broader markets halting?
17,800 was the very good support level for the market (Nifty 50 Index). And this level was broken with huge volumes. I think there is more to this selling. The Nifty will fall more (from Friday's close of 17,604).
I don't know if Adani Group shares will fall more from here or not as they have already fallen a lot, but the rest of the market can fall more.
Where do you see this correction halting or taking a breather, or, consolidating at lower levels?
Maybe between 16,000 to 17,000 levels we might see some consolidation happening.
Do you see FIIs coming back to Indian markets at lower levels given the huge recession scare gripping the US and major European economies right now?
Not immediately, but there is a possibility that they may come back (to invest in Indian equities) in the second half of this (calendar) year.
Irrespective of whatever is happening now, for the longer term, India would be one of the better performing economies, not markets, but economies. Automatically, the (FII) money has to flow into the economies that are performing better.
How do you look at the market action today (January 30)? Can we say that the selling has halted?
The markets are fundamentally on a weak wicket. Only if the Budget springs some surprises we may see a halt to selling.
Today's rise was on the back of improvement of sentiments in the Adani stocks (while Adani Ports was marginally up by 0,05 per cent, Adani Enterprises, that has hit the market with an follow on public offer was up 4.76 per cent in trade on Monday, Adani Green, Adani Transmission and Adani Power were locked in their respective lower circuits) were up in trade on January 30 by 4.76.
This rise is not likely to sustain, though.
What would be your advice to retail investors?
I would suggest people to hold on to cash. I have been cautioning since the last two-three months.
I would say that if we see a further correction, and if it's aided by the Budget, it will be a good opportunity to buy.
Any stocks or sectors which look attractive to you?
I think, pharma as a sector, which has not performed well in 2022, there are indications coming from management commentary (of pharma companies) which indicate that 2023 would be a great year for pharma.
The Nifty Auto (up 1 per cent on Friday) and Nifty FMCG (up 0.46 per cent on Friday) indices were in the green on Friday when the benchmark indices fell by 1.5 per cent. Are we seeing sector rotation happening?
The FMCG just about held on and the auto sector rise was due to couple of stocks like Tata Motors (up 6.34 per cent on Friday) and M&M (up 0.7 per cent on Friday) and Bajaj Auto (up 5.9 per cent on Friday).
FMCG was up because it is seen more as a defensive play.
Sector rotation should happen (going ahead).
Where do you see value now?
Investors should see value in all these, plus maybe the IT sector after a couple of quarters.
Ambareesh Baliga's Disclaimer: I and my clients may have interest in the stocks and sectors that I talked about.
---
Disclaimer: This article is meant for information purposes only. This article and information do not constitute a distribution, an endorsement, an investment advice, an offer to buy or sell or the solicitation of an offer to buy or sell any securities/schemes or any other financial products/investment products mentioned in this interview to influence the opinion or behaviour of the investors/recipients.
Any use of the information/any investment and investment related decisions of the investors/recipients are at their sole discretion and risk. Any advice herein is made on a general basis and does not take into account the specific investment objectives of the specific person or group of persons. Opinions expressed herein are subject to change without notice.