Can 3 crore out of the 8.9 crore young male population of nine states set off on a pilgrimage that extends for about a month?
If yes, then what can we infer regarding the state of the young working population in these states, asks Mahesh Vyas.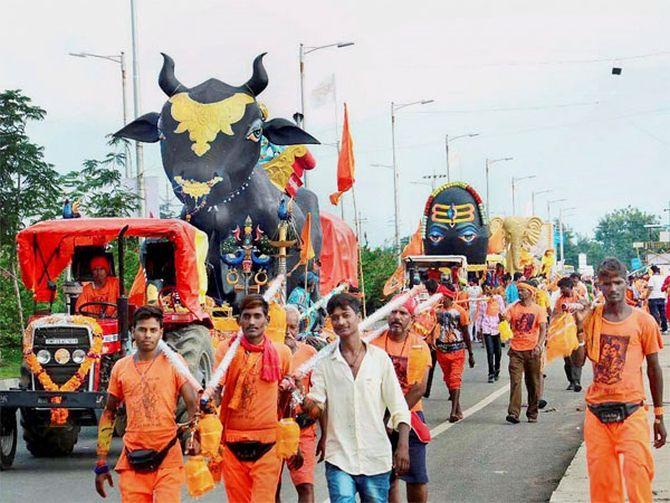 During the last one month, much of north India witnessed colourfully attired kanwariyas trudging along sidewalks of large metropolises, often spilling over into busy city traffic jams.
This is as spectacular a clash between tradition and modernity as one can get.
The traffic jams reflected the inability of modernity to deliver as the march of tradition grew in numbers and in its swagger.
While this clash is an interesting subject to study and understand, it is not my subject of discourse here. My interest is in finding in this phenomenon a reflection of the jobs situation in India.
A Google search tells me that the number of kanwariyas could be of the order of 3 crore this year.
Amulya Gopalakrishnan writes in her Sunday Times of India blog on August 12 that the number was estimated at 1.2 crore in 2011.
Sandeep Rawat reports in Hindustan Times on July 19, "Last year, more than 2.5 crore (25 million) kanwariyas had arrived in Haridwar to fetch the holy Ganga jal (water).
"This year, the fair administration expects arrival of more than three crore kanwariyas."
A Scroll.in interview of Vikash Singh, assistant professor of sociology at Montclair State University, who wrote a book, Uprising of the Fools, Stanford University Press, March 2017, on the kanwariyas, gives the number at 2 crore in 2016.
Given the above, an estimate of 3 crore kanwariya pilgrims this year may not be too far off the mark.
What does this 3 crore estimate tell us about the employment situation in the country?
First, 3 crore is about 3 per cent of India's working-age population. It is 7.3 per cent of the total employed persons in the country and about 7 per cent of the labour force. That is a substantial number in itself.
It equals the total working-age population of Telangana (or, just a little less than the working-age population of Kerala).
It equals the total labour force of Rajasthan and Haryana put together.
It would be safe to assume that participants of the kanwariya pilgrimage come essentially from Uttar Pradesh, Delhi, Haryana and Uttarakhand.
The pilgrimage entails a trek up the Ganga to Haridwar, Gaumukh or Gangotri to fetch water from the Ganga to be offered at local Shiv temples or at temples in Meerut or Kashi Vishwanath.
There is a separate pilgrimage to Sultanganj in Bihar with similar objectives but we are not discussing that here.
Thirty million pilgrims work out to over 40 per cent of the labour force, and 43 per cent of the estimated employed persons in the four states of Uttar Pradesh, Delhi, Harayana and Uttarakhand.
It would be extremely difficult for any state to free so many persons for a pilgrimage that could easily take away a month.
The annual kanwar yatra began on July 10 and ended on August 9 this year.
If we spread the net a little farther and assume that the kanwariyas could be coming in from Rajasthan, Madhya Pradesh, Chhattisgarh and also from Himachal Pradesh, the 3 crore (30 million) estimate then works out to 23 per cent of the labour force and 24 per cent of the employed of these states.
This is a significant proportion that drops work and sets off on pilgrimage.
But why should we assume that they drop work? It is because the kanwariyas are mostly young men who could have been working.
Women, middle-aged and old-age people are a rare sight in this arduous trek. The average age appears to be in the mid-twenties, with a range from late teens to early thirties.
So then, it is more relevant for us to compare the 3 crore estimate to the young male population of the relevant states. For the purpose of this exercise, we define young population as those between 15 and 34 years of age.
The young male population in the four main states of kanwariya movement is of the order of 5.2 crore.
If we include all the nine states listed above, the relevant population size grows to 8.9 crore.
Can 3 crore out of the 8.9 crore young male population of the nine states set off on a pilgrimage that extends for about a month?
If yes, then what can we infer regarding the state of the young working population in these states?
Are they mostly unemployed or underemployed?
What can we infer from their growing numbers?
They seem to be growing at the rate of 20 to 25 per cent per annum. Is there growing unemployment or underemployment?
An alternative argument could be the large and growing number of kanwariyas reflects growing religiosity in Indian society.
While this could be true, one would be stretching credulity if we assume that religiosity can forego employment over an extended period.
It is more likely that there is a substantially large float of unemployed youth north of the Vindhyas.
Mahesh Vyas is managing director and CEO, Centre for Monitoring Indian Economy P Ltd.
Photograph: PTI Photo.