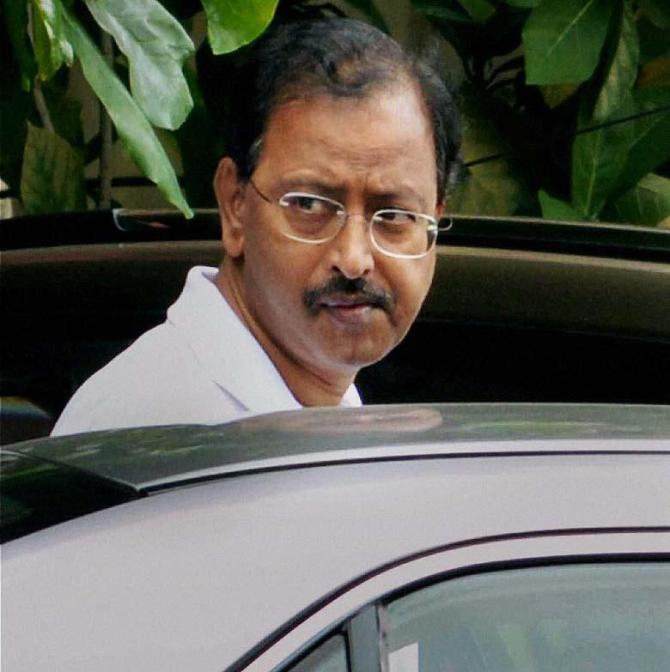 April 9, 2015, could well be a red-letter day in the corporate history of India.
The court that tried the Satyam Computer Services fraud case delivered its verdict on that day on what the Supreme Court termed the biggest scam in India's history.
The verdict was postponed twice, once on December 23, 2014, and again on March 9 this year. "You know the volume of the case. It requires some more time (to study). You may satisfy or not (with the outcome) but I must satisfy myself. Typing of the judgment itself will take two -three weeks," judge BVLN Chakravarthi, who heads the court hearing the case, had said while postponing the date of the verdict in December.
Everyone aware of the country's legal processes is certain the verdict will not bring the curtain down on the case.
The aggrieved parties, either prosecutors or the accused, will appeal in a higher court and the case might drag on for a few more years.
Given the magnitude of the case, experts say, the trial which began on November 8, 2011, has progressed remarkably quickly.
The Central Bureau of Investigation (CBI), which probed and prosecuted, initially listed 697 witnesses but subsequently pruned it to 216.
Similarly, it indicated 3,067 documents to be examined but later condensed these significantly.
Altogether, CBI had filed three chargesheets running into 650 pages and 3,000 supporting documents comprising 170,000 pages.
The first chargesheet was filed on April 7, 2009, the second on November 22 that year, and the third in January 2010.
All were clubbed for a joint trial. While filing the first chargesheet, CBI had brought 22 trunks full of documents to be given to the court.
CBI requested a court exclusively for trying the case and a new additional chief metropolitan magistrate's court was established for this.
The government ordered a CBI probe into the fraud on February 16, 2009.
Fifty days later, the investigating agency filed a chargesheet against founder B Ramalinga Raju, his brother and former managing director Rama Raju, former chief financial officer Vadlamani Srinivas, former Price Waterhouse auditors S Gopalakrishnan and Srinivas Talluri and three other Satyam employees, G Ramakrishna, D Venkatapathi Raju and Srisailam Chetkuru.
The accused were charged with offences under Section 120 B (conspiracy), 420 (cheating), 467 (forgery of valuable security), 468 (forgery), 471 (forgery for cheating), 477 A (falsification of records) and 201 (causing disappearance of evidence) of the Indian Penal Code. No charges were brought against former independent directors of the firm.
The charges attract punishment from three years to life imprisonment.
That CBI was able to file a chargesheet within two months of taking over the case was considered a remarkable feat.
Its then deputy inspector-general, V V Laxmi Narayana, who spearheaded the investigation, had said this was possible because of the multidisciplinary investigation team.
According to the CBI chargesheet, "the accused and their family have wrongfully gained by selling shares of SCSL during the fraud period by keeping the share prices artificially high because of wrong projections of the company's sale figures and profits and on the other hand, lakhs of retail investors and hundreds of institutional investors have wrongfully suffered to the tune of several thousands of crores".
From the wrongful gains made, CBI said, the accused acquired "huge immovable assets worth Rs 350 crore (documented value). The accused acquired 6,000 acres of land, 37,000 sq yds of housing plots and 87,439 sq ft of built-up area. A total of 1,065 properties acquired by the accused and their family members have been identified."
The Securities and Exchange Board of India (Sebi), in its order dated July 15, 2014, noted that "on account of their fraudulent acts, omissions and illegal transactions, Ramalinga Raju, Rama Raju, Vadlamani Srinivas, G Ramakrishna and V S Prabhakara Gupta, have made unlawful gains".
According to Sebi, Ramalinga Raju and Rama Raju made "unlawful gains" of Rs 543.93 crore through sale of shares and Rs 1,258.88 crore through pledge of shares, while Vadlamani made Rs 29.5 crore, Ramakrishna Rs 11.5 crore and Gupta Rs 5.12 crore through share sales. Rajeev Kumar Agarwal, whole-time member of Sebi who issued the order, directed the Satyam executives to "pay the said amounts within 45 days from the date of this order". But not a paisa has been paid to Sebi so far.
After the takeover
Mahindra Satyam paid $125 million in February 2011 towards an out-of-court settlement of a class action suit slapped by US-based investors in Satyam.
It also settled litigation with the US Securities and Exchange Commission for $10 million in April 2011 and the claims made by Aberdeen-affiliated former investors for $12 million in July 2012.
This apart, in December 2012, Mahindra Satyam entered into an agreement to settle claims for alleged fraudulent misrepresentations and to pay $68 million to Aberdeen Global and 22 other funds. The claims included certain allegations of "fraudulent misrepresentations" said to have been made by the former management of Satyam in London.
In contrast, the Indian investors have not been paid a single paisa in compensation, raising questions over the effectiveness of Sebi in protecting investors' interests.
There is also a feeling that CBI has not conducted a thorough investigation. The agency sent Letters Rogatory to 24 countries, to no avail. Also, no charges were levelled against the independent directors.
SFIO had included all independent directors in the case it had filed. A trial court imposed a fine of Rs 2.66 crore on former independent director Krishna Palepu. The court also imposed a fine of Rs 20,000 each on all other former independent directors — Vinod K Dham, T R Prasad, V S Raju, Mangalam Srinivasan and Mendu Ramamohan Rao.
Given these perceptions, it remains to be seen whether the judgment in the case brings the curtain down on the affair.
ED's money laundering case against Satyam executives
The Enforcement Directorate (ED) has sought prosecution of B Ramalinga Raju and 47 others, including his kin. And, to proceed likewise against 166 companies under the Prevention of Money Laundering Act.
The complaint filed before the additional chief metropolitan magistrate on October 28, 2013, said Raju and other accused "derived proceeds of crime from sale or pledge of inflated shares of M/s SCSL.
The accused also received bonus shares, shares under employee stock option schemes and dividends on the inflated shares of M/s SCSL and gained wrongfully".
ED said its probe had revealed the "accused resorted to inter-connected transactions so as to ensure that crime proceeds were distanced from its initial beneficiaries and laundered the said proceeds under the cover of corporate veil, with an ulterior motive to project the properties so acquired as untainted ones".
According to ED, Raju, "his relatives and associate members floated 327 front companies which were used to layer the proceeds of crime".
It had also been found that the "accused have purchased movable and immovable properties in their names, in the name of front companies and in the name of their close relatives..."
ED said it had attached 350 immovable properties and five "moveable properties" valued at Rs 1,075 crore (Rs 10.75 billion).
In October 2012, the ED said it had attached Rs 822 crore (Rs 8.22 billion)of fixed deposits that Satyam kept with four banks, in the ongoing case against the company promoter and others.
Sebi ban on accessing capital markets
In July 2014, the Securities and Exchange Board of India (Sebi) recently barred Ramalinga Raju, Rama Raju, Srinivas, Ramakrishna and Prabhakara Gupta from accessing capital markets for 14 years.
The regulator also asked them to pay Rs.1,849 crore worth of unlawful gains in share transactions, with interest at the rate of 12 per cent — Rs 2,958.29 crore (Rs 29.58 billion) when calculated since 2009.
The Securities Appellate Tribunal in September last year stayed the Sebi order on the penalty but upheld the bar from accessing capital markets.
Image: Former Satyam Computer Chairman B Ramalinga Raju who is convicted in the multi crore scam.
Photograph: PTI