The Budget will obviously be crucial. But US President Donald Trump may have even more of an influence than Finance Minister Arun Jaitley when it comes to sentiment, argues Devangshu Datta.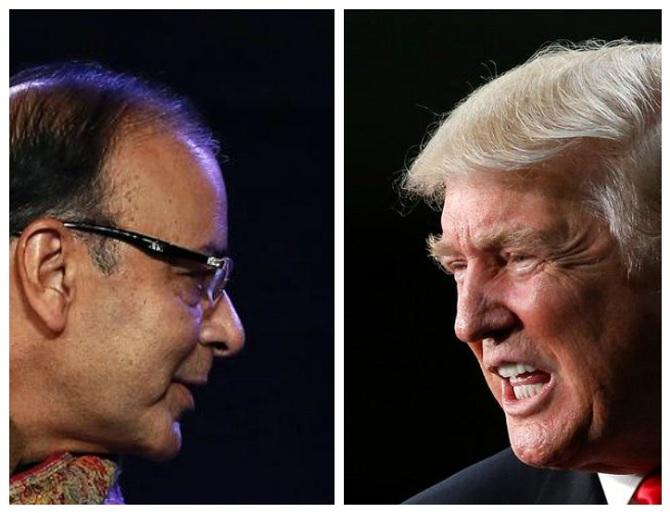 IMAGE: Arun Jaitley, left, and Donald Trump, right. Photographs: Anindito Mukherjee and

Carlo Allegri/Reuters

.

The Trump inauguration sent nervous tremors through the world. POTUS 45 promises an unabashedly protectionist policy.
There are other reasons to be skittish about geopolitics. The UK will Brexit. Elections in Germany and France (plus a referendum in Italy) could alter euro policy.
The European Union expects a bounce in economic growth, however, with robust December data and decent corporate earnings. Globally, metal prices are rising. If OPEC can maintain its agreements to curb crude production, energy prices will also be on the upswing.
On the domestic front, there are alarm bells ringing over the possibility of delays in the goods and services tax implementation as negotiations continue.
The results of the state assembly elections will also impact economic policy. The Bharatiya Janata Party is in campaign mode. It may turn more populist, given assembly polls through 2018 and general elections in 2019.
Data from demonetisation is incomplete, but downgrades are the name of the game. The first corporate results are coming in. Those seem to be in line with a slowdown.
Everybody is hoping for both Budget sops and fiscal prudence -- an unlikely combination!
The information technology and pharma industries are apprehensive about Trump's protectionism. He has said the pharma industry is 'getting away with murder' as the US imports drugs. The cost of manufacturing in the US is 5x that of 'making in India.' So if drug manufacturing moves to the US, Indian pharma will be hurt.
Ditto if import duties are hiked. Plus, even more stringent Food and Drug Administration regulations are feared.
However, since Trump has terminated the Trans-Pacific Partnership, it could increase access to markets for Indian pharma.
The impact on IT/BPO is uniformly negative.
Trump has threatened punitive taxes on offshoring. There is a high probability of H1B visa rules being tightened. The minimum compensation payable to H1B holders may be doubled to $100,000 per annum. The number of visas may be reduced.
Indian firms took 69 per cent of H-1B visas in 2015. The US absorbed over 60 per cent of IT/BPO exports (worth $108 billion in 2015-2016).
There will be a double whammy if Indian IT firms located in the UK lose access to the EU.
The big guns, Infosys and TCS, have released Q3 results.
Infy saw 7 per cent growth year-on-year (rupee terms) in October-December 2016. Revenue guidance was lowered. Profits were up 2.8 per cent quarter-on-quarter. Revenue declined 1.2 per cent quarter-on-quarter. Interestingly, Infy's net employee addition was near-zero.
TCS saw Q3 profits up by 2.9 per cent quarter-on-quarter and rupee revenue up 1.5 per cent quarter-on-quarter, with revenue growth at 0.3 per cent in USD terms.
Axis Bank and Canara Bank reported poor numbers.
Axis saw profits down 74 per cent year-on-year and gross non-performing assets (NPA) hit 5.2 per cent of advances, up from 4.2 per cent in Q2.
Canara Bank saw profits up 280 per cent to Rs 321 crore.
But gross NPAs were at an obscene 10 per cent of advances and net NPAs at 6.72 per cent. This means non-provisioned loans of over RS 23,150 crore. Low credit growth and higher NPAs could well be the pattern across banking. Bank credit for 2016-17 has grown at just 5.2 per cent so far. That's the worst since 1994.
Banks have parked the extra funds received in demonetisation in T-Bills and G-Sec. The mandatory minimum government bond holding is 20.5 per cent, but banks now hold 32 per cent in Government of India securities.
Capital gains from falling yields were only available until early December when the Reserve Bank of India decided to hold rates.
The Index of Industrial Production was up by 5.7 per cent in November. This was largely due to base effects and Diwali and Dussehra both falling in October in 2016, versus Diwali falling in November in 2015. Thus, November 2016 had 25 working days compared to 22 working days in November 2015. That in itself explains a positive difference of 14 per cent in favour of 2016.
The full impact of demonetisation will be hard to judge until the RBI releases pertinent data and we can gauge how much currency will be put back in circulation.
The International Monetary Fund has cut gross domestic product growth rate estimates for 2016-2017 by 1 per cent to 6.6 per cent, and for 2017-2018 by about 0.4 per cent.
The World Bank reckons India could make 7 per cent in 2016-2017 (previous estimate 7.6 per cent).
These are optimistic compared to some estimates of slowdowns slashing 3 per cent down for 2016-2017.
The Centre for Monitoring Indian Economy estimates growth could slide to 7 per cent for the next five years.
One study by the All India Manufacturers' Organisation projects job cuts of 60 per cent in the unorganised sector and 55 per cent decline in revenues.
The Budget will obviously be crucial. But Trump may have even more of an influence than Jaitley when it comes to sentiment.