We must stop stigmatising business failures.
Particularly when startups are mushrooming all around, the financial system, backed by the RBI and the government, can explore ways of extending support to restart the journey of a failed entrepreneur by finance as well as counselling, recommends Tamal Bandyopadhyay.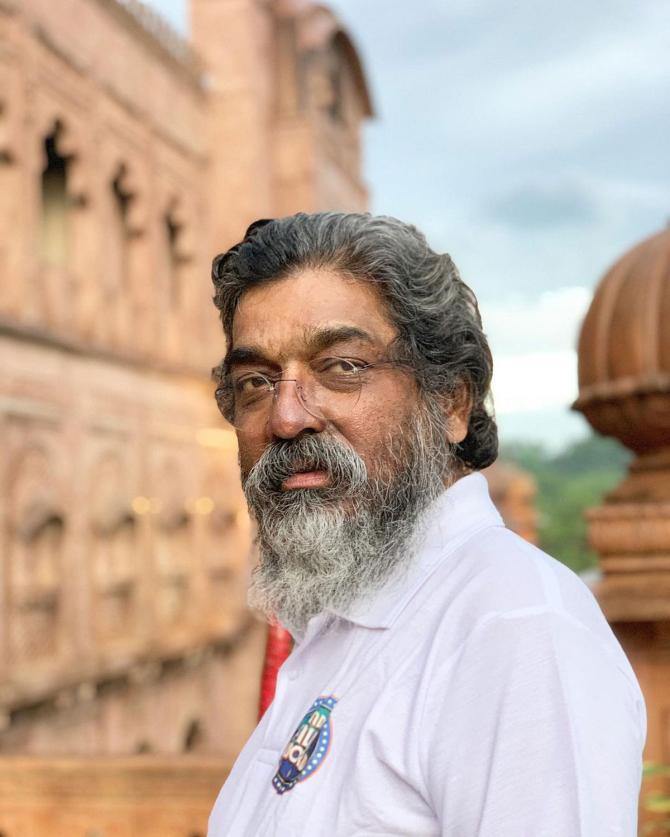 The chairman and a few senior executives of a non-banking financial company (NBFC) moved the Bombay high court, seeking to quash a first information report (FIR) registered against them by the Raigad police over the suicide of acclaimed art director in the Indian film industry, Nitin Desai, early this month.
The FIR has been filed against the resolution professional as well, appointed by the National Company Law Tribunal (NCLT) with allegations of abetment to suicide.
Allegedly, Desai, a loan defaulter, was harassed for the recovery of loan and had taken this extreme step under severe stress.
The police have been doing their job, based on a complaint and they have every right to investigate.
Abetment to suicide, under the Indian Penal Code of 1860, has a chequered history.
Section 306 of IPC 1860 was added to prevent sati -- a tradition widespread in India those days.
Sati or suttee was a practice in which a widow sacrificed herself by sitting atop her deceased husband's funeral pyre.
The suffering of widows used to lead them to commit sati.
This provision in the IPC was added to eliminate the practice.
The IPC has a provision to tackle the cases of dowry deaths, too (Section 34B).
Now, it's being used against creditors as well as a resolution professional.
Abet means to assist, encourage or promote someone to commit a wrong thing.
It involves instigating that person to do the wrong thing, engaging with one or more people into entering a conspiracy to do that and intentionally assisting any person by way of any act or illegal omission in the doing of the wrong thing.
It is also important to establish that the means followed by a person or group of persons -- as in this case -- have deliberate intention while instigating or supporting the wrong act.
Can using means, as outlined under law and regulations and under a competent judicial body to recover money, by an NBFC be considered as harassment and abetment to suicide?
Isn't exercising the option of insolvency proceedings a legal right to recover bad loans?
NCLT is a quasi-judicial adjudicating authority, set up under Section 408 of the Indian Companies Act, 2013, by the central government to decide on all matters related to companies, banks and financial institutions.
If a borrower defaults in servicing a loan, banks and non-banks have the option to approach the NCLT, which initiates the corporate insolvency resolution process under Section 7 of the Insolvency and Bankruptcy Code (IBC), 2016.
Under the IBC, a default means failure to fulfil an obligation, especially to repay the whole or part debt due not only to the financial creditor but others as well.
Many homeowners end up seeing their homes auctioned by banks if they are not able to service their mortgages.
If committing death by suicide and making allegation of abetment to suicide is seen as an option, what will happen to the credit culture?
Incidentally, the NCLT decisions don't always favour the lenders.
For instance, last fortnight it cleared the decks for creating India's largest media company by approving the merger of Zee Entertainment Enterprises Ltd with Culver Max Entertainment Pvt Ltd (formerly Sony Pictures Networks India Pvt Ltd).
The tribunal's Mumbai bench dismissed all objections against the proposed merger on which many lenders, including Axis Finance Ltd, JC Flowers Asset Reconstruction Pvt Ltd, IDBI Bank Ltd, Imax Corporation and IDBI Trusteeship Services Ltd, raised issues.
We have not yet fully stabilised the personal insolvency and bankruptcy law in India.
Should we have an institutionalised conciliation mechanism, prevalent in most states in the US, to settle debts for personal insolvency before initiation of the bankruptcy proceedings?
Had there been such a mechanism in India, consisting of not only lawyers but also experienced finance persons, a tragedy such as Desai's death could have been avoided.
Failed business and a failed businessman are two different things.
Businesses fail for multiple reasons -- change in customer choices, new/better substitutes, technology leaps, apart from inefficiency and lack of vision, among other things.
An entrepreneur learns from such failures and reinvents business models.
The ability to emerge from such financial crises and business failures is the hallmark of an entrepreneur.
A lesson from this episode is that while businesses may fail or face temporary hurdles, this is not necessarily a reflection on the entrepreneur in question.
The business failures and inability to service loans can play havoc with one's emotion.
We must stop stigmatising business failures.
Particularly when startups are mushrooming all around, the financial system, backed by the Reserve Bank of India and the government, can explore ways of extending support to restart the journey of a failed entrepreneur by finance as well as counselling.
Desai's Art World Pvt Ltd, known for its larger-than-life period drama sets, was incorporated in December 2002.
In November 2016, Desai entered into a loan agreement with the NBFC for Rs 150 crore (Rs 1.5 billion).
In 2018, another loan agreement was signed for Rs 35 crore (Rs 350 million), but, of the sanctioned amount, Rs 31 crore (Rs 310 million) was disbursed, increasing the total exposure to Rs 181 crore (Rs 1.81 billion).
Both loans were backed by securities offered by Desai and his wife.
On account of delayed payments of the principal as well as interest, both loans turned into the so-called special mention account or SMA-2.
Under the RBI norm, a loan turns SMA-1 when the overdue period is between 31 and 60 days and SMA-2 when it is 60-90 days.
When a loan is not serviced for 90 days and more, it turns into a non-performing asset or NPA on the lender's book.
In May 2022, the NBFC sent a recall notice to Desai.
At that time, the outstanding amount for the first loan was a little over Rs 200 crore (Rs 2 billion) and for the second, Rs 47.77 crore (Rs 477 million). By June 2002, the total outstanding was close to Rs 252.49 crore (Rs 2.5249 billion).
The NCLT order, dated May 25, says that the corporate debtor is 'neither disputing the debt nor the default' and 'did not raise any valid legal defence for rejection' of the lender's petition for insolvency.
It ordered the initiation of the Corporate Insolvency Resolution Process against Art World.
Desai made an appeal against it, but the National Company Law Appellate Tribunal Principal Bench in New Delhi on August 1 dismissed the appeal.
Desai committed death by suicide immediately after that.
I am not aware of how much interest rate was charged on the loan and whether Desai was harassed by the lender for the loan recovery.
Prima facie, it seems that the due legal process has been followed.
While the court will look into the FIR, the extremely unfortunate death of the art director should not be politicised.
Loan waivers have been periodically used by the central and state governments.
Let's not add one more arsenal to the armoury of the borrowers to spoil the credit culture.
Tamal Bandyopadhyay, author of Roller Coaster: An Affair with Banking, is a senior advisor to the Jana Small Finance Bank Ltd.
Feature Presentation: Aslam Hunani/Rediff.com