When it comes to running between the wickets -- which is exactly what an FM and a governor do -- Jadeja always defers to Dhoni's larger judgement of the situation and the needs of the team, observes T C A Srinivasa-Raghavan.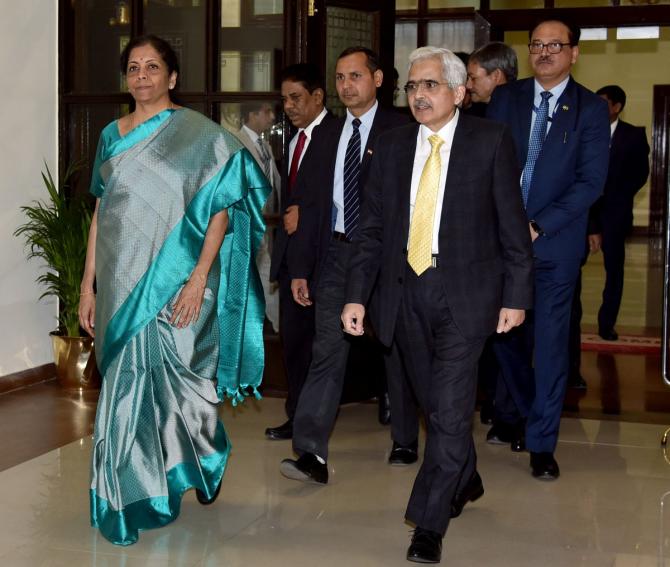 The incumbent governor of the Reserve Bank of India, Shaktikanta Das, has completed three years in office and has been asked to continue for two more years.
The Union finance minister, Nirmala Sitharaman, has been in office for two-and-a-half years.
Two of the years they have worked together have been spent fighting Covid.
The first thing that strikes an observer is how conflict-free the relationship has been.
Two of the previous three governors had sought to assert their own 'independence' as being a matter of institutional importance.
Or at least that's the impression they gave.
Mr Das has avoided that temptation, especially of making impromptu remarks to the media and grandstanding elsewhere.
Mr Das, in fact, has treated the relationship between his office and that of the finance minister exactly as Ravindra Jadeja does with M S Dhoni.
When it comes to running between the wickets -- which is exactly what an FM and a governor do -- Jadeja always defers to Dhoni's larger judgement of the situation and the needs of the team.
And when you run, run hard.
As a result, Ms Sitharaman and Mr Das have revived an old template for future relationships between finance ministers and governors.
This is most welcome because somehow between 2011 and the end of 2018, the governors had forgotten who, under Indian law, is the senior partner at the crease.
Other governors, too, have had their differences. But it's all been behind the scenes.
The details have emerged long after they demitted office. The two autobiographies by Y V Reddy and D Subbarao give us a flavour of the prickly relationship.
Economists, yes; parachutes, no
Mr Das has proved another thing which is important for future appointments.
This is that it is a mistake to appoint an economist from outside the government as governor, especially one that is parachuted in from abroad.
Economics, actually, is neither necessary nor sufficient for the job to be done satisfactorily.
None of the governors before I G Patel in 1977 was an economist. All but two were ICS men.
Being an economist might be desirable but parachuting one in certainly isn't.
Indeed every single economist governor till 2013 had been part of the government for a long time before being appointed to the job.
This tempered their understanding of the term 'central bank independence'.
It's foolish to think he (but sadly not yet a 'she') can be independent of the authority that appointed him.
The degree of independence is, after all, defined by the appointer, not the appointee.
The best finance ministers in the last 30 years like Manmohan Singh, Yashwant Sinha, and now Ms Sitharaman, tread softly with a pin in their hands.
The best governors stick to their knitting.
C Rangarajan's is a great example to follow, not only because he spearheaded the 1993-1997 financial sectors reforms -- the only ones that were there by way of reforms.
Simply put, when governors are assigned a task, they are expected to complete it quietly.
In that respect Mr Das has proved invaluable, both in terms of reforms and silence.
He has worked hard and without flamboyance.
And that's why his degree of trusted independence is currently more than that of any other governor since Bimal Jalan.
Ministerial micro management is at a minimum.
Of course, he would have been asked to look the other way occasionally.
That, too, goes with the job. Do it quietly under private protest.
Takes two to clap
But -- and this is a big but -- the minister matters, too.
In fact, ministerial temperament is critical in defining the relationship.
One finance minister once told me with great bitterness as to how it was he who was answerable to the country via parliament and not the governor.
Another called his governor arrogant. One nearly forced a governor to resign. There are many instances.
It is also a matter of record that Tamil finance ministers -- T T Krishnamachari, C Subramaniam, P Chidambaram -- mostly had a very fractious relationship with their governors.
In that one respect, at least, Ms Sitharaman has disappointed us so far.
At the heart of the relationship lies not just trust between the two and the absence or reining in egos -- what a former deputy governor of the Bank of England, Paul Tucker, has called 'unelected power'.
His book of that name is an absolute masterpiece even if somewhat difficult to plough through.
Believe me, if you are a serious student of central banks, it's worth spending a month on it because not since Montagu Norman in the inter-war years have central bank heads wielded as much power as they do now.
Norman could topple governments.
Mr Das may, therefore, murmur occasionally that he is 'astonished at his own moderation'.