Samridhi Bhardwaj analyses the dynamics of duty-free liquor allowance in India.
Illustration: Dominic Xavier/Rediff.com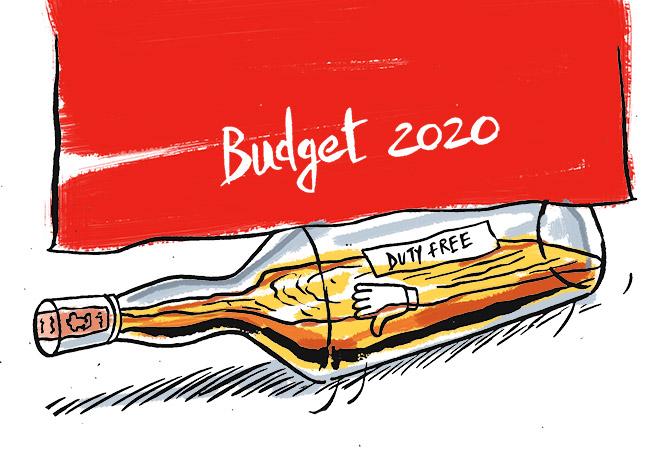 On January 19, 2020, Press Trust of India reported a recommendation made by the commerce ministry to slash the duty-free liquor allowance of incoming international airline passengers at the airport of their destination.
The allowance was proposed to be halved from two litres of wine or spirits to only one liter of either.
The ministry deemed this as an important step to narrow down the merchandise trade deficit of $183.96 billion.
This news report instigated widespread debate.
As many watched in anticipation, on February 1, Finance Minister Nirmala Sithaman in her Budget speech did not mention the commerce ministry's proposal, leading to no change in the duty-free liquor allowance.
While many were relieved that the commerce ministry's proposal was not considered, most don't know that an important recommendation by the Association of Private Airport Operators had quietly been shot down by the finance ministry.
The recommendation and response
In December 2019, APAO, an umbrella organisation of seven private airports in India, had proposed to double the duty-free liquor allowance of incoming international airline passengers from two litres to four litres of spirits or wine.
It had also demanded an increase in the duty-free allowance per passenger from Rs 50,000 to Rs 100,000 to enhance the purchasing ability of each passenger, thereby leading to an increase in duty-free sales.
These measures were proposed to decrease the dependence of airports on aeronautical revenue by developing non-aeronautical revenue streams.
The government, however, not only pushed the proposal under the carpet, but it seems to have initiated a parallel debate to divert attention.
It is left to the imagination whether this move came about because the government had no reason to disregard the proposal, but also had no intention to mull over it.
The commerce ministry's proposal for a reduction in quota seems like an attempt to arm twist APAO to maintain the status quo.
APAO's proposal underlines that the liquor allowance in India is not at par with Dubai and Singapore, countries with which Indian duty free competes.
Dubai allows four litres of spirits to returning passengers while Singapore allows one litre spirit and one litre wine and one litre beer.
In its proposal, the commerce ministry agreed to the claim, but their benchmark refers to countries like Thailand and Indonesia that allow only one litre of duty-free alcohol.
However, it is interesting to note that in 2017, Indonesia increased the duty-free allowance per passenger (not per family) from $250 to $500.
Similarly, in 2015, Thailand increased the duty-free personal belonging allowance for incoming passengers from 10,000 baht to 20,000 baht.
APAO elaborated that the current duty-free limit of Rs 50,000 was Rs 25,000 in 2004.
Considering rupee depreciation vis-a-vis tbhe dollar, of 162 percent during the said period, in real terms limit is reduced by 23 percent which will further reduce considering dollar inflation.
Hence, an increase in allowance is required to boost duty-free sales in India.
Lest the APAO proposal be construed as lobbying on behalf of the duty free sector in India, it needs to be highlighted that non-aeronautical revenue (NAR) has rescued the Indian aviation industry on multiple occasions, the most recent case being in March 2019, when the Directorate General of Civil Association officially grounder all Boeing 737 Max aircraft, and again in April 2019 with the fall of Jet Airways.
NAR helped the Airports Authority of India, GMR Infrastructure Ltd and the GVK Group cope with losses of airport landing, parking charges and other rental income from Jet Airways.
According to data compiled by APAO, the value of liquor imports from duty-free sales amounted to Rs 686.76 crores ($97 million) in 2018-2019 for all international airports in India.
This amount could double if the duty-free allowance is increased.
More revenue for airports would mean lesser costs for passengers, making air travel as well as facilities at the airport affordable, a scenario that syncs well with the government's own UDAN vision.
The direct impact of an increase in duty-free revenue will lead to:
Financial gains for AAI between Rs 118.86 crores to Rs 330 crores in revenue from its operations and from increase in revenue from Delhi and Mumbai international airports annually;
Gains worth $650 million to private airports annually;
Decreased airport space rentals leading to a decrease in prices of products sold on airport premises;
Decrease in landing and parking charges for airlines leading to a decrease in airfare;
Decrease in car parking ticket amount;
Decrease in 'Meet & Greet' admission fee for tour operators;
Decrease in lounge charges for on-spot buyers.
APAO's proposal, if accepted, could have substantial indirect impact.
It would boost the government's efforts to attract private capital in the aviation industry.
Private investors such as the Tata Group, Singapore Sovereign Wealth Fund GIC and SSG capital management that recently invested in the debt-laden GMR group will be incentivised.
Current efforts to achieve global retail standards through training academies at airports will gain momentum and will help India attain its potential for $3.5 billion of duty-free, retail and F&B spend at its airports.
Passengers who bought liquor from other duty frees before entering India will now be able to shop at their destination.
Sustainability and CSR activities such as skill development, free health services, improvement in education undertaken by the likes of GMR Varalakshmi Foundation will gain momentum.
More airports in India will follow the Delhi international airport to become carbon-neutral.
And lastly, illegal import of liquor by passengers and tax evasion by duty free operators will be disincentivised.
It is imperative for the government to work in tandem with the Association of Private Airport Operators, AAI and the changing preferences of air passengers to achieve an optimum offering that benefits all stakeholders alike
The government should introduce policies around boosting infrastructure, creating conducive environment for investors, ease of acquiring clearances and reduced cost arbitrage to boost the under-performing duty-free and to increase non-aeronautical revenue.