'Aggressively stepping up vaccinations will constitute the most enduring stimulus of all in the coming quarters,' observes Sajjid Z Chinoy, Chief India Economist at J P Morgan.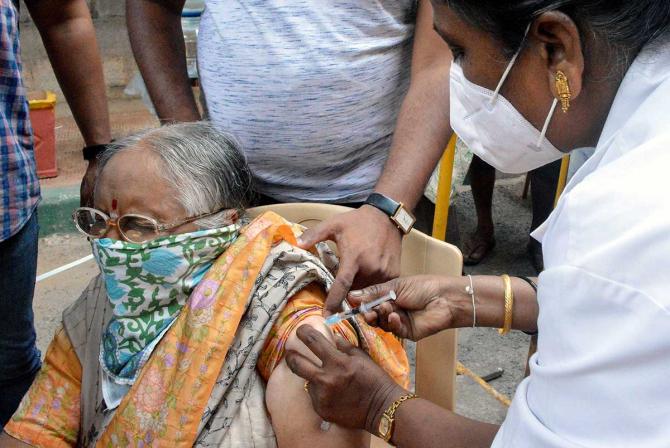 As India's second wave continues to get more acute, the economic fallout is becoming increasingly tangible.
Workplace and recreational mobility are down 15 per cent over the last month, as is a broader index of activity from its February peak.
Labour force participation rates have fallen and the unemployment rate has climbed.
Less quantifiable, but more compelling, are images of migrant workers preparing to leave cities and head home, for the second time in a year.
Much has been written about the needed response to the current health crisis. But what should the complementary economic response be?
To answer this, it's crucial to distinguish the current situation from what existed a year ago.
Back then, the country witnessed a nationwide lockdown of uncertain duration.
Given the homogeneous impact throughout the economy, a centralised fiscal and monetary response was necessary.
In contrast, this time, the economic impact is likely to be much more heterogeneous, more asynchronous, and potentially sharp but (hopefully) less enduring.
Heterogeneous, because different states have been hit to different degrees, have different levels of health infrastructure and therefore will be forced to impose different levels of restrictions.
Over the last month, recreational mobility is down 50 per cent in Chhattisgarh, 30 per cent in Maharashtra, 10 per cent in Uttar Pradesh but only 3 per cent in Tamil Nadu.
The economic impact is therefore likely to vary sharply across states.
Asynchronous, because different states will be hit at different points in time.
With the national reproduction number stuck stubbornly close to 1.5, activity restrictions are the only near-term antidote to take pressure off the health system.
As the virus proliferates, a staggered, rolling set of local restrictions across states appears inevitable.
Less enduring, because vaccinations -- even while unable to protect us in this wave -- if stepped-up, can limit the frequency and severity of subsequent waves.
Once a substantial fraction of each state's population is inoculated, pressure on the health care system is likely to abate, obviating the need for repeated lockdowns even as herd immunity takes time to attain.
All that said, the current wave has the potential to create a meaningful growth pothole in the current quarter.
How then should economic policy respond? When a monetary union is confronted with asymmetric shocks to its constituents, the optimal response is state-specific fiscal policy, instead of a blunt, one-size-fits-all monetary response.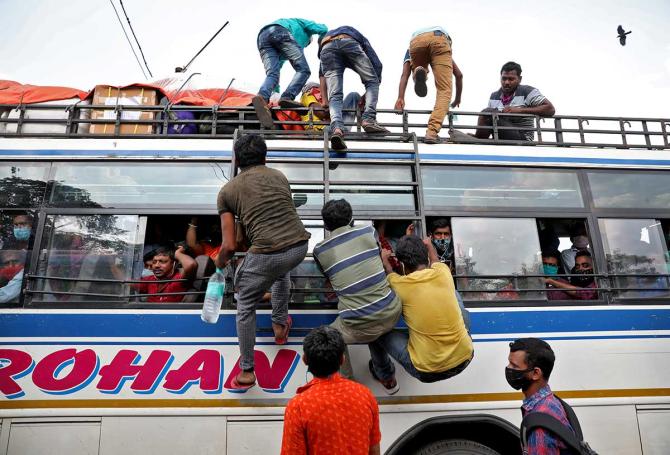 The first line of defence should therefore be states providing fiscal relief, commensurate to the size of the shock being experienced.
In particular, the immediate focus must be to prevent another large exodus of migrant labour.
Even before the second wave, labour market scars were visible.
India's employment/population ratio remains 2 percentage points below pre-Covid levels and demand for MGNREGA was almost 20 per cent above normal even in March, suggesting some migrants had still not returned from last year.
Another exodus could further reduce the proclivity to return. This would be a sub-optimal reallocation of labour, with excess labour in lower-productivity rural jobs even as high-productivity urban jobs lie vacant -- a pure deadweight loss to the economy.
Economic costs don't even take into account the humanitarian toll on these families and the likelihood that many will carry the mutant back to the hinterland.
States must therefore seek to pre-emptively announce some income support to migrants and the urban poor -- both in cash and kind -- to prevent this mass exodus.
In a welcome move, both Maharashtra and Delhi have announced cash transfers for registered construction workers along with free meals.
Different states can tailor the income support differently based on local identification mechanisms and state capacity.
The Centre will also have a role to play.
To the extent that some reverse migration is inevitable, it will be crucial to ensure MGNREGA work is available in the hinterland for all that seek it, and the MGNREGA budgetary allocation increased commensurately.
Furthermore, if restrictions and lockdowns spread across more states, a compelling case would accrue for the Centre to provide free grains and pulses again, to augment state support.
The fiscal thrust must focus pre-eminently on relief, for now, rather than any thoughts of stimulus.
The latter is already built into the pipeline.
Aggressively stepping up vaccinations will constitute the most enduring stimulus of all in the coming quarters.
Furthermore, both states and the Centre have budgeted for much higher capital expenditures this year which, if executed, could have meaningful multipliers later in the year.
A booming global economy should also help.
The fiscal focus, for now, should therefore be squarely on relief and to minimise labour market dislocations in this second wave.
But how much fiscal space is there?
The cap on state deficits is 4 per cent of GDP this year but a review of budgets of the 17 largest states reveals consolidated state deficits are budgeted at 3.3 per cent of GDP.
So there is space to borrow, even under the current fiscal road-map.
As it turns out, some of the worst-hit states -- Maharashtra and Gujarat -- have budgeted very low deficits (2.2 per cent and 1.6 per cent of GDP, respectively), have low debt levels, and therefore can be more expansive in their response.
Other states are much more constrained, so if states need to borrow more for relief or vaccinations, they should be permitted to, to prevent crowding out other expenditures.
To be sure, with consolidated public debt/GDP at 90 per cent, fiscal space is not unconstrained. But relief spending in the wake of this public health crisis must take precedence, and will more than pay for itself by preventing distortionary reverse migration.
Spreads of state government bonds -- over central government bonds -- have narrowed in recent months.
If higher state borrowing puts pressure on these spreads, the RBI can always redirect a fraction of its GSAP towards state bonds and/or temporarily increasing HTM limits to narrow spreads.
Near-term relief apart, stepping up vaccinations remains the most viable path to economic normalisation.
Given the strong positive externalities from vaccination, it's understandable why the Centre and state governments would want to subsidise vaccine costs for parts of the population, so as to prevent pricing from becoming a source of vaccine hesitancy.
But one needs to be mindful of the distortions created by dual pricing.
If the vaccine is made free for certain groups (e.g. the poor) or from certain locations (public hospitals), but costs ~600-700 for the rest, the incentive to divert and create a black market will be strong, creating risks that those for whom free vaccines are intended face the most acute shortages.
Rather than a separate 'public' and 'private' price for the same vaccine -- with risks of costly arbitrage between the two -- policymakers should think of routing the subsidy through a 'vaccine voucher' to reduce diversion.
All intended beneficiaries would be eligible to an electronic vaccine voucher allowing them to procure the vaccine for free from any location, with the provider being directly compensated by the government.
This would deliver the subsidy without necessitating dual market prices.
The heterogeneity and asynchronicity of the current shock would argue for a state-specific fiscal response as the first line of defence, backstopped by the Centre.
In conjunction, policymakers could roll out vaccine vouchers to hasten vaccinations.
This would be the best use of fiscal resources in the near term.
And the best chance of ensuring hysteresis from the first wave is not accentuated in the second.
Sajjid Z Chinoy is chief India economist at J P Morgan. All views are personal
Feature Presentation: Ashish Narsale/Rediff.com