Had Finance Minister Sitharaman thought a little more about the middle class, disadvantaged sections and the poor who are struggling, it would have been an inclusive Budget that would have made history, notes Ramesh Menon.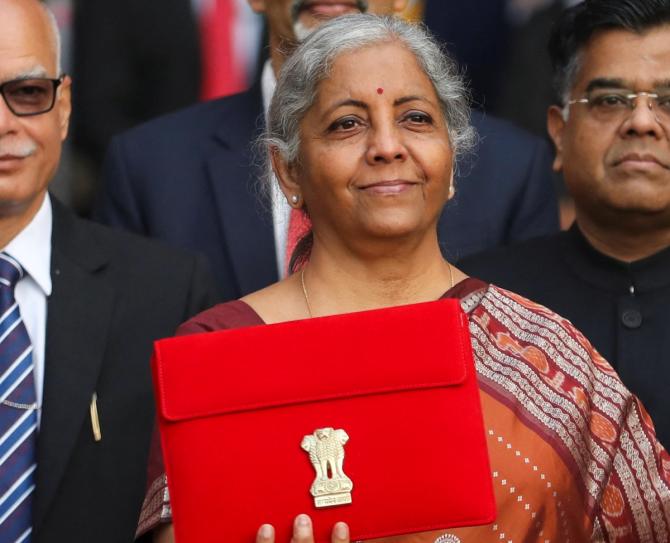 It is such a relief that Finance Minister Nirmala Sitharaman's Budget was not pandering to the state elections and was not populist. Both these factors would have been bad for the economy.
Having said that, one cannot escape the fact that while it seemed high on vision this time as the grandiose statements indicated, it remains to be seen how things pan out.
What would be interesting is to watch the political landscape as the devil is always in implementation and intent.
For instance, in the last Budget, she had said that India's divestment target for the year was Rs 1.75 lakh crore.
The reality is that it fell short of 92 percent! Till December, it had earned just Rs 9, 364 crores!
Economist Omkar Goswami has a point when he says that if this performance had happened in the private sector, numerous officials responsible would have lost jobs.
Sitharaman has now targeted the current year's divestment to just around Rs 78,000 crore. But, even that is very doubtful if one looks at the success on the divestment front.
There does not seem to be an honest political will to do it as no government wants to jettison control.
If it does not aggressively move on the divestment front, it will have to borrow more and consequently will have to use the tax revenues to pay more interest.
Air India took ages to go back to private hands. One does not know how long the Life Insurance Corporation would take as it is next on the divestment list. Currently, it has policyholder funds worth Rs 37.72 trillion.
Unlike Air India, LIC is a profit-making entity.
Instead of focussing only on divestment, the government could consider helping its public sector units make more profits by giving it the space and freedom to function professionally and not get the bureaucracy to run it who are not trained to run it.
Sitharaman said India in the current fiscal would grow at an estimated 9.27 percent.
The latest Economic Survey of India said India is slated to grow at 11.5 percent.
Do not miss the fact that last year's economic survey projected a GDP growth of 11 percent.
India has a chance to emerge as one of the fastest-growing economies in the world. But, for that, it has to get both its strategy and politics right.
It is not enough to just have projections, but the government now must walk the talk of reform and tough measures to race ahead and make up for the lost time especially in the last two COVID-19 pockmarked years.
The last two years have not been kind.
Millions have lost jobs and millions have taken salary cuts. Thousands of small businesses have collapsed.
Unless there is money in hands of buyers, the economy cannot be easily revived.
To top it all, spending also got affected by rising inflation and cruel healthcare costs that spiraled during the pandemic.
It was surprising that the Mahatma Gandhi National Rural Employment Guarantee Scheme (MGNREGS) which helped millions of poor villagers get some wage in trying times, has ironically been cut down.
The Budget allocated only Rs 73,000 crore to the scheme in 2022-2023 which was starkly lower than the Rs 98,000 crore it allocated in 2021-2022.
As arrears around Rs 21,000 crores of the previous year have still to be paid, imagine how little is left for rural employment this year.
This scheme deserved to have got a fillip considering how migrants have moved back to their villages from urban India having lost their livelihoods during the pandemic.
Unemployment is one of the most serious worries for India as there were 53 million Indians who were unemployed in December 2021, according to the Centre for Monitoring Indian Economy. Its data indicates India has 30.3 million unemployed people, 1 million more than during the 2020 lockdown.
Almost 95% of them are under 29 and 11.8 million are graduates. This should worry all of us.
In December 2021, as many as 9.1 million households looked for work under MGNREGS, but had not found it.
It seems the government has taken for granted that the pandemic is dying.
Instead of increasing the vaccination outlay from Rs 35,000 crore (Rs 350 billion), it has cut it down to Rs 5,000 crore (Rs 50 billion).
Evidence shows that new variants of Omicron are surfacing in numerous countries that have the potency to spread even more rapidly. Is the government prepared to tackle it?
How does one explain this during a raging pandemic: Health expenditure is down from 0.41 percent of the GDP in 2021-2022 to 0.37 percent in 2022-2023.
The central government's flagship health programme, the National Health Mission, has only got a tiny increase in allocations from Rs 34,000 crore (Rs 340 billion) to Rs 36,960 crore (Rs 369.60 billion).
Rural development allocations saw a reduction from 1.09 percent of the GDP to 0.89 percent of the GDP in the current year.
Do not miss the fact that customs duty on cut polished diamonds has been slashed by five percent.
The government is betting on the fact that increased capital expenditure has the potential of spurring growth and its multiplier effects could reach down to the poor.
Not many buy this idea as the realities on the ground are grim.
Look at the global health development indices and you will not feel good.
India ranks 130 out of 189 countries on the Human Development Index.
On the Global Hunger Index, it stands at rank 101 out of 116 countries.
Do not look at the countries that come after India. It will make your heart sink. The budget slashed food subsidies.
A recent report by Oxfam shows how the incomes of the poor are decreasing while that of the rich is increasing in India.
In this scenario where incomes have collapsed, one expected more government spending on the social sector so that human development gets a badly needed fillip to overcome the ravages of the pandemic.
However, fixing fiscal deficit targets and providing succor to the industry was what was the priority.
Small and medium enterprises suffered a huge blow during the 2016 demonetisation and then the confusion over GST's changing norms and finally, three waves of the pandemic.
IT relief was expected as taxpayers feel overburdened with high taxes.
This is one point that the Opposition harped on saying that the Budget had nothing for the middle class.
Industry sources feel that infrastructure spending on roads for instance which has increased allocations would help create some employment.
The National Highways Network, for instance, will be expanded by 25,000 km.
But, still, it will not be able to employ very many desperately wanting both skilled and unskilled jobs.
While it is important to help the industry move faster ahead, it is equally important to address the crying needs of the social sectors to deal with hunger, poverty, health, education, backward sections, agriculture, and so on.
Never expect poll promises to be always honoured. Was not 2022 the year marked when farmers's income was to be doubled?
If suicides by farmers can be a parameter to point to the distressed look at figures of the National Crime Records Bureau which showed farmer suicides increased in 2020 as compared to the previous year.
Let us never forget that we are an agricultural economy. It has been our backbone for the last seven decades.
But there was hardly any relief for farmers who are under constant crisis as they have small landholdings and costs of fertilisers and pesticides are drowning them.
There was a mention by Sitharaman of how the government proposes to start organic farming on the banks of the Ganga.
What about the rest of the country which is paying a huge price for chemical farming that is poisoning the land and affecting health? If water from the Ganga is going to be used for farming, it is never going to be organic as it is one of the most polluted rivers with chemical effluent.
Had Sitharaman thought a little more about the middle class, disadvantaged sections and the poor who are struggling, it would have been an inclusive Budget that would have made history and improved India's human development indices.
Business and industry cannot alone build a country or help it to race to the top of the world.
Ramesh Menon - author, award-winning journalist, educator, documentary film maker, corporate trainer and author of Modi Demystified-The Making of a Prime Minister.
Feature Presentation: Rajesh Alva/Rediff.com