Here's what could be ahead for India: A $10-trillion economy by 2030-32, a Sensex at 1,00,000 by 2025, monthly GST revenues at Rs 2 trillion by 2024-25, 100 new unicorns by 2025, and poverty below 5 per cent by 2030, predicts R Jagannathan.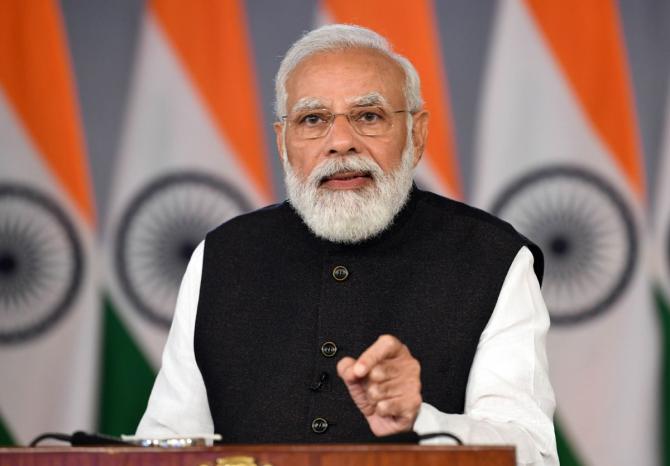 A recent article in the Financial Times, authored by global investment strategist Ruchir Sharma, makes a simple point: Countries which went over the top in providing massive fiscal and monetary stimuli after Covid laid their economies low did not get bang for the buck.
In fact, they may be heading for a debt trap. He does not mention India, which did not do any such thing.
The question is: What did Narendra Modi and his group of low-profile economic think-tankers see that the experts did not?
In fact, one should go further and ask the experts, especially those who prefer to view everything this government does with a jaundiced eye, why they saw nothing transformational in many of Modi's big schemes.
The goods and services tax, they said, was seriously flawed and in need of 'root and branch' reform.
Aatmanirbhar Bharat was nothing more than the discredited import substitution idea back in a new garb.
The multiplicity of Modi schemes was more about pandering to the prime minister's penchant for acronyms and alliteration than substance. And so on and so forth.
Anyone who is not congenitally disposed to seeing the Modi government with a negative lens will see that the last seven-and-a-half years have been (with some caveats) the most transformational in post-Independence history.
We can mention 1991 in this context, but the difference between then and the 2014-2021 period is that the former was driven by bankruptcy, the latter by pure reformative intent.
The scorecard in this phase of our post-Covid recovery reads more positive than negative: GST is now consistently above Rs 1 trillion; the fiscal deficit in H1 2021-22 is just 35 per cent of the Budget eEstimate (BE), an unheard-of feat in recent memory, and net tax and non-tax revenues are at 59 and 66 per cent of BE.
Forex reserves are two-thirds of a trillion dollars, corporate profits are reviving, the markets are over the moon, and 34 unicorns -- billion-dollar start-ups -- were created in just the first 10 months of calendar 2021.
It is easy, with the benefit of hindsight, to credit this to Modinomics, but that would be partly wrong.
For what Modi practises is socio-nomics, which embraces common sense fiscal conservatism while addressing the pain points of citizens and companies, cocking an attentive ear to political reality.
Here is what it is all about.
1. He is a socio-political venture capitalist at work.
From Swachh Bharat to Ujjwala to the latest Aatmanirbhar Bharat, Modi has launched one new scheme almost every two months in his seven-and-a-half-year tenure.
What exactly is happening here? The initiative overload does not make sense unless you think like a venture capitalist.
A venture capitalist will invest in many start-ups knowing full well that 60-70 per cent of his investee companies will fail, 10-15 per cent will deliver in spades, and the remaining 20-30 per cent will do reasonably well to justify the investment.
This is exactly what Modi is doing.
He knows that he needs only four or five big hits to be acknowledged as a transformative leader, both politically and economically.
In his first term, Swachh Bharat and Ujjwala were huge successes, apart from the reformative Jan Dhan-Aadhaar-Mobile trio, direct benefit transfers, and the bankruptcy code.
In this term, GST will deliver with some tweaks, and for ordinary people Nal-se-Jal will be hugely beneficial.
2. The approach is 360 degrees to any problem. Taken separately, Ujjwala, Saubhagya (providing last-mile power connections to the home), Swachh Bharat, Ayushman Bharat and Nal Se Jal are separate initiatives.
Taken together, they empower the homemaker and improve health outcomes.
The traditional approach is to call for higher health budgets, which are admittedly very low, but toilets, clean energy sources, lighting and water on tap are not just social sector schemes.
They have a direct bearing on health.
3. Formalise, formalise, formalise: Modi has formalised the Indian economy like no one else before him.
Between GST, the push for tax compliance, demonetisation, and the extension of social security benefits to many more workers (often on a self-help), Indian business has taken a big leap towards formalisation.
Micro and small companies, currently paying extortionate rates in the informal lending markets, will now get loans through the account aggregator initiative.
But Modi's formalisation goes beyond firms and companies.
The poor have been conscripted, too. Between Jan Dhan, DBT and unified payments interface, more Indians are now part of the formal financial sector than ever before.
With the launch of the e-Shram portal for migrant labour, gig economy workers are being visibly formalised.
4. A 'BHAG' vision with deep execution capabilities: India did not vaccinate two-thirds of its eligible adult population merely by waving a magic wand.
This initiative involved many actors working together all the time.
Government labs and private companies worked in partnership to create two high-volume India-made vaccines at low unit costs.
It worked because a leader at the top could bash heads together and force government babus out of their silos and private players to deliver what they could.
In Jim Collins and Jerry Porras's path-breaking book (Built To Last), they talk about BHAGs -- Big, Hairy, Audacious Goals -- as being a defining characteristic of great companies and leaders.
Nothing exemplifies Modi's approach better than the acronym BHAG.
Whether it was Jan Dhan, Ujjwala, Jal Jeevan Mission, or any scheme, scale, size, speed and execution have been exemplary.
5. Supply-side reforms. Aatmanirbhar Bharat and production-linked incentives are not about import substitution, but building an internal supply chain for inputs and products at a time when global supply chains have broken down, thanks to Covid and Chinese aggression.
Globalisation cannot work unless there is strong localisation.
And a degree of mercantilism is needed to give nascent competitive strengths a boost -- which is what the rich nations did when they were not so rich.
The reason why even unbiased people have been reluctant to note the transformative nature of Modi's socio-nomics is simple: It was less visible to the eye so far, as deep reforms take five or six years to deliver.
Now they are becoming visible.
Here's what could be ahead for India: A $10-trillion economy by 2030-32, a Sensex at 1,00,000 by 2025, monthly GST revenues at Rs 2 trillion by 2024-25, 100 new unicorns by 2025, and poverty below 5 per cent by 2030.
It's possible because Modi could see what the experts could not.
R Jagannathan is editorial director, Swarajya magazine.
Feature Presentation: Aslam Hunani/Rediff.com