'As for tricky relations with China, India needs less of summitry type event management and more anticipatory analysis and management of events,' says Ambassador Jaimini Bhagwati.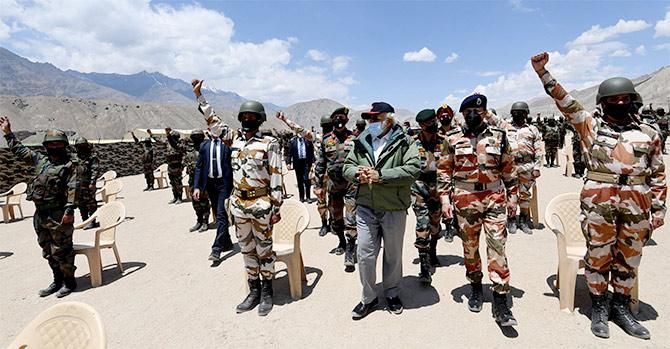 'Trust, but verify' is said to be a Russian maxim. To Mikhail Gorbachev's annoyance, Ronald Reagan kept repeating this at their bilateral meetings.
Trust and verification are undeniably basic elements of a successful compact between citizens and government.
Accordingly, India has to defend its borders on its own and give its economic partners a stake in India's security by building substantial two-way trade and investment linkages.
The media has reported that the Chinese army continues to have control over Galwan Valley, the area between Fingers 4 and 8 on the north bank of Pangong Lake and adjoining heights.
As of the forenoon of June 24, it was not clear that military level talks between India and China, which were held on June 22, would lead to Chinese forces withdrawing to positions they held last year.
To recapitulate, India and China do not have a formally agreed land border. Instead, there is a 3,460-kilometre long so-called the Line of Actual Control, which separates the two countries.
Retired officers of the Indian government have suggested that the armies of both countries patrol along the LAC, but are not expected to erect permanent structures.
China has dilly-dallied about delineating the border, hence any understanding on the Indian side that permanent structures are not to be built along the LAC has no clarity or sanctity.
Successive Indian governments have for all intents and purposes played along with China's encroachment game by not releasing maps which clearly indicate India's understanding of the precise contours of the LAC.
Should Indians be forever kept in the dark about the official Indian position on the location of the LAC?
In 1993, China's gross domestic product at $1.7 trillion was 1.4 times that of India's $1.2 trillion GDP, both numbers expressed at current prices in purchasing power parity terms.
In 2019, the same GDP numbers were $27.3 trillion and $11 trillion, making China's economy 2.5 times that of India (Source: IMF).
Given China's rising economic and consequent military heft, it seems China took a conscious decision since the India-US 123 civil nuclear agreement and the West's financial sector meltdown in 2008 to nibble away at Indian territory along the LAC.
China protested furiously when His Holiness the Dalai Lama visited Tawang in April 2017, claiming that Arunachal Pradesh is part of southern Tibet.
Such Chinese protestations are invariably downplayed by the Indian government.
Perhaps China dreams of incrementally grabbing northern India territories with substantial Buddhist populations to incorporate these areas in a contiguously seamless, Tibet.
India needs to attenuate its excessive dependence on imports from China for production of its pharmaceutical, auto, mobile phone and electrical products.
Concurrently, official Indian statements should gradually include references to the worldwide Tibetan Diaspora's feelings of alienation from their homeland and reach out incrementally to Taiwan.
Of course, India should expect China to retaliate by encouraging extremist elements in Kashmir and in the north eastern states.
However, omelettes cannot be made without breaking eggs.
In the past five years, India's defence spending was around 2.5 per cent of GDP and about 53 per cent of this is spent on salaries and pensions.
India's defence preparedness cannot be improved on the cheap and this spending should be slowly increased to 4 per cent of GDP.
The required financial resources can be raised if the central government gets a higher number of self-employed professionals to declare their true incomes.
In 2019, a ridiculously low 2.5 million tax returns reported income higher than Rs 83,000 per month.
Moving on to the ongoing COVID-19 pandemic, the consequences could be better addressed by the central and state governments if there is greater trust across all parties.
For example, recently Indian television featured a doctor in Delhi's Ganga Ram hospital sparring with an Aam Aadmi Party legislator.
A convincing argument made by the doctor was that in the current stressful times, if the Delhi government did not trust doctors in private hospitals, there could be no meaningful discussion.
After all, it is nurses and doctors who are on the frontline at immense risk to their lives in treating Covid and other patients.
Issues such as who is to be admitted, pricing of Covid tests and hospital rooms should have been sorted out by central/state governments and private hospitals within a week of the announcement of the first lockdown, that is by end March 2020.
It is surprising that there are no standardised norms for private hospital charges on a cost plus basis taking into account allocation of hospital land at subsidised prices.
The Supreme Court of India has become the final arbiter in all manner of disputes including those related to religious worship, cricket, corporate takeovers and taxes, to name a few.
Judges accept positions as governors and heads/members of various commissions post-retirement.
Such post-retirement benefits ladled out by the central government to select retired judges make for substantive conflict of interest.
Under these circumstances, it is logical to raise the salaries of Supreme Court judges by, say, 500 per cent with the condition that post retirement they cannot accept remunerative employment.
The CEOs of private banks and stock exchanges in India are paid Rs 30 lakh to Rs 80 lakh a month and top lawyers charge exorbitant amounts for court appearances.
Given the momentous consequences of their judgments, paying Supreme Court judges around Rs 20 lakh a month is not excessive and should be adequate compensation for them to be barred from paid employment post-retirement.
This relatively low-cost step should enhance trust in the impartiality of the Supreme Court's judgments.
It is important for individuals and companies, domestic and foreign, to reach faster closure on issues that remain pending for decades with Indian investigation agencies, regulators and courts.
Interminable delays can lead to corrosive levels of trust deficit.
As for tricky relations with China and other nations, India needs less of summitry type event management and more anticipatory analysis and management of events.
---
Jaimini Bhagwati is a former Indian ambassador and World Bank finance professional.
Feature Production: Rajesh Alva/Rediff.com