India has no idiosyncratic innovation ecosystem, distinctively its own. Our VCs will not rush to fund brilliant ideas, says R Gopalakrishnan.
Illustration: Dominic Xavier/Rediff.com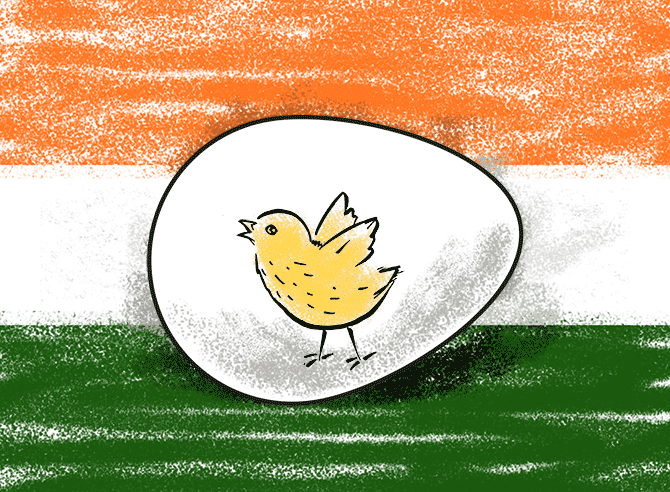 The two ends of the innovation journey are rich with literature: the early stage, associated with start-ups, emphasises creativity and cleverness, and the late stage, associated with large companies, emphasises scaling and discipline.
The in-between pathway is scantier in literature-richness.
I have contributed in this space through the new book, A biography of Innovations.
Consider the late stage first. Professor Ricardo Hausmann, a former minister in Venezuela and now director, Center for International Development, Harvard University, argues that large organisations are better at R&D.
Fruitful innovations emerge from large-scale R&D, and Hausmann quotes examples from Jon Gertner's 2012 book, The Idea Factory.
His view is contrary to the popular view that small means more innovative and agile.
Hausmann points out that trying to replicate a successful innovation ecosystem from one place to another is "like trying to build a bridge without the scaffolding. Complex ecosystems of innovation develop in each place because of idiosyncratic path development, distinctive in its own way".
The absence of an idiosyncratic innovation ecosystem is the reason why many nations, including India, are struggling with accelerating innovation.
We rely on start-ups sans the ecosystem.
Perhaps the ecosystem will develop in due course, but the hoopla around young people's ideas and start-ups would suggest that "acche din aa gaye hain".
Consider the early and creative stage.
In his comments on disruptive technologies at a Fireside Chat hosted by Marico Innovation Foundation, Noshir Kaka of McKinsey stated, "We believe that disruptive technologies will account for 20-30 per cent of India's incremental growth in the next 10 years".
That is a big statement. Kaka may be right, but for his forecast to come true, the effectiveness of our Indian start-up ecosystem must be strongly visible already. I do not see that. Not yet.
The Indian ecosystem faces tough issues in scaling up clever ideas and enticing solutions.
Or else, by now, the clever ideas of a decade ago would be viable, visible and impactful businesses.
Marico Innovation Foundation showcases winning ideas on MIF Talkies.
Rahul Rastogi's Sanket has been presented as the world's only leadless, pocket-sized ECG monitor that can generate an ECG report in 15 seconds.
The creative idea is extremely well articulated and interesting.
Dr Vishal Rao has designed a voice prosthesis device to enhance the lives of very poor people who lose their voice box due to disease and ailments.
His device will cost a fraction of the current models available.
Narayana Peesapaty of Bakeys has designed and developed edible cutlery, made of jowar and wheat.
It resembles a wooden spoon, but it is not a wooden spoon.
After eating your idli with hot sambhar, you can eat up the nutritious spoon, saving the environment the task of dealing with plastic cutlery.
Far away in America, Chelsea Briganti's Loliware has designed Lolistraw -- when you are done with your drink, you eat the straw, don't throw it away.
All of these sound like truly innovative ideas.
Listening to these young people, one cannot help but feel thrilled about the fact that India is blessed with youngsters with brilliant ideas.
Akash Manoj is a 15 year old, still in school in Tamil Nadu. He lost his grandfather to an undetected, silent heart attack.
By referring to the internet, he designed a device to detect a protein called FABP3, which occurs in minuscule levels, but rises dramatically to a less minuscule level when weak heart conditions exist.
Manoj explains his idea so well, you cannot help feel proud of the talent in India.
India does not have the ecosystem to take the brilliant ideas of these youngsters through the stages that span infancy and maturity.
I doubt that it is because Indians are risk averse. I suspect it is because India has no idiosyncratic innovation ecosystem, distinctively its own.
Our VCs will not rush to fund these ideas.
They will individually applaud the ideas, but will not be able to get the support of their American investment committees, which are looking to fund American style ideas like e-commerce, payment gateways and cab applications.
I could be wrong, but am eager to be told why. I have an open mind, believe it or not.
R Gopalakrishnan is a corporate advisor and distinguished professor at IIT Kharagpur. He has recently authored a book, A Biography of Innovations.