'The current crisis is one of incomes, driven by poor job growth, agrarian distress and poor investment sentiment,' notes Harsh Pati Singhania, director, JK Organisation.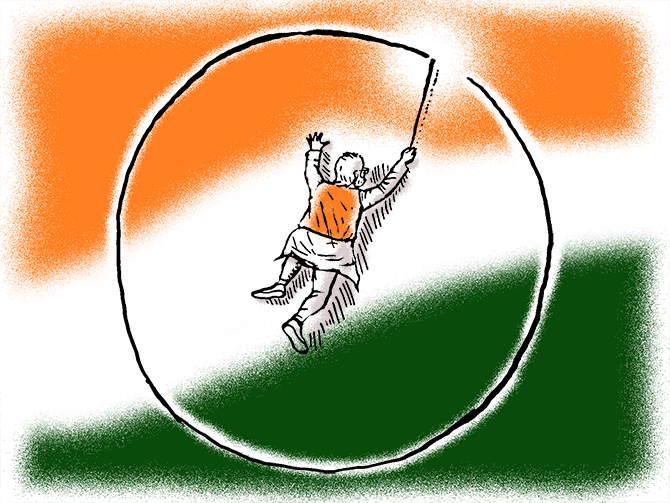 After a decade of relative calm since the 2008 Great Recession, the global economy is again engulfed in a serious downturn.
The distressing signals that faced the world before the crisis unfolded in the autumn of 2008 are visible again.
Global growth is pegged below 3 per cent, slowest since the crisis, with all major economies experiencing deep slowdown.
From upswing to slowdown
Two years ago, 3 out of 4 economies experienced growth acceleration, however now only one out of 10 countries would experience growth upsurge.
The slowdown is not just limited to advanced economies, but has spread to major emerging economies of China, India, Brazil and Mexico.
While growth in the euro area has halved in the last two years, including Germany, the US is also slowing as tax stimulus to growth has eased.
The slowdown in emerging world was already evident in China, and now India too is afflicted by it, growth down to only 4.5 per cent from over 8 per cent just a year ago.
Why India is slowing
Consumption growth, the engine on which the economy was chugging along since 2018-end, has almost halved.
While government spending has been pulling up growth, there is less headroom available now, given the state of its finances and keenness to remain on the path of fiscal consolidation.
The situation is compounded by the cash crunch in NBFCs that led to drying up of financing for discretionary spending, most notably in automobiles, durables and real estate.
Slowdown: Cyclical or structural?
There is much debate about whether the current slowdown is cyclical or structural.
This is extremely important as it has a direct bearing on the choice of policies to boost growth.
If it is only cyclical, we need not worry much.
But if there are structural issues at play, it does become a problem, as it would mean that some key elements that were driving growth are no longer available or are not helping the cause of growth.
The impact of reforms like demonetisation and GST were far-reaching; not only in the form of disruptions, but also changing business models, especially for MSMEs and trade that not only impacted jobs but also demand patterns.
There is sharp drop in gross household savings from 24 per cent in 2011-2012 to around 17 per cent in 2017-2018, and individual leverage is on the rise as slowdown has led to job losses across sectors -- construction, automobiles, and even services such as the IT sector.
People are spending more on education, health services etc, leaving less money to spend on discretionary goods and services.
Hence it seems there are several structural issues besides some cyclical factors that need to be addressed accordingly.
Beyond RBI and government measures
The Reserve Bank of India has been quite accommodative, cutting repo 135 bps in 2019, most in a year,to 5.15 per cent.
Transmission has been low, but even if it improves, there is little incentive to invest, as manufacturing capacity utilisation has slipped to 68.9 per cent, lowest since the 2008 crisis.
Besides, government measures for auto, real estate etc are essentially supply-side changes,which may not work to revive demand, as jobs and income of potential buyers remain unaddressed.
Corporation tax cuts to revive private investment, while welcome, would only bear fruit in the medium term.
For them to yield benefits, there is a need for more money in the hand of consumers, through cut in personal income tax rates.
The National Housing Bank could be nudged to infuse funds into eligible HFCs to improve flow of funds for affordable housing loans for individuals.
This can be supplemented by tax incentives for home buyers too, which would help to reduce supply overhang and revive real estate construction gradually over the next two to three years.
To improve flow of liquidity to NBFCs, the government can extend the existing partial guarantee scheme for NBFC assets by another year with a larger commitment.
To tackle rural distress, amount of income support to farmers under PM-KISAN could be raised.
More mandis could be linked to e-NAM to help farmers in transparent price discovery, greater focus on horticulture and stronger linkage with food processing, along with inclusion of farmer producer organisations in procurement to boost rural incomes.
This can be done even without any fiscal slippage -- a NIPFP study has shown that rationalising 'non-merit' subsidies could free up fiscal space up to 6 per cent of GDP, effectively the fiscal deficit of the Centre and the states put together.
More funds could open up over the next 12 months, at least Rs 2 lakh crore through govt's divestment/strategic sales in 60 public sector units, where it can potentially dilute its stake to 51 per cent.
Fundamentals remain strong
Despite the slowdown, India's growth fundamentals remain strong, mainly from a large market with almost 1.4 billion people, of which half is below 25 years of age.
An added appeal is a rising middle class -- according to McKinsey, Indians with annual disposable incomes of Rs 2 lakh to Rs 10 lakh will reach almost 600 million by 2025.
But to reap the benefits of this huge opportunity, we would require a job-rich growth strategy to harness the demographic dividend and increase potential growth.
For this we will need a push for far reaching economic reforms.
While India has made a quantum jump of 79 places in five years in Doing Business, things on the ground are still far from ideal.
The burden of compliance remains heavy, coupled with lack of a well-defined, predictable process.
Policy timing is important too -- example, multiple regulatory changes in automobile sector (electric vehicle mandate, BS-VI emission norms, axle loading norms, third-party insurance etc) in a short span was a big factor that led to the slowdown.
Regulatory overkill also emanates from outside government --for example, judicial orders, and those from other regulators.
Labour reforms to change obsolete laws that facilitate flexible hiring and severance will make industries more productive, give workers access to social security, and government will benefit from more taxpayers and job creation.
Though a major overhaul has been proposed by streamlining them into four labour codes, some issues still remain.
Land acquisition and environment clearance continue to hold up speedy infrastructure and project development.
India needs to have a relook at FTAs that have led to rising imports in many sectors.
This is critical at the current juncture when there is strong apprehension of dumping, arising from excess capacities in the other countries.
At the same time, India's utilisation of FTAs remains poor due to presence of non-tariff barriers.
Growth revival would need time
The current crisis is one of incomes, driven by poor job growth, agrarian distress from low/negative returns from crop produce and poor investment sentiment.
Demand revival remains the key. India Inc is passing on the benefits of recent tax savings in the form of lower prices.
But to sustain that more purchasing power in the hands of the people along with improved business confidence is the need of the hour.