'To all the MBAs that burn the candle at both ends, travel half-a-million miles every year, and spend little or no quality time with their families, the rise to riches of Mr Bikhchandani and Mr Banga should be true inspiration,' notes Sandeep Goyal.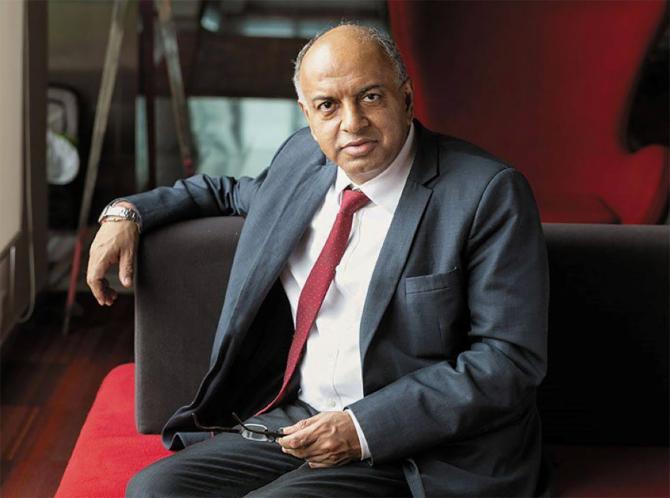 That Mukesh Ambani, India's richest man, makes Rs 90 crore (Rs 900 million) every hour is a mind-numbing statistic gleaned from the just released Hurun India Rich List 2020.
That his personal wealth rose by Rs 277,700 crore to Rs 658,400 crore in just a year, is even more stunning.
That his wealth is now bigger than the combined wealth of the next five rich on the list only adds to the sparkle.
But, Mukesh Ambani is Mukesh Ambani.
The wonderment list on him is unending.
To me, however, two entries in the 953-strong list of Indians with net worth in excess of Rs 1,000 crore stood-out: Sanjeev Bikhchandani and Ajay Banga.
Both alumni of St Stephen's College and the Indian Institute of Management Ahmedabad.
Both professionals: Mr Bikhchandani with net worth of Rs 10,700 crore and Mr Banga with riches of Rs 5,200 crore.
I first met both Mr Bikhchandani and Mr Banga way back in the late 1980s, more than 30 years ago.
Mr Bikhchandani was my client at HMM, a product manager on Horlicks.
Mr Banga was then a deputy in the advertising department at Nestlé.
Mr Bikhchandani was understated, easy-going and amiable.
Mr Banga was more aggressive, more out-going, more gregarious.
But both, despite very different personality types, were razor-sharp and very very bright.
Mr Bikhchandani quit corporate life some years later; launched naukri.com, then jeewansathi.com and 99acres.com; went on to co-own Zomato and Policybazaar; co-founded Ashoka University ... his list of achievements, including the recently conferred Padma Shri, are truly impressive.
Mr Banga, who managed the Nescafé coffee franchise post his advertising stint at Nestlé, was my client again twice: At KFC, and then at Citibank.
He blossomed into a global manager of repute and has run MasterCard worldwide now for many years.
Mr Bikhchandani and Mr Banga were 'ordinary professionals', with 'good education', 'good family background'... the types we commonly refer to as 'like-you-and-me'.
In less than two decades, however, they have amassed huge riches.
Mr Bikhchandani has made his millions through entrepreneurship; Mr Banga has gotten there entirely as a working professional.
To all the MBAs that burn the candle at both ends, travel half-a-million miles every year, and spend little or no quality time with their families, the rise to riches of Mr Bikhchandani and Mr Banga, should be true inspiration.
The twosome stand testimony to the fact that educated professionals too can hope (and aim) to be rich, yes really rich, in their lifetimes.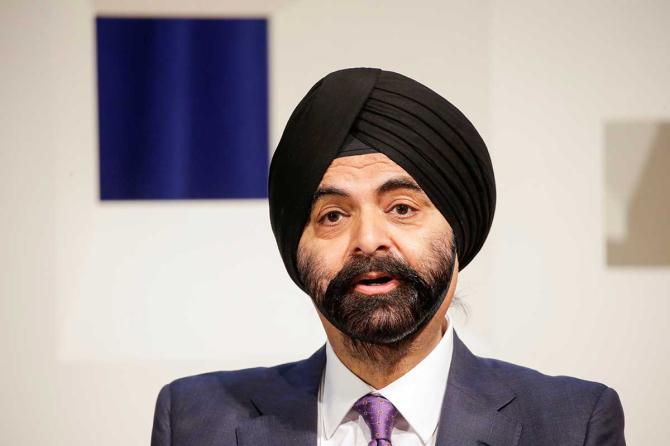 There are other professionals too on the Rich List, but mostly US-based.
The only major exception is Ignatius Noronha (Rs 2,200 crore) CEO of Avenue Supermarts, an NMIMS MBA who started life at Hindustan Lever as an executive trainee.
The rest of the professional superstars all live and work in the US ... Thomas Kurian (Rs 10,600 crore) has a Princeton + Stanford background and earned his fortune at Oracle.
Jayashree Ullal (Rs 9,800 crore) originally from New Delhi, is CEO of Arista Networks and owns 5 per cent of the US company; Nikesh Arora (Rs 6,000 crore) is CEO of Palo Alto Networks but he earned his fame (some would say notoriety) at Softbank where he was CEO earlier; Satya Nadella (Rs 5,100 crore) is CEO of Microsoft; Shantanu Narayen (Rs 4,500 crore) heads Adobe; Sundar Pichai (Rs 3,300 crore) is global CEO of Google; Indra Nooyi (Rs 3,200 crore) made her mark as CEO of Pepsico; and Robin Raina (Rs 1,700 crore) CEO of Ebix is relatively unknown in these parts.
Next year's Rich Report will surely have the likes of Aditya Puri, the superannuating CEO of HDFC, who sold Rs 842.87 crore worth of company shares earlier this year.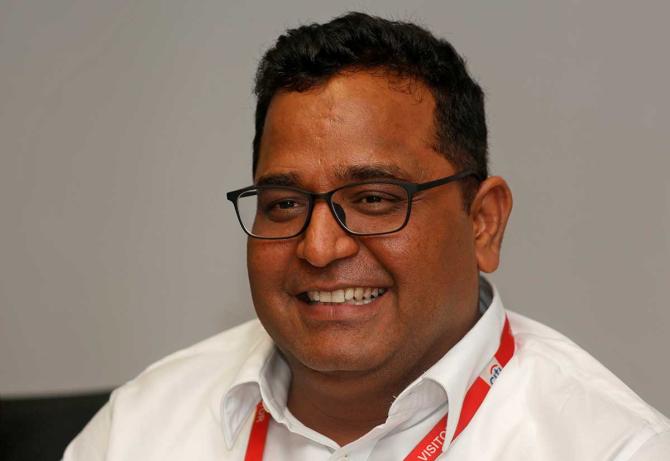 The ranking that I found most amusing was that of Paytm promoter, Vijay Shekhar Sharma, who once upon-a-time used to work as a junior manager at Airtel.
With riches estimated at Rs 20,400 crore, he is ranked at No 41, five notches ahead of his former boss Sunil Bharti Mittal who clocked in wealth worth Rs 18,500 crore!
All the feel-good about professionals finally starting to prosper, get rich, and get recognised kind of gets negated, however, when you look at 48-year-old Acharya Balkrishna (Rs 38,100 crore) of Patanjali Ayurved at Rank 18 on the list.
His educational antecedents are not listed anywhere, though he is said to be a school drop-out! So much for going to the IIMs or further to Princeton and Stanford! Yoga surely has better return-on-investment!
The Acharya notwithstanding, the rise of the likes of Mr Bikhchandani and Mr Banga, and others of their ilk is a major achievement, and really good news, for the middle India dream of a good education taking you far in life.
Honhar birwan ke hot chikne paat... Great men are born great?
Well, that is open to debate.
The X-factor that made Mr Bikhchandani and Mr Banga into self-made billionaires has no ready explanation.
At least for now.
Perhaps 'How I did it ...' books would enlighten us all.
C'mon Sanjeev! C'mon Ajay!!
Feature Presentation: Ashish Narsale/Rediff.com