Barring stray references such as the 'dual control' of banks and shifting the goalposts during demonetisation, he is not in a fault-finding mode with the government, notes Tamal Bandyopadhyay.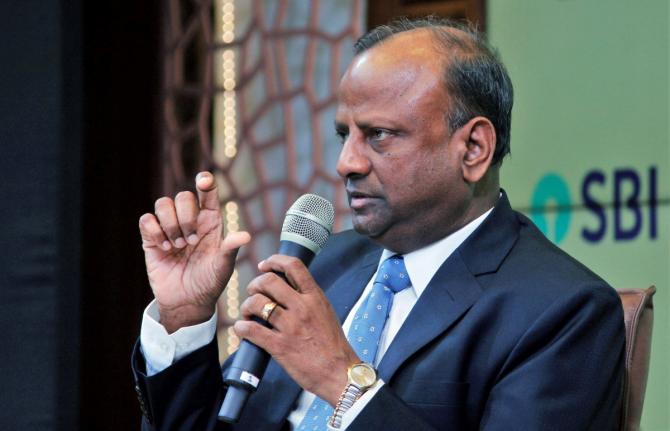 After retirement, a public sector banker follows a one-year cooling off period before taking up new assignments. Former State Bank of India chairman Rajnish Kumar, who retired in October 2020, has made a productive use of this time, writing his memoir, The Custodian of Trust.
In State Bank's 215-year history, he is probably the second chairman to write such a memoir. P G Kakodkar, who retired in March 1997, had written My 40 Years with SBI. Released in 2006, it narrated the pressures on the bank during the Emergency, the challenges of implementing the 20-point programme and the Harshad Mehta stock scam, among other things.
Another State Bank chairman, D N Ghosh, too has written his autobiography, No Regrets. But Ghosh is not a career banker, the State Bank stint was just a few years in his eventful life.
Then there are books such as Grit, Guts and Gumption: Driving Change in a State-owned Giant on O P Bhatt and Values in Leadership, a biographic tribute by Narayanan Vaghul to legendary R K Talwar, who became the bank's chairman at 47, in 1969.
Kumar's book is very different. It's a contemporary history of Indian banking -- the saga of near-death and resurrection of Yes Bank Ltd, Jet Airways Ltd's grounding and a likely fresh lease of life and the piling of bad loans by the banking industry written in a no-nonsense, no-frills style.
Beyond banking, we also get a peek into the corporate world. That many Indian companies are over-leveraged and often don't bring in equity and instead use depositors' money for their projects are well known. But Kumar has gone beyond that and dissected the psyche of Indian promoters.
Jet Airways' Naresh Goyal desperately wanted investors at great valuations but was not willing to give up the control of the airlines.
'For Naresh, Jet Airways was his baby that he had reared since birth, and for him giving up a company which he had built from scratch was unthinkable.'
Kumar topped this up, saying, 'Muddled thought process and inability to read the writing on the wall made Goyal a huge stumbling block in the resolution of Jet Airways' financial crisis.'
The story of Alok Industries Ltd, another bad loan, is different. Here, the promoter suffered from the get-rich-quick syndrome.
Dilip Jiwrajka had appeared for the State Bank's probationary officer examination in 1979. Failing to make it, he started trading in yarn; and in the mid-1980s set up a small manufacturing facility. By 2005, he owned the most modern manufacturing units in India with a large overseas presence.
But he wanted to grow even bigger, driven by a dream of attaining the scale which China is known for, till it turned out to be a nightmare.
Kumar explained why the State Bank had to jump in to save the 'lender of the last resort' (Yes Bank) while narrating the behind-the-scenes story graphically.
Going beyond, he has asked: How big is too big to fail and how small is too small to be allowed to fail? The textbook answer is not relevant now when the fintechs are challenging the traditional banks, many of which are running the risk of becoming irrelevant.
Isn't it time to prepare an exit policy in the financial sector? Even if the Yes Bank deal was stitched in time (it could have been earlier), it wouldn't be able to save nine in future as the playing turf is changing fast.
On the pile of bad loans, his stance is predictable (all stakeholders should share the blame and it's unfair to project the banks as the villain), but he is not afraid to raise some fundamental questions on how the public sector banking industry is run.
After a three-year stint in London when he returned to India in April 2012, Kumar was asked to report immediately at the bank's local head office in Guwahati to oversee the branches in the Northeast. Why? He had 'fallen out of favour'. His two predecessors -- Bhatt and A K Purwar -- had the same fate.
Kumar's appointment as managing director also had hitches. The first round of interview was done with the secretary of the department of financial supervision in the ministry of finance but before his appointment was finalised, there was a change of guard at the DFS. So, there was another round of interviews and he had to wait for nine months to get the job after the position fell vacant.
'Unfortunately, there is no concept of succession planning in public sector banks'; the key positions often remain vacant for months.
He has gone one step ahead and highlighted 'the urgent need to re-look the entire process of selection of full-time directors, chairmen and government nominees as well as the compensation structure of key management personnel in public sector banks'.
In absence of this, 'it would be difficult for these banks to become competitive and survive in a tough environment.'
At least two past State Bank bosses had a tiff with the Reserve Bank of India -- Bhatt on a product called 'teaser loan' created after the 2008 global financial crisis to prop up demand for home loans; and Pratip Chaudhury on cash reserve ratio or the portion of deposits that banks need to keep with the RBI on which they don't earn any interest.
Kumar has had a smooth relationship with the banking regulator. But in his memoir, he has raised quite a few questions concerning the RBI.
Could it have acted faster to sort out the Yes Bank mess?
Why did it re-appoint Rana Kapoor as MD of the bank?
He has also questioned the rationale of the bank licensing policy and asked whether the RBI 'really has the necessary infrastructure to effectively supervise the banking system'.
In contrast, he is relatively patient with the government. Barring stray references such as the 'dual control' of banks and shifting the goalposts during demonetisation, he is not in a fault-finding mode with the government.
After watching video clips of Finance Minister Nirmala Sitharaman venting her frustration at Kumar and calling the 'bank for every Indian' 'heartless' and 'inefficient', I expected something more.
She purportedly made these comments in a closed-door meeting in February 2020 at the Khanapara exhibition ground in Guwahati where the State Bank was holding a camp to review the progress of financial inclusion in the Northeast.
But, then, being the boss of a public sector bank, he has his compulsions.
Let's wait for his immediate predecessor Arundhati Bhattacharya's book, which may hit the stands in December. Will she be bolder than Kumar?
Tamal Bandyopadhyay, a consulting editor with Business Standard, is an author and senior adviser to Jana Small Finance Bank Ltd.