Not only has the Mudra loan mela generated no jobs, it has frittered away trillions of taxpayers' money and it's time to bury the scheme, argues Debashis Basu.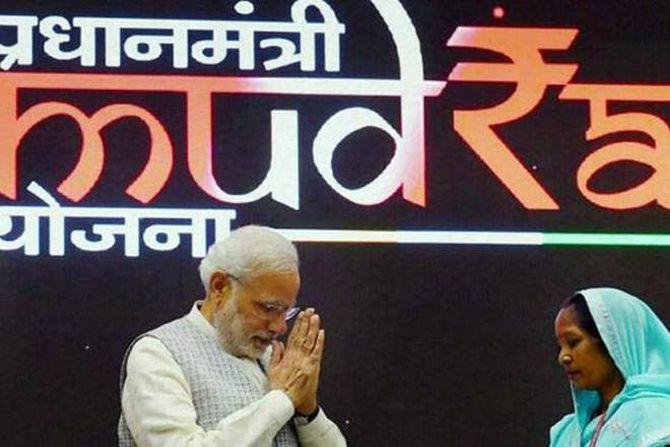 A few days ago, Dinesh Khara, chairman of the State Bank of India, told a publication that 20 per cent in its loan portfolio of Rs 26,000 crore (Rs 260 billion) under the Pradhan Mantri Mudra Yojana scheme had turned bad.
To readers of this column, this would not come as a surprise.
Six years ago, when Mudra loans (collateral-free or unsecured loans of up to Rs 10 lakh extended to micro and tiny businesses) were launched, I labelled it another loan mela.
These were the central government's effort to break the stranglehold of 'greedy' moneylenders and 'lazy' bankers and to provide money to the small guy.
It sounded noble and well-meaning in theory and therefore irresistible as a policy.
Except that the idea of such 'equitable lending' has been tried before and had failed miserably.
This very same desire to ensure fairness in lending through determined government action drove the socialist Indira Gandhi to nationalise banks and force them to lend to 'priority sectors', which include small businesses and micro-units.
Not only did such 'directed credit' not work, but government (political) control over banks led to large-scale corruption and their repeated recapitalisation through taxpayers' money.
This further reduced the money available for small businesses.
In a bizarre irony, 35 years later, the Narendra Modi regime, which blames Jawaharlal Nehru and Indira Gandhi for all the country's ills, borrowed from Nehru-Gandhi the same failed solution for inequitable lending: A government scheme for small borrowers with a more ambitious scope.
Mudra loans were supposed to be guaranteed by the Credit Guarantee Fund Trust for Micro and Small Enterprises and yet SBI is staring at substantial losses in its Rs 26,000-crore exposure.
'CGTSME will cover 75 per cent of the books and 25 per cent will be ours ... we have a challenge in this book,' said Khara.
In FY21, Rs 3.21 trillion of Mudra loans were sanctioned to around 51 million borrowers and Rs 3.11 trillion was disbursed.
SBI has also notched up 9.22 per cent (Rs 26,203 crore/Rs 262.03 billion) bad loans on its MSME books of Rs 2.84 trillion.
Job creation claim
In 2018, when the economy was stagnating badly, Mudra was publicised as a job-generation scheme.
The prime minister said in Parliament, 'We gave loans to 13 crore (130 million) youngsters through the MUDRA scheme.' However, since 90 per cent of the loans were issued under the Shishu category (less than Rs 50,000), they could not have generated many jobs.
Besides, the default rate for that category is the highest. But the then Union minister Ravi Shankar Prasad did not hesitate to make the breathtaking claim that 'We have given loans worth Rs 4 lakh crore (Rs 4 trillion) to 80 million people,' he remarked.
'If each employed at least one person, 40 million jobs were created automatically.'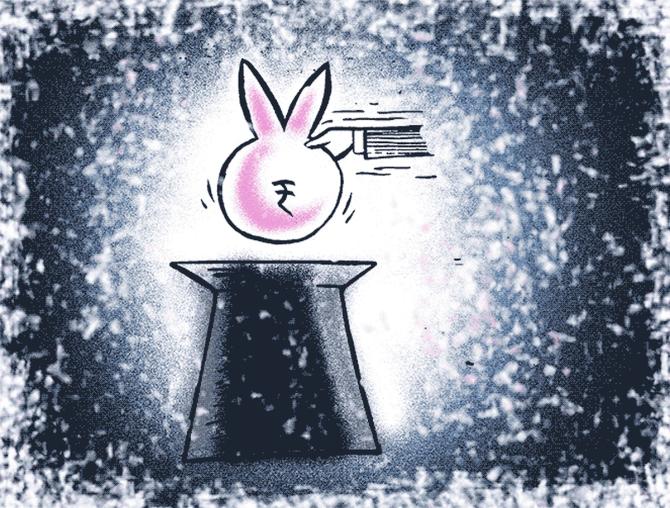 The loan mela called Mudra was a populist and political move to give away money.
Not surprisingly, almost immediately bad debts started piling up and so, the scheme has continued to remain a headache for the Reserve Bank of India and banks.
From 4.35 per cent of Mudra advances in 2016-2017, bad loans shot up to 9.3 per cent in FY19, as political parties organised camps to canvass Mudra loans for their supporters.
This has generated some bizarre data.
In 2019-2020, Uttar Pradesh was the second-largest in sanctions, while Bihar was well ahead of Gujarat and neck and neck with Maharashtra!
As districts, Kolkata and North 24 Parganas (of the economic wasteland called West Bengal) were number 3 and number 5 on an all-India basis!
In January 2019, the RBI cautioned that PMMY generated Rs 11,000 crore of NPAs and could upset the credit market severely.
In July 2019, the RBI blamed the poor credit-appraisal system of banks for rising bad debts.
The biggest bad loans (12.39 per cent) were in the smallest loan category (under Rs 50,000).
So, not only has the Mudra loan mela generated no jobs, it has frittered away trillions of taxpayers' money.
Mudra loans were supposed to be for a three- to five-year period.
The first cycle of the experiment is over and the result has been disastrous.
They were destined to fail because the scheme was clear that 'emphasis shall be on cash flow-based lending and not security-based lending. Collateral securities, etc shall be avoided. Repayment obligations shall be flexible and framed keeping in view the business cash flows of the entrepreneur'.
A July 2019 report in this paper quotes bankers telling the RBI governor that 'They didn't have the manpower to chase errant borrowers and complained about the loans targets set by the government and the RBI'.
Bankers had said, 'Often the staff at branches was too eager to give loans, just to meet the target. Once the loan is given, there is virtually no effective mechanism that can be employed to get the repayment. Banks have recovery agents and business correspondents, but often they are local people and the borrowers don't take them seriously.'
The government may like to claim that Mudra is a big success but after a round of hollow back-patting that is any government's right, it would be a good idea to bury the scheme.
Indeed, Mudra seems part of the first phase of many wasteful direct government schemes like Startup India, Standup India, Digital India, Clean India, Smart Cities, etc.
Modi's more recent policies (renewable energy, production-linked incentives, timely tariff protection against dumping), where the government only helps the private sector, would generate much more economic growth and employment. But that is another story.
Debashis Basu is the editor of www.moneylife.in
Feature Presentation: Rajesh Alva/Rediff.com