In the past few years, actual proceeds from disinvestment have been much lower than targets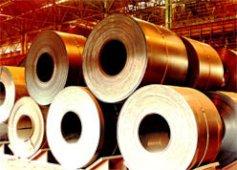 The government's ambitious disinvestment programme for 2014-15 kicked off on Friday with the sale of stake in Steel Authority of India Ltd, through the offer-for-sale route -- barely three months before the financial year ends.
Of the overall target of raising Rs 58,425 crore (Rs 584.25 billion) through disinvestment in the current financial year, the government raised Rs 1,715 crore (Rs 17.15 billion) through the SAIL OFS, which was subscribed 2.08 times on Friday; the portion reserved for retail investors was subscribed 2.66 times.
Besides the SAIL OFS, where the government is looking to pare five per cent of its stake to bring the holding to 75 per cent, there are companies like Coal India, ONGC, NHPC, Power Finance Corporation , Rural Electrification Corp, Hindustan Zinc and Balco, where the government intends to divest stake, reports suggest.
However, going by the experience of the previous years -- when the actual proceeds from stake sale were much lower than the targets -- the government's disinvestment target for 2014-15 appears too ambitious.
For instance, in 2013-14, receipts from sale of minority shareholding in Central Public Sector Enterprises totalled Rs 15,819.46 crore (Rs 158.19 billion), against a disinvestment target of Rs 40,000 crore (Rs 400 billion), show data from the department of divestment.
These disinvestment proceeds last year were: Rs 571.71 crore (Rs 5.71 billion) from MMTC; Rs 259.56 crore (Rs 2.59 billion) from Hindustan Copper; Rs 101.08 crore (Rs 1.01 billion) from National Fertilisers; Rs 30.17 crore (Rs 301.7 million) from India Tourism Development Corp; Rs 4.54 crore (Rs 45.4 million) from State Trading Corp; Rs 358.21 crore (RS 3.58 billion) from Neyveli Lignite; Rs 2,131.28 crore (Rs 21.31 billion) from NHPC; Rs 1,637.32 crore (Rs 16.37 billion) from Power Grid Corp; Rs 497.32 crore (Rs 4.97 billion) from Engineers India Ltd; Rs 1,886.78 crore (Rs 18.86 billion) from Bharat Heavy Electricals Ltd; Rs 5,341.49 crore (Rs 53.41 billion) from Indian Oil Corp; Rs 3,000 crore (Rs 30 billion) from CPSE-ETF.
Likewise, in 2010-11, 2011-12 and 2012-13, the government could only garner Rs 22,144.21 crore (Rs 221.44 billion), Rs 13,894.05 crore (Rs 138.94 billion) and Rs 23,956.81 crore (Rs 239.56 billion) through sale of minority shareholding in CPSEs, which were 44.64 per cent, 65.27 per cent, and 20.14 per cent short of actual targets for each of those years.
So, will this time be any different or will the cash-rich Life Insurance Corporation again have to come to the rescue?