In the Maggi ad, Amitabh Bachchan is only "playing" a part, whereas his daughter-in-law Aishwarya Rai is "endorsing" L'Oreal shampoo. (Mr Bachchan never says Maggi improved his life but Ms Rai swears L'Oreal does wonders for her hair)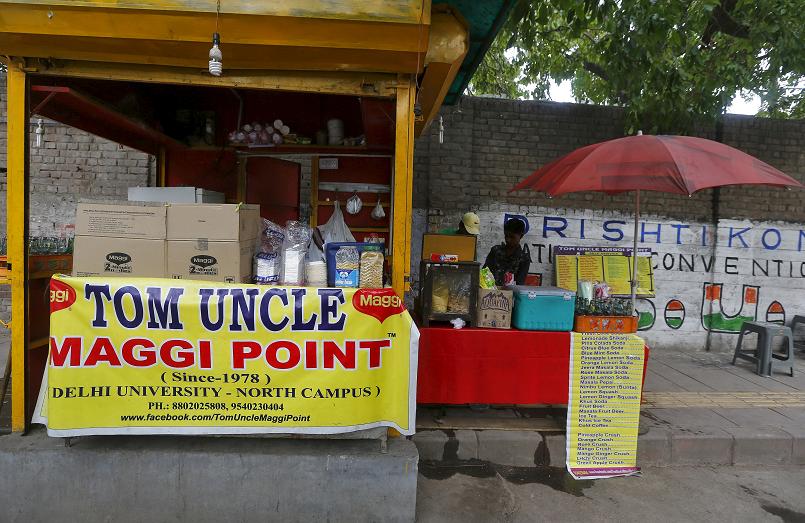 A view of a roadside Maggi noodles eatery in New Delhi, India. Photograph: Reuters
A quick disclaimer: I've eaten plenty of noodles, even dawdled over some, but never managed to make a meal of Maggi.
That's not to say that my Maggi-less life has been wholly blameless.
Buckling to importuning by students in far-flung hostels, and hard-pressed colleagues abroad hankering for a taste of home, I've been ferrying quantities of the culinary contraband for years.
A friend's daughter for whom I routinely carried packets to her boarding school in the Himalayas reminded to me this week of how greedily they devoured the contents in a grungy mess.
"Hostel food was horrible, as it usually is, and we were continually hungry; so we would tear open Maggi between meals, shove it into our plastic bathwater mugs with bits of soap sticking to the sides, pour in a little water, and consume it with unadulterated pleasure. The bathwater was hard and probably contaminated, our mugs were not quite clean, but what the hell, we've all survived without any disastrous side effects."
When Maggi's Nepali cousin, Wai Wai brown noodles arrived in 1984, with little sachets of flavoured oil, they were a wildfire hit. Owned by the Kathmandu-based Chaudhury Group and widely exported, Wai Wai's owners are so rich they endow hundreds of scholarships to Nepali children.
When quizzed in The Himalayan Times ("Beating Hunger with Wai Wai") about high levels of monosodium glutamate (MSG) the product contains, G P Shah, the company's vice-president said in defence, "Japan has the highest per capita consumption of MSG yet the Japanese have the highest life expectancy in the world."
The US Food and Drug Administration believes MSG is "generally safe" but its Indian counterpart, Food Safety and Standards Authority (FSSA) is ambiguous.
Similarly, additives of lead are being contested by both sides.
In the terrific rumpus over banning Maggi, and the legally unsound litigation against film stars advertising it, a simple truth has gone unnoticed: The poor don't eat pre-fab noodles to assuage pangs of hunger. It's not a dish to their taste and they can't afford snacks between simple daal-roti.
Nor is instant nosh the choice of the health-conscious and well-off, those who can order reliable home-cooked food or eat in leisured restaurants.
That leaves a large and hungry middle class, the chief consumers of the disappearing noodle. A couple of Facebook posts by the media fraternity this week touch on the controversy with some home truths.
An Instagram titled "Last Supper" shows a group of editors and reporters gulping down farewell bowls of Maggi at the news desk; in another, a tired hack asks: "Is Maggi the lead story, again?"
If they stepped out on the street and saw what their working class co-workers – peons to toilet cleaners – were eating, they might be on to a bigger story.
They are wolfing down whatever the vendors can offer cheaply: samosas, pakoras, chhole bhhaturay and parathas laden with trans fats and cooked in dangerously unhygienic conditions.
Should the FSSI or vigorous anti-Maggi campaigners like my fellow Business Standard columnist Sunita Narain of the Centre for Science and Environment, analyse enough samples of Indian street food they might end up endangering more livelihoods than saving lives.
As the food inspectors and health evangelists see it, fat cat corporations with mega marketing budgets purveying unhealthy packaged food are not the same thing as street sellers of equally spurious food. And are celebrities advertising food brands as culpable as the big bad multinationals? Not necessarily, argues advertising executive Anvar Ali Khan in Scroll.in.
He quotes decisions of the US Federal Trade Commission that draw a distinction between a celebrity "acting" a part for a product or "endorsing" a product (though both are paid jobs).
Through relevant clips he shows that whereas Amitabh Bachchan for Maggi is only "playing" a part his daughter-in-law Aishwarya Rai is "endorsing" L'Oreal shampoo. (Mr Bachchan never says Maggi improved his life but Ms Rai swears L'Oreal does wonders for her hair). Still, actors have always been fair game.
The character actor Shreeram Lagoo, who was a successful ENT surgeon in real life, was once taken to court for appearing in a commercial for Chyawanprash, Dabur's well-known Ayurvedic pick-me-up.
As for MSG, how can you tell? I always ask before ordering Chinese in restaurants and they always say no.
A few weeks ago, down by Canal Street in New York's Chinatown, I stupidly asked again, as if by rote.
But the Chinese waiter gave me a sweet, inscrutable smile and walked away as if he didn't understand English. Were there noodles in my soup? I honestly can't remember.