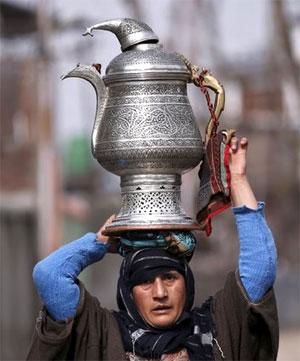 If and when this latest crisis moves towards resolution, it's unlikely that the economic solutions will take much precedence, says Sreenivasan Jain.
Image: A Kashmiri woman carrying traditional teapot called a samovar on her head walks on a road in Srinagar. Photograph: Danish Ismail/Reuters.
As Kashmir is plunged into a fresh crisis, I tried to reach out to a handful of young craftsmen and women from the Valley. They are part of an initiative I have been associated with which provides financial support to young entrepreneurs who are keeping alive Kashmir's rich crafts traditions, but may lack support systems.
The initiative was conceived at a time not unlike the present (but which now seems benign in comparison) - the summer of 2010, when prolonged strikes and curfews impacted livelihoods, especially of those at the lower end of the economic chain.
Since that volatile summer, we have managed to raise funds to support a dozen craftspersons, working in copper engraving, papier-mâché, wicker, and namda (rugs made of felt wool) as well as the better-known areas of pashmina and crewel stitching.
Each of the grantees received a small amount meant to act as seed capital to purchase material or equipment, as well as valuable insights into designs and market access by other members of the group, some of India's leading lights in the field of craft.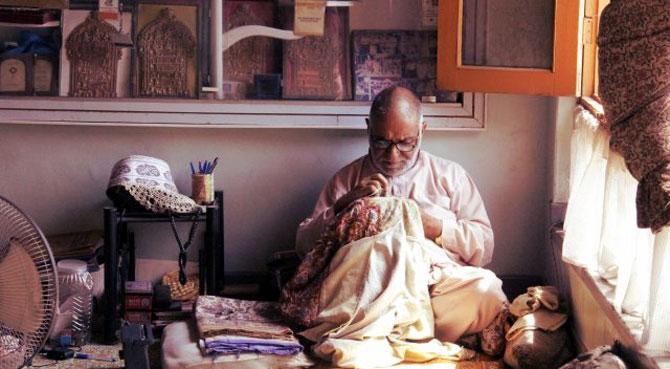 Even though I have visited Kashmir as a journalist (as have several of the others, in their capacity as promoters of crafts), being involved with an initiative of this nature gave all of us a more intimate insight into the frequent tremors that upset everyday rhythms of life and work in the Valley.
This could be periods of lost contact with our grantees when mobile services go off air, or travels to Delhi to exhibit at a crafts bazaar missed because of a hartal or a spell of curfew.
This time - in an indication of the darkness of mood - the phones of all the grantees I tried were switched off. All except Zahida, who runs a centre in Sopore doing traditional sozni-style embroidery in contemporary designs.
The only reason I could talk to Zahida is because she was in Bengaluru, attending an exhibition. Even before I could complete my question, her anguish over the trauma of the past few weeks spilled out - of how work has come to a standstill.
How the act of leaving home and collecting garments from the homes of the 40-odd young women she works with has become a harrowing game of cat and mouse between separatist bandhs and curfews called by security forces. How her journey to Bengaluru began with a very tense late night drive to Srinagar, and onwards to Banihal during a brief window when curfew was lifted.
"Every day my girls are losing 100 to 200 rupees of work," she said.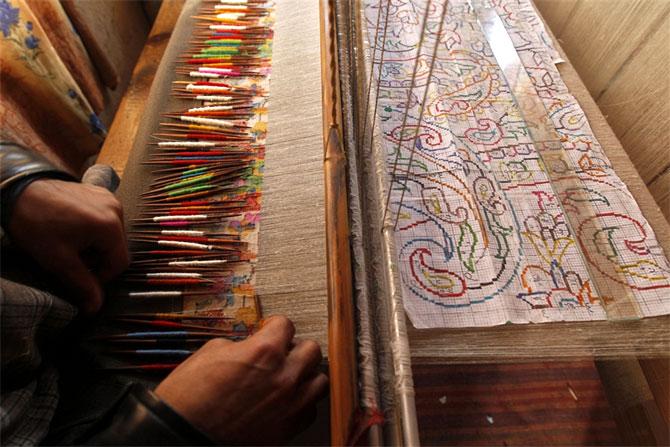 The conversation, as well as similar ones in the past, seems to underscore how the question of livelihoods remains marginal to the frozen political discourse around Kashmir.
This is ironic - after all, talk of azadi (or at least greater autonomy) will remain hollow given how deeply the Valley is locked into a cycle of dependence so familiar in conflict zones - unrest curbs economic activity, which leads to an over-reliance on Central funds, stoking resentment that in turn fuels unrest. And so on, in an endless loop.
And yet, if and when this latest crisis moves towards resolution, it's unlikely that the economic solutions will take much precedence, for understandable (if cynical) reasons. Why would the Centre relax the economic leash over the state's finances, which gives it an added element of control over the politics of the Valley?

As for spokespersons for azadi, it means, at the very least, coming up with a credible economic blueprint. When I last posed this question to Syed Shah Geelani, the Hurriyat hardliner (and who holds sway over Zahida's hometown of Sopore), he became increasingly irked. "Don't worry," he said. "When the time comes, we will reveal it."
Photographs: Fayaz Kabli/Reuters
The writer anchors the ground reportage show Truth vs Hype on NDTV 24X7