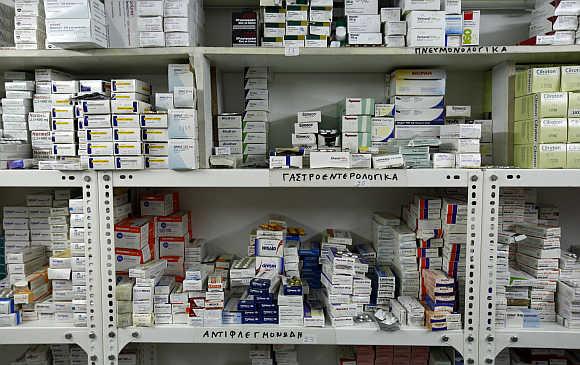 Preserving competition in the pharmaceutical sector is sure to make a real difference to people's lives, notes Vaibhav Choukse.
India is among the world's fastest-growing pharma markets, accounting for 25 per cent of the world's generic drug market.
The issues of delivering affordable quality health care and stimulating the existing infrastructure have received special attention in the Union Budget of 2014-15.
In spite of globalisation, our health care sector is prey to underfunding, bad governance and lack of implementation of policies.
Owing to these irregularities, the entire sector is prone to anti-competitive practices.
The recent penalties on top Indian generic drug makers (or generics) such as Ranbaxy, Unichem, Matrix (now part of Mylan) and Lupin by the European Competition Commission (EC) for executing "pay for delay" deals with patent-holder drug makers (or originators) has attracted the attention of the Competition Commission of India (CCI).
Media reports say the CCI is considering investigating patent settlement deals including the one between Hoffmann-La Roche and Cipla on the lung cancer drug erlotinib.
With industry bodies accentuating the need for out-of-court settlements, generics and originators in India are increasingly resorting to mediation to resolve patent disputes.
Mediation does give parties some respite from prolonged and costly judicial processes.
But are such settlement terms rational? Paying competitors to stay out of the market at the expense of the consumer has nothing to do with the legitimate protection of intellectual property.
Sweetheart deals: These deals are concluded between generics and originators with the aim of delaying the entry of cheaper generic medicines in the market, forcing consumers and patients to continue to pay for expensive drugs. Under competition law, such arrangements are (infamously) known as "pay-for-delay" or "reverse payment settlement" deals.
These deals mushroomed as a consequence of avoiding costly and prolonged patent litigation between the originators and generics who would defend and refute, respectively, the "ever-greening" of patents.
According to the Federal Trade Commission (FTC), these illegal settlements are estimated to cost US consumers $3.5 billion per year, a figure that will rise to $35 billion over the next 10 years.
Generics make a key contribution to ensuring affordable access to health care for all citizens. Empirical evidence shows that the average price of a drug can drop by 90 per cent in the first two years after the entry of the first generic in the market. For example, in India, Natco Pharma introduced the generic anti-cancer drug at Rs 8,800 as opposed to Bayer's price of Rs 2,80,000.
The competition by generics is also a dynamic force that encourages pharma companies to continue to invest in R&D since they cannot rely forever on their blockbuster products.
Enforcement heats up on both sides of the Atlantic: Investigating pay-for-delay settlements has been the FTC's top priority since 1990. Under US laws, virtually all patent settlements are reportable to the FTC within 10 days of their execution. Much later, Europe intensified its action by launching a sector inquiry in 2008.
In June 2013, arguably, the most significant patent antitrust decision in decades was delivered by the US Supreme Court in FTC versus Actavis, holding that "reverse payment" settlements are subject to antitrust scrutiny.
The ripple effect was felt across the globe. In the past year, EC has imposed a fine of euro 600 million (Rs 4,500 crore or Rs 45 billion) on several pharma companies including Ranbaxy, Unichem, Matrix and Lupin for concluding a series of deals aimed at delaying or blocking the market entry of generic medicine.
In August 2014, the Brazilian Competition Authority fined Merck $1.8 million for forming a cartel to restrict the sales of generic medicines in Brazil.
The fines are only the tip of the iceberg since companies are now exposed to damages by an affected consumer, which may exceed billions of euros.
Competition authorities on both sides of the Atlantic including France, the UK, Italy and Canada are investigating similar deals.
The common thread between all these rulings is the involvement of Indian generics in these sweetheart deals.
"Appreciable adverse effect on competition": Indian generics and originators are increasingly resorting to mediation to resolve patent fights with at least 15 settlements in the pipeline including between Hoffman La Roche and Cipla, and Merck and Glenmark. It is, of course, legitimate to apply for patents, enforce them, transfer technologies and settle litigation. But patent settlements should not be misused.
The CCI is closely monitoring these settlements and may ask parties to submit their settlement agreements followed by an investigation.
Apart from a complaint or government reference, the CCI has suo motu powers to investigate any agreement or practice that cause, or are likely to cause, an appreciable adverse effect on competition (AAEC) within India.
A case under Section 3 of the Competition Act, 2002 (anti-competitive agreements) would involve any agreement (formal or oral) between originator and generics restraining the entry of generic drugs.
However, a Section 4 (abuse of dominance) case involves a unilateral conduct of an originator misusing the legitimate tools including patent system, buying a competing technology and bribing generics.
The recent fines on Indian generics pose major challenges for the CCI.
It will be interesting to see whether such deals, although executed outside India, caused AAEC in India, as the CCI has extra-territorial jurisdiction to investigate deals that affect the Indian market.
The CCI's antitrust co-operation agreement with the competition authorities of Europe and the US can also play a vital role during investigation.
Pill for thought: While campaigning for the presidency, US President Barack Obama had identified health care reform as a top priority including curbing pay-for-delay deals.
EU Competition Commissioner Joaquín Almunia also strongly objected to such deals and warned the pharma companies to focus their efforts on innovating and competing rather than attempting to extract rents from patients.
Governments all over the world want to bring down the cost of health care and generic medicine is the way out because they are cheaper for patients and help governments preserve an inclusive and sustainable welfare state.
Today, more than half of Indians do not have access to basic medical services.
Preserving competition in the pharmaceutical sector is sure to make a real difference to people's lives.
This is why antitrust enforcement in the Indian pharma sector should be the top priority for the newly-elected government.
(Vaibhav Choukse is a competition lawyer working with Vaish Associates Advocates, New Delhi and would like to thank Rimali Batra for her inputs. These views are personal)