He alone gets the credit for reviving consumer interest in Ayurveda. People, with justification, prefer natural stuff over synthetic. And this is the sweet spot Mr Ramdev has managed to touch, says Bhupesh Bhandari.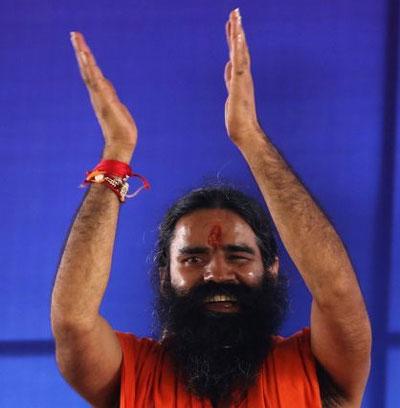 I am reasonably sure that this will be an eventful year for those who follow the corporate sector. The biggest telecom battle of all times will be fought during the course of the year. Reliance Jio will take on bigwigs like Bharti Airtel, Vodafone and Idea Cellular. Unlike the last round, which happened in the early years of the last decade, the incumbents are well entrenched, and have the firepower to match Reliance Jio. Regulatory issues related to spectrum have not yet been fully resolved. So you can expect hectic lobbying right through the year.
Mergers and acquisitions will pick up pace as the banks crack the whip on bad loans. Trophy assets in India and abroad will change hands. Some of the internet stars could burn out as the tap of easy money turns off. Rahul Yadav will be the man to watch in the start-up space. What will the maverick say next? Apart from all this, I will keep an eye on "Baba" Ramdev's FMCG business.
His Patanjali Ayurveda made the biggest moves in 2015. His modern factories in Uttarakhand now make a whole host of products, from toiletries to instant foods and health supplements. Those who have used his products swear by their goodness. And this includes not just middle-class North Indians - his consumers are spread across the length and breadth of the country and cut across income categories.
And since his is a top-driven organisation, it is able to introduce products with great speed. From what I understand, launches are not preceded by elaborate research and long-winding discussions; instead, they are driven by gut feel and some guesswork. When Nestle was grappling with the Maggi crisis, which other company thought of introducing a rival product? A portfolio that others would take at least half a decade to put together Mr Ramdev has managed to collect in the course of one year.
Mr Ramdev has wisely associated his brand with Ayurveda. It has great resonance in India, where a lot of people see merit in traditional foods and practices like yoga. I know someone who owns a pharmaceuticals business but chooses to use Ayurveda and natural products at home for minor ailments. Allopathic medicine is allowed in his household only with reluctance. People, with justification, prefer natural stuff over synthetic. And this is the sweet spot Mr Ramdev has managed to touch.
Such is Mr Ramdev's followership, not just amongst the masses but also the high and mighty, that he will seldom run short of celebrities to endorse his products. He has already got a few of them on board. From what I am given to understand, one of them has decided to do an ad for Patanjali without charging a paisa.
Distribution was never a problem for Mr Ramdev: standalone grocers are happy to stock his products because they sell like hot cakes. Modern retail was an issue. For that, Mr Ramdev inked a deal with Kishore Biyani, India's own Sam Walton. In all probability, the two will expand their partnership to co-production in the months to come.
What must have played a role in them coming together is their disdain for multinationals. Both Mr Ramdev and Mr Biyani have never tried to hide it. Together, they are perfectly capable of roiling the party for the established FMCG players, both foreign-owned and local.
And this is what will make the fight interesting. It is an open secret that the rapid strides made by Mr Ramdev in the last year or so have riled large FMCG companies, especially the multinationals. They worry that Patanjali could infringe upon their intellectual property. And they perceive that, given his close links with the Bharatiya Janata Party (BJP), the central government is likely to extend all support and protection to Mr Ramdev.
There could be substance in their assessment. The BJP-led government is unlikely to antagonise Mr Ramdev, especially when elections to the Uttar Pradesh Legislative Assembly are due in 2017. A wrong signal from him could spoil the party's chances in the crucial elections.
As Patanjali expands, I expect rivals to think of ways to stop the juggernaut. It is only natural: they cannot remain mute spectators as Mr Ramdev snatches market share from them. However, many of them may not choose to do so openly, because of the fear that it will bring them in confrontation with the Centre, but could instigate NGOs and watchdogs to raise issues, especially those related to the quality of Patanjali products. As I write this, a South-based religious group has cautioned its members against using Patanjali products because they contain cow's urine.
Mr Ramdev can be sure of finding support from at least one quarter: the other makers of Ayurveda products. In the last one month or so, I have happened to meet two companies with significant interests in Ayurveda. Both were effusive in their praise for Mr Ramdev - how he has given the category a new lease of life. He alone gets the credit for reviving consumer interest in Ayurveda. After a long period of somnolence, the market is expanding at a fast clip now. For them, Mr Ramdev has been nothing short of a saviour and can do no wrong.