There has been a welcome focus on fundamental reforms, time-bound programmes that fix accountability and the use of technology. The upcoming Budget could build on these initiatives, says Abhas Jha.
Illustration: Uttam Ghosh/Rediff.com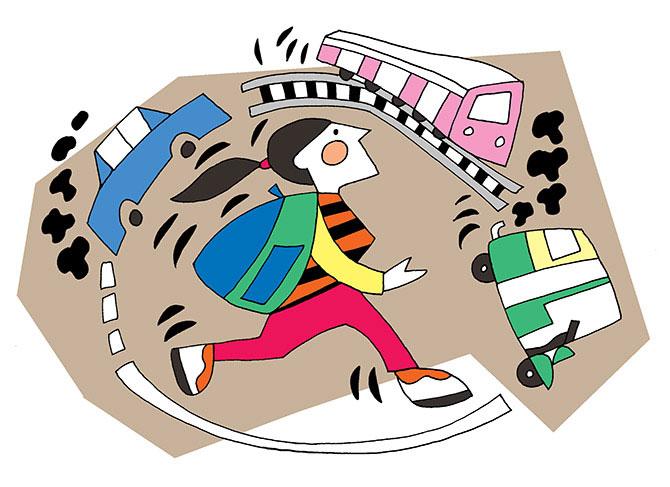 When I was a young IAS trainee in the city of Dhanbad (now in Jharkhand), my district collector gave me some wise advice about urban management.
He said that, at a minimum, people expect "sadak, safaai, bijili, paani" - roads, cleanliness, electricity and water.
Several years later, these words still ring true as India's urbanisation, which has been described by the World Bank as "messy", is characterised by a large and growing gap in access to basic services.
The country's 2011 Census estimated that almost 65.5 million Indians who live in urban slums, in addition to the 13.7 per cent of the urban population that lived below the national poverty line in 2011.
In absolute terms, the growth of the urban population is historically unprecedented.
There has been a welcome focus on fundamental reforms, time-bound programmes that fix accountability in a clear manner and the use of technology to leapfrog development through the Atal Mission for Rejuvenation and Urban Transformation (AMRUT) and Smart Cities programme.
The upcoming Budget could build and consolidate these initiatives, drawing on global experience in delivering urban services in a sustainable and inclusive manner.
This brings me to my wish-list for cities for the 2018 Budget (in no particular order):
Invest in a national urban upgrading programme
Satellites can now cheaply and quickly map entire slum areas and help to identify service gaps.
Both Indonesia and Vietnam have excellent national urban upgrading programmes, building on decades of experience of community led initiatives that build access to basic urban services for the poor.
President Jokowi of Indonesia on assuming office announced his "100-0-100" programme to ensure 100 per cent access to water, zero per cent of slum areas and 100 per cent sanitation access across the country.
A similarly ambitious and time bound target for India with adequate services would be very timely.
Expand drainage, solid waste, waste water and sewage coverage
The lack of waste water and sewage treatment in major Indian cities is a public health emergency.\
Let's focus initially on getting 100 per cent coverage in the 100-odd cities with populations greater than 500,000.
Much of the problems of drainage and flooding in cities is related to poor solid waste management that chokes up drains and outlets.
Set up empowered state-wise drainage, waste water and sewage authorities that have full delegated powers of government for land acquisition, procurement, financial management etc.
Give them a five-year time period to reach 100 per cent coverage, ensuring they have the resources to meet their goal.
It is important that their boards have broad representation from civil society, the private and the public sectors.
These utilities ultimately must be the responsibility of the local governments that need to operate them in an environmentally and financially sustainable manner.
In this context, the "public versus. private" debate is a red herring.
Given India's vast needs, we will need to experiment and adapt all kinds of models.
Countries like Brazil demonstrate that well-functioning utilities can exist in both the private and public sector.
Make sure each major city in India has a well-designed drainage master plan.
A few years ago, a senior city official in Chongqing, China, told me that of the hundreds of millions of dollars of World Bank investments in the city, the one they valued the most was in the form of the design of their drainage master plan (which cost about a million dollars).
Put in place incentives to design cities for people, not cars
The International Monetary Fund estimates that countries enter a phase of rapid increase in automobile ownership when they reach about $2,500 income per capita which continues until they pass $10,000.
India is right in the middle of this rapid growth phase.
Yet, according to the 2011 Census, just 4.7 per cent of Indian households a car or a jeep.
The public attention on poor air quality in Indian cities could bring a much needed focus on the need for investment in high quality public transport.
If we design our cities primarily to accommodate more and more cars, we face certain environmental catastrophe.
City design must emphasise walkability and public transport, with a focus on access to jobs and affordable housing.
We need to invest in high quality bus rapid transit for all cities especially the rapidly growing medium cities of population below 500,000.
Larger cities must invest in metros with an emphasis on hierarchically integrated transport systems with well-run feeder services that service the metro and ensure last mile connectivity.
Parts of mega-cities must be made car-free as ultra-low emission zones like the city of London has done.
Treat road space as a scarce economic resource and use congestion pricing like Singapore, Stockholm and London have done.
Set up a serious programme for urban capacity building
India needs thousands of well-trained urban planners, municipal engineers, architects etc.
We need to create a vast cadre and network of urban professionals (including a new generation of technically skilled and accountable mayors) who are trained to global standards.
We start with a strong base of excellent institutions through the IITs, NITs, SPA, and CEPT etc, but these need to be strengthened through international and national partnerships with national and state level centres of excellence that train the trainers and build up and maintain capacity within local governments.
Abhas Jha is practice manager, Urban Development, East Asia Pacific, for the World Bank. Views expressed are personal