Could it have been more reformist? Of course, but this is an election year Budget, observes Akash Prakash.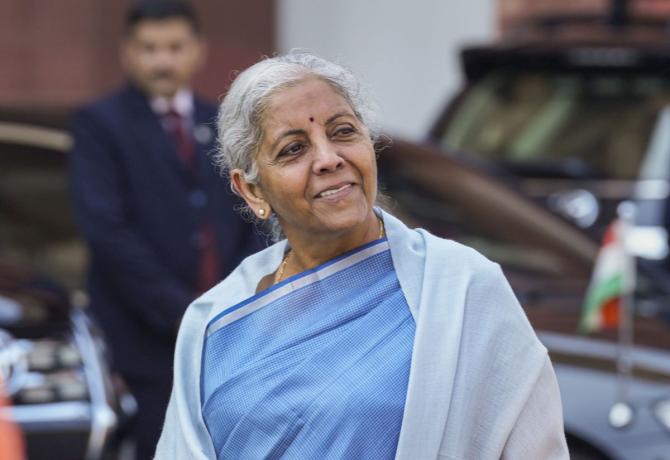 This Budget is one of the better ones presented in the Narendra Modi era, and probably the best produced by the current finance minister.
It does no harm, makes the commitment to capital expenditure clear, and tries to stimulate the economy.
Despite obvious temptation, it has stayed away from any populist tendencies.
The numbers are, first of all, credible. The Budget uses nominal GDP growth of 10.5 per cent as its modelling assumption.
Net tax revenues to the Centre are assumed to rise by 11.7 per cent, which is a reasonable level of tax buoyancy.
Both corporate and income tax collections are assumed to grow at 10.5 per cent.
There is no overestimation on other revenue items as divestment receipts are budgeted at Rs 51,000 crore (Rs 510 billion), in line with the current year estimates, and even dividends from the Reserve Bank of India/public sector banks are at Rs 48,000 crore (Rs 480 billion), compared to Rs 41,000 crore (Rs 410 billion) in FY23.
This number was Rs 1.01 trillion in FY22. Even dividends from public sector enterprises are budgeted at Rs 43,000 crore (Rs 430 billion), same as this year. These numbers are all conservative.
On the expenditure side, the big positive continues to be the focus on boosting capital expenditure.
The expenditure on the capital account is budgeted to rise by 37 per cent to over Rs 10 trillion, and the effective capital expenditure (including the grants for capex) by 30 per cent.
Expenditure on the revenue account is only rising by 1.25 per cent, and net of the rise in interest payments is down for the coming year.
This has been enabled by the cut in subsidies, which are budgeted to fall from Rs 521,585 crore in FY23 to Rs 374,707 crore.
There has been no increase in the PM-KISAN scheme, which has been kept flat at Rs 60,000 crore (Rs 600 billion), and the outlays for the Mahatma Gandhi National Rural Employment Guarantee Act has been cut from Rs 89,400 crore to Rs 60,000 crore.
There is absolutely no sign of an election Budget.
Revenue expenditure has been kept flat, and the entire increase in revenue receipts has been used to boost capital expenditure, keeping the fiscal deficit flat in absolute terms.
The finance minister has chosen to keep her promise on fiscal management, with the fiscal deficit coming in at 6.4 per cent of GDP, as budgeted, and the target for FY24 being set at 5.9 per cent.
She also reiterated the 4.5 per cent target for FY26. The effective revenue deficit will drop by Rs 2.85 trillion and will move from 2.9 per cent of GDP to 1.7 per cent in FY24. A move in the right direction.
The net borrowing programme (G-sec and T-bills) is up by only 3 per cent, by Rs 35,000 crore to Rs 12.3 trillion, as the fiscal deficit in FY24 is flattish in absolute terms compared to the current year.
The other major positive in the Budget was the movement in income tax.
The finance minister has given a tax cut of Rs 35,000 crore (Rs 350 billion) to the Indian taxpayer.
While the number is not large, it benefits a large number of taxpayers and definitely boosts sentiment.
This has been done by raising the initial rebate from Rs 5 lakh to Rs 7 lakh.
There have also been some modifications in the tax slabs and a cut in the peak rate of effective tax to 39 per cent from 42.75 per cent.
The new tax regime, under which all these changes are made effective has now been made the default, ensuring that over time the vast majority of taxpayers will be under the new regime.
This tax cut will boost consumption and should give a fillip to consumer sentiment, especially among the middle class.
There is a new scheme for urban infrastructure, designed to allow financial institutions not meeting their priority sector targets to deposit the shortfall.
The expectation is that Rs 10,000 crore (Rs 100 billion) per annum can be utilised from this scheme.
The Railways capital spend has been boosted to Rs 2.4 trillion, the highest ever and nine times the capital outlay of FY14.
There are significant incentives for green energy and hydrogen.
The government is obviously serious about energy transition and has set aside significant funds for the same.
There are procedural simplifications, with a new risk-based KYC framework to be brought in, with all companies using their PAN as the unique business identifier for all digital transactions.
There was also discussion of a unified filing process to avoid the need to file the same documents with multiple government agencies.
There was a welcome focus on tourism and also a national apprenticeship scheme for over 4.5 million students.
The funding of Rs 9,000 crore (Rs 90 billion) for a revamped credit guarantee scheme for micro, small, and medium enterprises is also welcome.
The states have been allowed a fiscal deficit of up to 3.5 per cent of state GDP, with the incremental 0.5 per cent linked to power sector reforms.
Thus, states wanting to borrow up to the full limit will need to take steps to make their electricity boards more sustainable.
Thankfully, nothing was done on the capital gains tax front, which could have damaged equity market sentiment severely.
Overall, I think the Budget was credible, made all the right noises on the fiscal and Budget arithmetic, and provided the needed boost to both consumption and capital spending.
It is even more credible given that it will be the final Budget before the national elections.
The finance minister has avoided the temptation to be populist, and clearly is moving forward in her agenda to crowd in private sector capex.
There is nothing to not like in the document.
Could it have been more reformist? Of course, but this is an election year Budget.
The finance minister has done a good job considering the circumstances.
Akash Prakash is with Amansa Capital