The financial and commodity markets will continue to roil, as China's growth moderates and readjustments are made.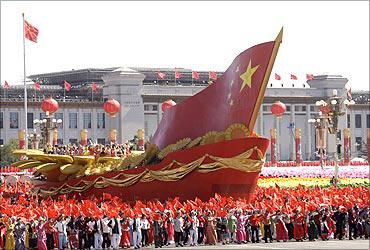 Doomsday theories swirl amid "a coordinated fall in assets across the world", as global strategists are putting it.
World markets are now coming to grips with the possibility of a China hard landing.

But few strategists at foreign investment banks want to spell it out in as many words.

Echoes of China's currency devaluation have already spread, going by the cautious commentary coming from the US central bank, Federal Reserve. Minutes of Federal Open Markets Committee's July meeting released on Wednesday suggest the conditions for a rate rise are unlikely to be met by September.
The minutes say: "The committee concluded that, though it had seen further progress, the economic conditions warranting an increase in the target range for the federal funds rate had not yet been met."

Market participants believe a rate rise by the US central bank is likely to be deferred, as recovery continues to be fragile.

Hitesh Agrawal, head of research at Reliance Securities, says: "China's economic slowdown is worrisome for a swift global economic recovery to come through. This has led to markets globally getting into the risk-off mode for now, having an impact on India, as well."
During periods when risk is perceived as low, risk-on risk-off theory states that investors tend to engage in higher-risk investments.

When risk is perceived as high, investors have the tendency to gravitate towards lower-risk investments.
Strategists see the US central bank's views negatively, as a delay in rate rise suggests the US may not be immune to China's fall.

The fear is China could export its deflation-related woes to the rest of the world, which resulted in a massive sell-off on Monday.

No doubt the financial and commodity markets will continue to roil, as China's growth moderates and readjustments are made.
The question is: How much injury can China cause? There are several theories. One global investment bank believes China will witness a U-shaped recovery in the next few quarters.

Others believe the pain could be prolonged, as China readjusts its growth.

The share of China in world exports has risen only over the past three to four years.

The yuan's strength and a devaluation of four to five per cent may not aid further gains in export markets.
Many market participants believe China's devaluation has been done not only to deflate its economy, but also to stop capital outflows.

China has seen its reserves reduce by $350 billion over the past one month, despite running a current account surplus.
Edelweiss Securities says, "The yuan's depreciation is likely to have been triggered by an attempt to stop capital outflows, which seeks to tighten liquidity and offset any attempt to reflate the economy."
Despite Monday's 1,624-point fall in the Sensex, India remains a bright spot amid chaos, as lower commodity prices would only help improve macroeconomic fundamentals.

Also, a sharp currency decline in 2013 did not yield major gains for India's export share.

The global rout will no doubt hit India's markets, but HSBC Global Research says, "India has emerged as one of the leading exporters of high-quality products in Asia. Its growth has been less cyclical, too. India has a presence in almost all segments of low-, middle-, and high-income category products. This is crucial in a challenging global demand environment as it limits the risk from any sharp fall in exports from a particular segment."