The Garhwal region collectively has deposits worth Rs 2,100 crore and advances worth Rs 1,000 crore.

Leading public sector banks, particularly State Bank of India, are staring at a substantial loss of business in flood-affected Uttarakhand. Worse, they would face problems in recovering existing loans due to the damage caused to the properties in the region.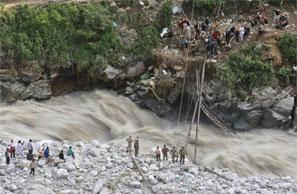 State Bank of India (SBI) has the largest presence in the state followed by Bank of Baroda through its subsidiary Nainital Bank. SBI has a total of 4,482 branches, of which 652 are in the four worst-affected districts of the state - Rudraprayag, Chamoli, Uttarkashi in the Garhwal region and Pithoragarh in Kumaon region.

According to the bankers in Garhwal and Kumaon regions, the Char Dham yatra (Yamunotri, Gangotri, Kedarnath and Badrinath) is a major source of economic activities in the region and the devastation would have a direct impact on banking activities in the region for quite some time to come.

The Garhwal region collectively has deposits worth Rs 2,100 crore (Rs 21 billion) and advances worth Rs 1,000 crore (Rs 10 billion). The figures for Pithoragarh district could not be ascertained immediately.

"With tourist movement stopping, business will certainly go down," said a local banker. "Recovery of loans would also not be possible as many people have lost properties in the deluge. These properties were their main source of income," the banker added.

"All we currently know is that branches where there is no connectivity are not working," said A Krishnakumar, managing director and group executive (national banking), SBI.

The nature's fury has washed away at least two SBI offices in Kedarnath and Gaurikund. The Kedarnath shrine had an extension counter of SBI that used to work during pilgrimage season (April-November). The cash loss has been Rs 5 crore (Rs 50 million). However, it is not immediately clear how much was that of the bank and how much of the Kedarnath Temple Committee. More, a swami was caught by the police with Rs 2 crore (Rs 20 million) cash and it was unclear whether the money belonged to SBI or the temple committee. The police have for now deposited the money with another SBI branch at Phata.

Bankers also said that these are preliminary estimates and the exact figures of physical losses to branches and automated teller machines would be known only in the next few days after the communication channels reopen.

They said they haven't been able to contact all the branches and don't have an idea of the exact situation in those branches.