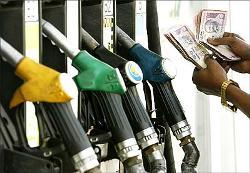 Petrol and diesel prices in 13 major cities are set to go up, with the petroleum ministry considering a higher price for Euro-IV complaint fuels. This, in effect, would mean, a second price hike for consumers in less than two months.
Petroleum retailers in Delhi, Mumbai, Chennai, Kolkata, Bangalore, Hyderabad and Ahmedabad, among other cities, will start supplying Euro-IV compliant auto fuel from April 1.
The sale of Euro-III compliant fuel will start in a phased manner between April 1 and October 1 in the rest of the country. Speaking at the sidelines of the sixth Asia Gas Partnership Summit in New Delhi, petroleum secretary S Sundareshan said a proposal to increase the price for Euro IV was being considered.
The introduction of cleaner auto fuel is aimed at reducing environmentally harmful emission of pollutants like sulphur and benzene.
In April 2005, Delhi, Mumbai, Kolkata, Hyderabad, Chennai and Agra moved to Euro III norms at an additional cost of Rs 0.30 a litre and Rs 0.24 a litre on petrol and diesel, respectively.
Oil marketing companies had increased petrol and diesel prices by Rs 2.71 and Rs 2.55 a litre, respectively, from February 27, following the increase in excise duty and restoration of the 5 per cent duty on crude oil.
State-owned oil retailers like Indian Oil Corporation, Bharat Petroleum Corporation and Hindustan Petroleum Corporation are investing around Rs 23,500 crore (Rs 235 billion) in upgrading their refineries to meet the demand for cleaner fuel.
The price hike has been proposed to help them partly recoup their costs.