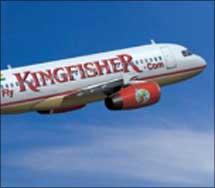 India's second largest private carrier Kingfisher Airlines will launch seven international routes this summer, which include a daily non-stop flight between New Delhi and London starting March 28 and one between New Delhi and Hong Kong beginning April 7.
The two services are part of seven new international routes, for which Kingfisher Airlines received traffic rights from the Indian government last month, Kingfisher Airlines commercial administration and industrial affairs general manager Arjun Dasgupta said at the ITB Berlin 2010 -- the world's largest tourism fair.
The other routes include New Delhi-Bangkok, New Delhi-Dubai, Mumbai-Colombo, Mumbai-Bangkok and Mumbai-Dubai.
In an interview with PTI in Berlin, Dasgupta said wide-bodied twin-aisle Airbus A330-200 aircraft configured in two classes will be deployed for flights to London and Hong Kong.
No dates have been set for the other flights, but they are expected to be launched this summer. They will be served by Airbus A320 aircraft, Dasgupta said, adding that the company's expansion plans abroad and its efforts to consolidate its share of the domestic market were at the centre of its marketing campaign at the five-day ITB Berlin.
Tour operators and trade visitors from Europe and other regions have responded positively to the airline's intentions to step up its international services and evinced interest to cooperate in different areas, he said.
Continental Europe is not in the airline's expansion plans at present and its strategy is to consolidate its presence abroad and maximise its extensive domestic network so that it can move forward in this challenging situation for the industry, Dasgupta said.
Kingfisher Airlines will consider possibilities for cooperation with other European carriers at a later stage, he said.
The company's international operations are yet to make profit, but the expansion of its services abroad is expected to contribute to a turnaround in the coming years, Dasgupta said.
Kingfisher Airlines began its international operations by launching a direct flight from Bengaluru to London in September, 2008. It was followed by a direct flight from Mumbai to London in early 2009.
Besides its daily services to London, the airline currently operates daily direct flights from New Delhi, Mumbai, Kolkata, Chennai and Bengaluru to six destinations in the South and Southeast Asian region.
Kingfisher Airlines slimmed down its fleet to 69 aircraft as part of a rationalisation programme and it operates around 360 daily flights on its domestic route network and around 100 a week on its international route network.
© Copyright 2021 PTI. All rights reserved. Republication or redistribution of PTI content, including by framing or similar means, is expressly prohibited without the prior written consent.