Advertisement

  

Advertisement

UK extends invitation to Mamata
March 04, 2010 17:59 IST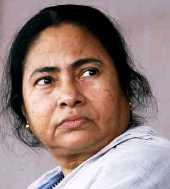 Against the backdrop of United Kingdom evincing an interest in investing in railway infrastructure, the British High Commissioner to India on Thursday invited Railway Minister Mamata Banerjee to visit his country.
The invitation was extended by Sir Richard Stagg when he called on her at the Rail Bhawan on Thursday.
"The high commissioner invited me to visit his country," Banerjee told PTI but added she was yet to decide on it. If she accepts the invitation, it will be her first foreign trip as railway minister.
Mamata said that she has also been invited to visit Cambridge University.
About possible investment in Indian Railways, she said that the UK has evinced an interest but did not elaborate about specific projects or sectors.
A Japanese business team from Mitsubishi also called on her on Thursday to explore possibilities of investment in the Indian Railways.
Image: Mamata Banerjee
© Copyright 2009 PTI. All rights reserved. Republication or redistribution of PTI content, including by framing or similar means, is expressly prohibited without the prior written consent.